Learn the real truth about American Idol winner Carrie Underwood's plastic surgery rumors following a scar caused by an accident, notably lip injections, nose job & Botox, with the help of before and after pictures.
Carrie Underwood recently celebrated her 38th birthday with a funny gift from husband Mike Fisher, a humorous T-shirt that reads, "I don't need Google, my husband knows everything."
The singer also collected hand-made cards from both her sons, 6-year-old Isaiah and 2-year-old Jacob.
Amid the celebration, the American Idol season 4 winner is trending on the internet lately for her supposed plastic surgery endeavors.
We're quite aware that she had a nasty fall in 2017 that apparently left a major scar, but many fans refused to buy it because she looked completely flawless despite the accident.
This raised one big question – did Carrie Underwood go under the knife? The songstress strongly denies it, but many professional plastic surgeons claim otherwise.
Carrie Underwood Addressed Plastic Surgery Rumors Following Scar Caused by Accident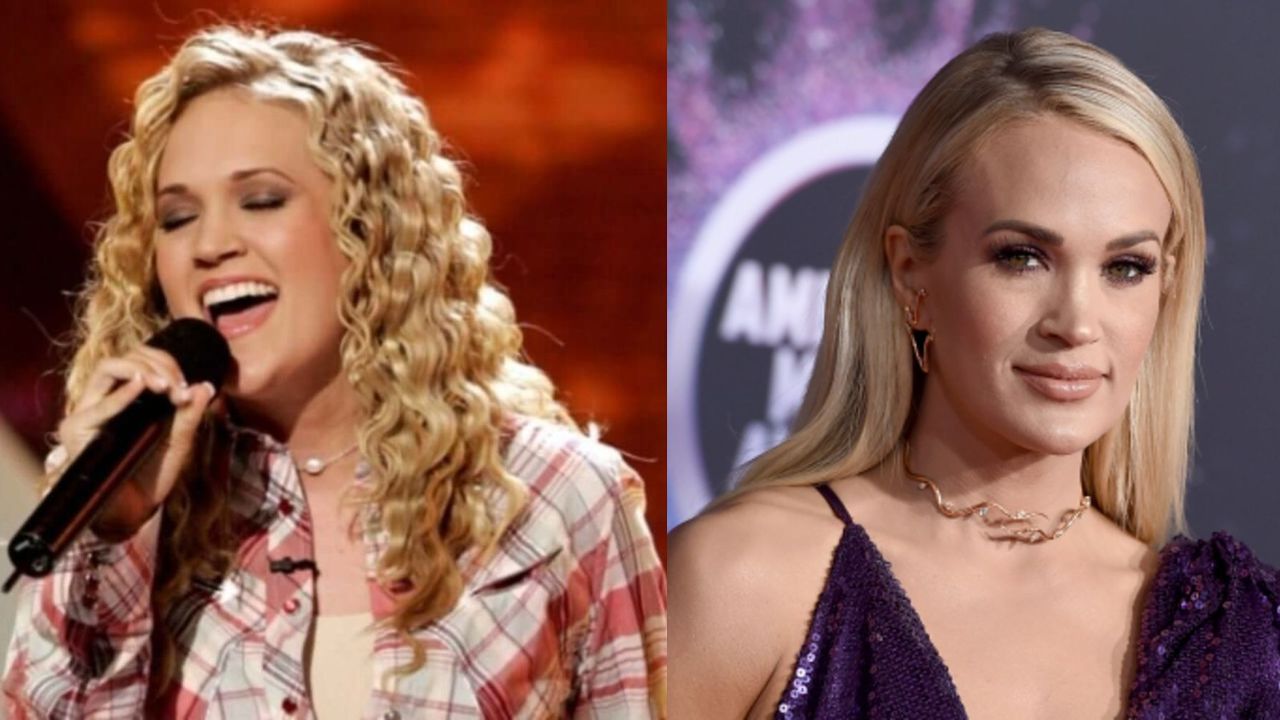 Carrie Underwood before and after alleged plastic surgery procedures.
Image Source: Weight & Skin
Carrie Underwood shut down speculation that her terrifying accident, which culminated in more than 40 stitches and a fractured wrist, was a ploy to conceal plastic surgery.
Speaking with Redbook magazine, the 38-year-old country music singer called internet rumors that she had a rhinoplasty aka nose job, or some other forms of cosmetic surgery as "sad."
You Might Like: 'Prodigal Son' Catherine Zeta-Jones' Plastic Surgery – Did She Go Under the Knife?
Underwood said,
The truth is just as interesting I wish I'd gotten some awesome plastic surgery to make this (scar) look better. But I try not to worry too much about it.
She added,
I'm on some magazine every other week for something crazy.
The Cowboy Casanova singer told the reporter that 2017 was the year of seeking her soul. She said,
There were some personal things that happened. And I had the accident and all of that to get through … and just life. Life is full of ups and downs, and I might have had a few more downs than ups last year.
At the start of 2018, Underwood disclosed that she had taken a serious plunge near her Nashville home in November 2017. She shared fear that she might not look the same anymore.
Later, the American Idol winner outlined the specifics of her accident. During her appearance at the Bobby Bones Show in Nashville back in April 2018, the songstress revealed she went to catch herself and missed a step.
Since the freak incident, she said she had stitches across her mouth and was not sure how she would look after she's healed.
Also See: Lauren Sanchez's Plastic Surgery – Botox, Facelift, Breast Implants & Lip Fillers!
When questioned if her accident scar rattled her self-belief, Underwood said it looked really bad at the beginning, but later, she found that it was just perception.
I look at myself (now) and I see (the scars) quite a bit, but other people are like, 'I wouldn't have even noticed.'
It's fair to say, it's not easy to knock down Carrie's confidence.
Has Carrie Underwood Had Plastic Surgery? What's the Truth?
Since the singer looks utterly flawless, Life & Style spoke to a cosmetic surgery specialist about how she could actually produce such a stunning outcome after scarring.
New York-based plastic surgeon Dr. David Shafer, who has not treated Carrie, 38, explained:
There are many ways to improve scars to help smooth the contour, blend the color and reduce shadowing. At my office, we treat scars with laser, micro-needling, topical treatments, injecting medications, and using dermal filler to smooth the contour.
It's no secret that the Temporary Home singer is naturally beautiful, but others have argued that she's had a number of operations performed following her horrible accident.
Also Read: 'Coming 2 America' Star Eddie Murphy's Plastic Surgery – True or False?
An insider exclusively revealed,
Carrie went into hiding after her fall, so we know she's extremely self-conscious about her looks. It wouldn't surprise me if she had work done. She's gorgeous as is and didn't need it, but if it makes her feel better, that's all that matters.
A second source claimed,
Her face looked different. It was so smooth like it was marble, and she seems to have fillers in her cheeks, especially between the cheek area and under her eyes.
Dr. Shafer noticed that some changes may have been made to attain her glowing look. She's got a pleasant definition of the cheek and its fullness, which could mean a dermal filler such as Voluma, which is perfect for immediate cheek enhancement. She also has a nice flawless face, which is normally achieved through Botox.
Previously, Beverly Hills plastic surgeon Dr. Payman Simon said:
Her nose is now in balance with the rest of her face. It hasn't created a major drastic change in her overall appearance, but she looks more feminine and refined.
Lots of other surgeons also say Underwood's improved nose suits her face better, combining her other naturally elegant features. They suspect that Underwood had undergone surgery to shorten her bridge and retrench the bump and tip she was born with.
Do Not Miss: David Hasselhoff's Plastic Surgery is Making Rounds on the Internet
In examining Underwood's new appearance, some plastic surgeons often state that she's receiving routine Botox or Xeomin injections to smoothen the skin and reduce fine lines and wrinkles, as well as Juvederm or Restylane injections to thicken her lips.
Did Carrie Underwood Get Lip Injections?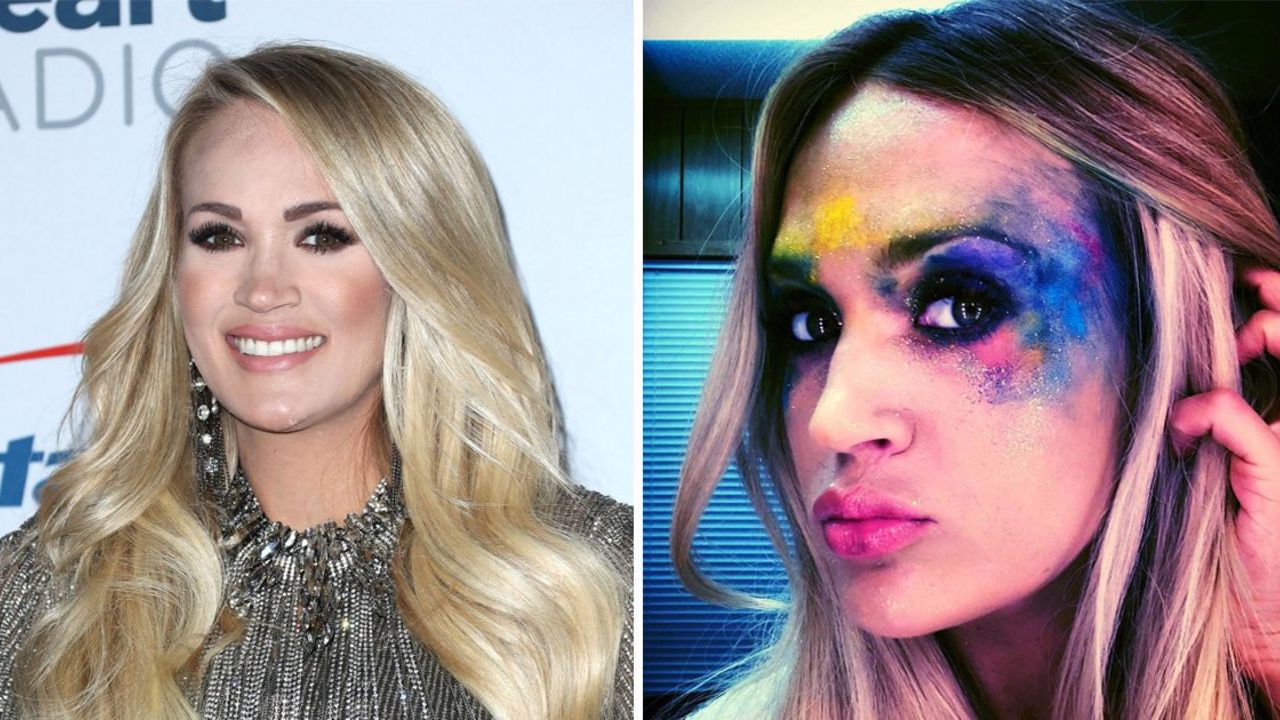 Carrie Underwood is the subject of lip injections plastic surgery following a facial scar caused by an accident.
Image Source: Pinterest
Has Carrie Underwood made cosmetic enhancements, notably lip injections? This is the query more and more people are asking since her recent appearance.
This was also the topic on the new issue of Life & Style magazine, released on 8th June 2020.
Carrie Underwood had previously revealed that she had a sort of accident at her Nashville, Tennessee, home in November 2017, injuring her face in the process that resulted in stitching and reconstructive surgery.
Check Out: Amelia Gray Hamlin's Plastic Surgery is Trending But Is It True?
Moreover, she went so far as to reassure fans that she would look quite different when they witness her again. However, that's not what people are discussing in 2021.
As far as Carrie's scary accident was concerned, several people claimed they did not see a scar or sense something different about her looks.
Fast forward to 2021 and people suspect Carrie has undergone a number of cosmetic surgical operations, including one on her lips.
The publication took the issue into their own hands and spoke to Dr. Alexander Rivkin, a cosmetic surgeon, who stated that while he didn't handle Carrie Underwood, he thought she got her lips done.
The doctor said,
Carrie has clearly had lip enhancement. Her lips look good, although she put a bit too much in on the sides. She's also taking good care of her skin, probably with regular facials, cosmeceuticals, and the occasional laser treatment.
Meanwhile, health and appearance are of immense value to Carrie Underwood. She has written a book called Find Your Path: Honor Your Body, Fuel Your Soul, and Get Strong with the Fit52 Life, and regularly posts fitness and workout images and videos on her social media pages.
Recommended: 'Marriage or Mortgage' Nichole Holmes' Plastic Surgery – Has the Real Estate Agent Gone Under the Knife?
The singer battled with her self-image, weight, and body recognition, and she has opened up about these concerns to her fans and the media.
Visit Weight & Skin for more plastic surgery stories of your favorite celebs.