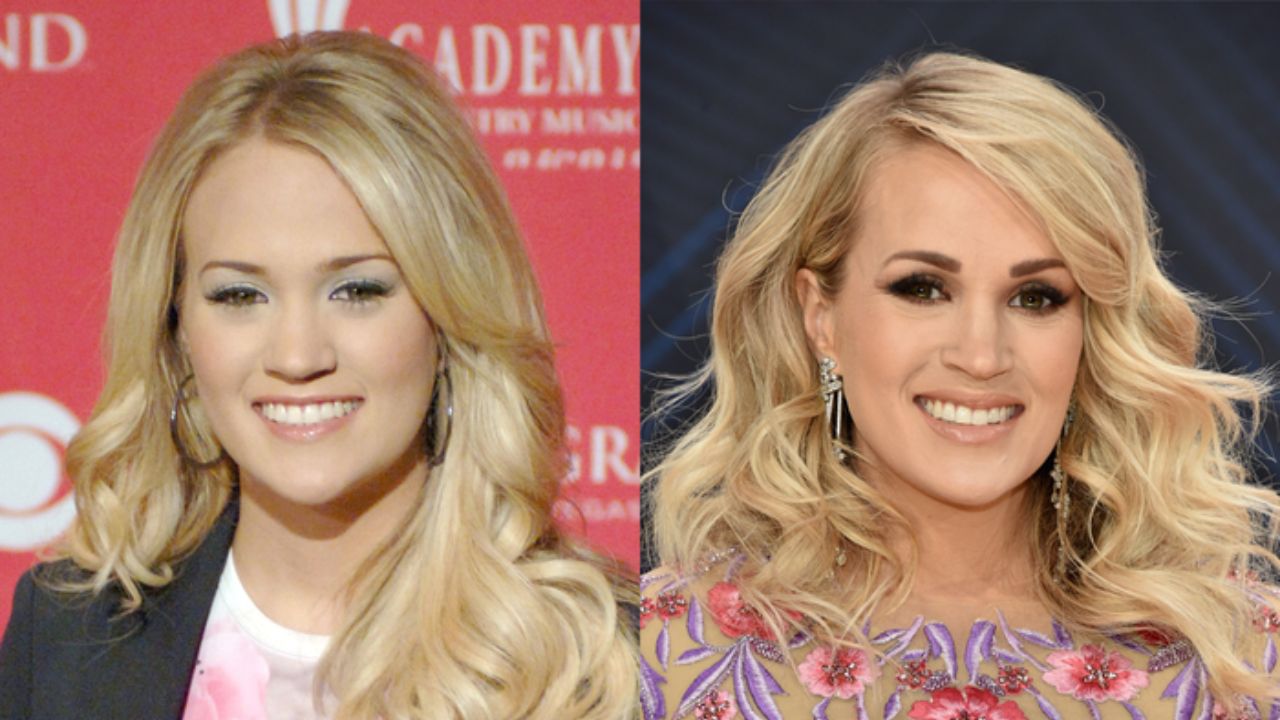 'Did Carrie Underwood get plastic surgery?' is the latest topic of curiosity amongst fans as they seek her before and after plastic surgery pictures, notably her then and now changes, along with her injury photos and teeth transformation. Bewitching the audience with her incredible voice and alluring presence, Carrie Underwood has established herself as a renowned, Grammy's winning country singer. While her songs never fail to stun the crowd, the rumors of her plastic surgery don't seem to leave her side. So, here is the truth behind Carrie Underwood's plastic surgery.
The face of American Idol season 4, Carrie Underwood's melodious voice mesmerized the world and spellbound the audience into the realm of country music. Being the only solo country musician in the 2000s to have a number-one song on the Hot 100, Carrie became the first country artist to debut at the top of the Billboard Hot 100 list with her track Inside Your Heaven.
An incredible artist worth winning the Grammys 3 times, Carrie was also the best-selling solo female debut album in country music history and was helped along by the popular crossover singles Jesus, Take the Wheel, and Before He Cheats.
With the list of her achievements going on and on, Carrie Underwood is the seventh highest-certified female artist and the highest-certified female country artist of all time on the RIAA's Top Artists ranking, also being the female artist with the most number-one entries on the Billboard Country Airplay chart, with 16.
With her marvelous voice, the feels behind her songs, and an alluring charm, Carrie Underwood has become one of the beloved singers ever since she stepped on the stage of American Idol. As much as her voice is admired, the singer's beauty is not unnoticed.
However many believe that Carrie's beauty is all thanks to plastic surgeries. The rumors and speculations have been around for a while now and her fans want to know the truth. So, here's all we know about Carrie Underwood's plastic surgery.
Previously, we touched on the plastic surgery efforts of Nicole Kidman and Martha Stewart.
Carrie Underwood's Plastic Surgery: Are the Rumors and Speculations True?
The rumors of celebrities undergoing plastic surgery will always be around and Carrie Underwood is also under the audience's radar. Are the speculations of Carrie getting plastic surgery true or are the audience just on her back?
In a self-described "freak accident" in November 2017, Carrie Underwood broke her wrist and needed 40 stitches on her face. Aside from that little scar, there is no other visible evidence of her injuries. Fans were quick to call it a cover-up for getting plastic surgery and accused the star of lying to her fans.
Carrie however, was quick to dispel claims that her terrifying fall, which required more than 40 stitches and left her with a broken wrist, was a publicity hoax to hide plastic surgery. The 39-year-old country music diva described the online rumors that she had cosmetic surgery or other procedures as "sad" in an interview with Redbook magazine.
"The truth is just as interesting I wish I'd gotten some awesome plastic surgery to make this (scar) look better," said Carrie expressing her disappointment. "But I try not to worry too much about it," she added. "I'm on some magazine every other week for something crazy."
Underwood admitted that her facial injuries first appeared "very awful" when asked if it made her less confident. She also claimed to have found out, nevertheless, that perception is everything. "I wouldn't have even noticed," she said in the interview, adding, "I look at myself (now) and I see (the scars) quite a bit."
Looking at Carrie Underwood's pictures then and now, the star looks aged and mature, however, her features appear the same. They look more defined and slender with no apparent changes. Carrie could have gotten botox and fillers, but surely hasn't undergone major cosmetic procedures.
Carrie looks different from how she used to due to her apparent weight loss too. Her features appear more delineated and along with professional makeup, the star is time and again speculated to have gotten plastic surgery.
10th Consecutive Career Top 10 Debut for Carrie Underwood: Here's How She Celebrated It!
With the release of her latest album, Denim & Rhinestones, on June 10, Carrie Underwood celebrates her tenth consecutive career Top 10 debut on the Billboard Top 200 chart for all genres. Beginning with her debut album, Some Hearts, which was released in 2005, all ten of Underwood's albums—nine studio albums and her 2014 Greatest Hits Decade #1—debuted in the Top 10. The No. 1 country album in Australia, Canada, and the UK is Denim & Rhinestones, which is also the best-selling country album in the US.
During her hectic debut week, Underwood made appearances on NBC's The Tonight Show Starring Jimmy Fallon, ABC's GMA 3, and GMA 3. She also had numerous television appearances in both Canada and Australia, including interviews on Sunrise, The Today Show, and The Project. She will be the subject of a 30-minute special on ET Canada on June 23rd, which will include a special performance of Denim & Rhinestones.
Underwood and David Garcia's most recent endeavor together is Denim & Rhinestones. Both Underwood's critically acclaimed 2018 album Cry Pretty and her 2021 GRAMMY Award-winning gospel hymn album My Savior were co-produced by Garcia and Underwood. The lead single from Denim & Rhinestones, Ghost Story, has amassed over 57 million global streams and is rising on the country airplay charts. The song's dramatic music video, which was created by renowned photographer and director Randee St. Nicholas, is now accessible.
Visit Weight & Skin for more interesting stories about your favorite celebs.