Learn all the facts behind Prodigal Son star Catherine Zeta-Jones' plastic surgery procedures. She has allegedly gone under the knife multiple times. Check out her before and after pictures.
FOX recently dropped a brand new promo for the forthcoming premiere of the second half of Prodigal Son Season 2, which is slated for release on 13th April.
The mid-season trailer includes the introduction of Catherine Zeta-Jones as Dr. Vivian Capshaw.
Following her appearance on our screens, the actress soon became a subject of plastic surgery among fans on the internet. Has she made cosmetic enhancements? Let's find out.
Catherine Zeta-Jones' Plastic Surgery Made Rounds Following Prodigal Son Appearance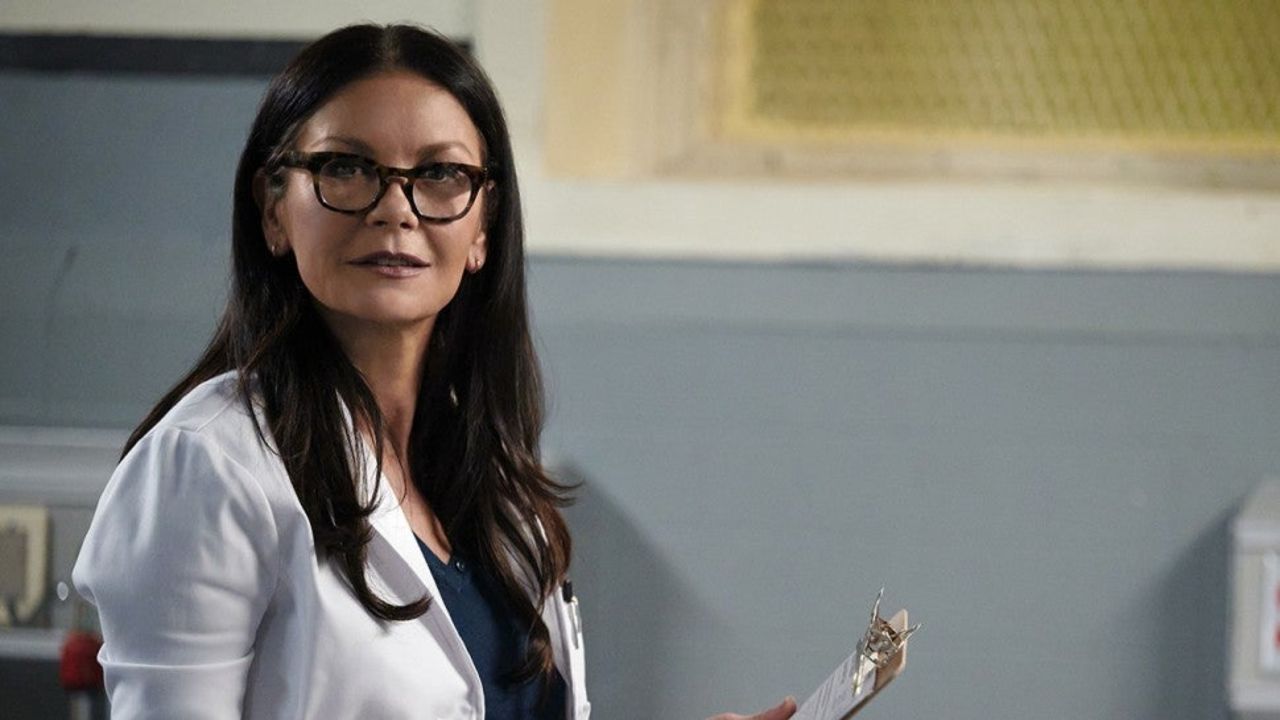 Catherine Zeta-Jones' plastic surgery became a curiosity for fans after the latest trailer for 'Prodigal Son' season 2 dropped.
Image Source: TV Line
In an interview back in 2016, Catherine Zeta-Jones claimed the key to her everlasting beauty was "argan oil and plenty of water!"
But after the 51-year-old Academy Award winner and wife of legendary Michael Douglas, 76, made her entrance at the London FIFA Awards in 2017 looking like a totally different woman, Radar Online spoke to some of the world's leading cosmetic surgeons who all claim that Zeta-Jones most likely performed plastic surgery to alter her appearance.
You Might Like: David Hasselhoff's Plastic Surgery is Making Rounds on the Internet
She is suspected to have undergone a facelift, cheek implants, fat transfer, fillers, Botox injections, and more besides her "water and oil" beauty routine. That's what Prodigal Son fans suspect as well.
America's Holistic Plastic Surgeon, Anthony Youn, M.D., F.A.C.S. said:
Catherine looks like a different person! I suspect that plastic surgery has something to do with it.
Dr. Youn, who has not performed surgery on Zeta-Jones, said:
She appears to have undergone injections of a neurotoxin like Dysport into her forehead, smoothing it. Her cheeks appear to have been plumped up, possibly with a filler like Restylane Lyft.
As per Dr. Zara Harutyunyan with L.A.'s Cosmetic Rejuvenation,
(The actress) may have had a lower facelift with fat transfer or derma fillers. Her face seems like it has been augmented and also seems fuller.
Dr. Harutyunyan who has not treated the actress added,
As we age we lose volume in our face, but it looks like all that volume was added back into her face, plus even more than she used to have. She also seems to have had some botox on her upper face as she seems to have no fine lines around her eyes or on her forehead.
Dr. Youn told Radar,
Her jawline is super tight and may be due to a lower facelift. Her lips also appear to have been plumped up with a filler like Juvederm.
Triple Board Certified Plastic Surgeon, Adam Schaffner, M.D., F.A.C.S also did not operate on Zeta-Jones but concurred with his peers. In his opinion, CZJ likely had facial surgery, Botox, injectable fillers, and/or skin treatment.
Catherine Zeta-Jones' Youthful Look – Is It All Down to Plastic Surgery?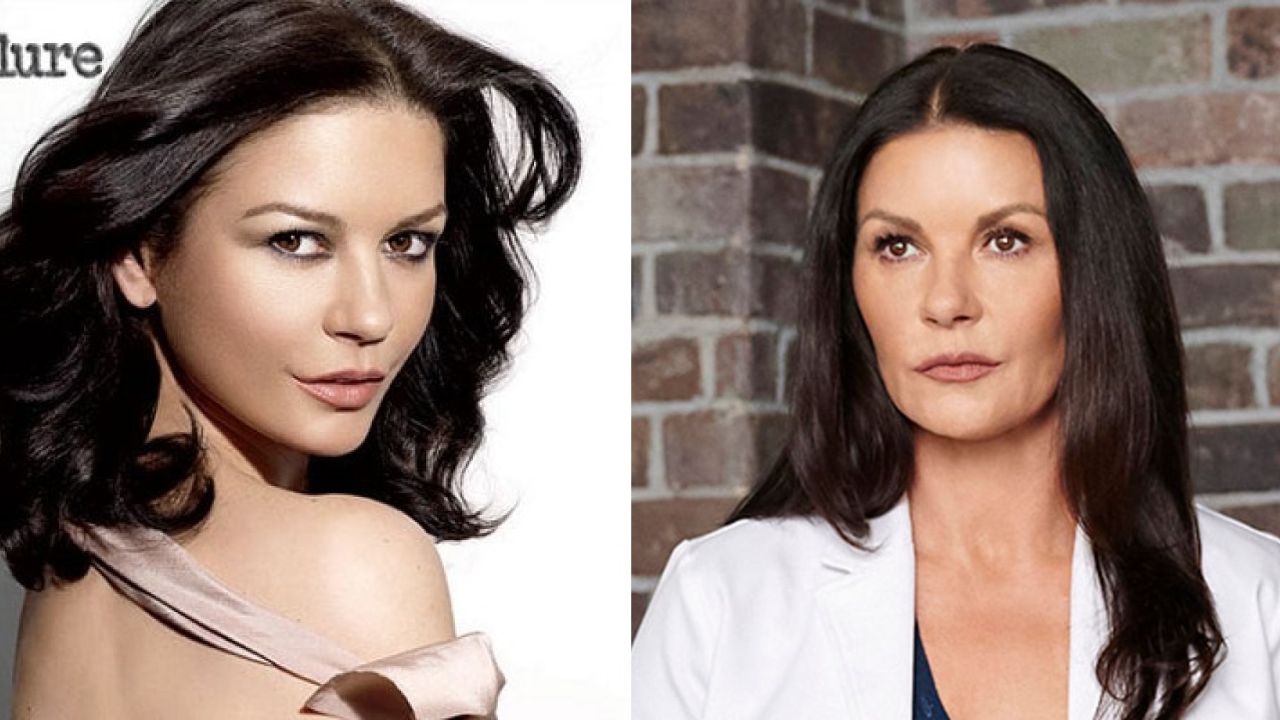 'Prodigal Son' star Catherine Zeta-Jones before and after alleged plastic surgery.
Image Source: Weight & Skin
As she walked out at the Screen Actors Guild Awards in January 2020, Catherine Zeta-Jones' youthful look defied her acting career of three decades.
The Welsh Model, who turned 50 in 2019, marched the grey carpet with her husband Michael Douglas looking amazingly young.
Also See: Amelia Gray Hamlin's Plastic Surgery is Trending But Is It True?
Fans commented on Catherine's radiant, smooth complexion and wrinkle-free face as she was pictured in a stunning Julien Macdonald dress at the event.
The recipient of the Academy Award is known for her amazing looks and has featured on countless modeling campaigns and stood at the top of charts ranking most attractive women in the world.
Catherine turned into a cultural icon back in 1991 when she had a starring role on The Darling Buds of May as the oldest daughter Marietta Larkin, alongside David Jason and Pam Ferris.
After spending years on the popular family show, with her incredible good looks and acting skills, Hollywood soon made a call to Catherine. She went on to star in a series of popular films including The Mask of Zorro (1998) to Entrapment (1999) and Traffic (2000).
When her career flourished, Catherine's ever-young features seemed stuck in time as she managed to look as youthful as she did in her ITV days.
During a 2016 interview, Catherine declined to admit she ever performed plastic surgery, but she wouldn't rule out doing so in the future.
You don't have to be a beauty queen to be an actress. But I'm not anti-plastic surgery at all. Contrary to public opinion, I have not been under the knife yet, is what I say! If I feel like it, I'm going to go ahead and do it. If (surgery) makes you feel better, who am I to tell someone that it's wrong.
Catherine rather attributed her beauty with balanced nutrition and lifestyle. She said to the publication,
The real hydration comes from within. You can never drink too much water. No diet sodas. I feel it's healthy for a body to sweat every day. I run on my treadmill or power walk outside.
Catherine additionally mentioned she enjoyed dancing to maintain her figure and said her active lifestyle aided in her physical and mental well-being.
Also Read: 'Marriage or Mortgage' Nichole Holmes' Plastic Surgery – Has the Real Estate Agent Gone Under the Knife?
For the past few years, prominent surgeons have been questioning whether the A-lister may have used any specialist support to maintain her appearance.
Among the rumored surgeries that have been leveled at the actress are facelift, cheek implants, eyebrow lift, and Botox injections.
Catherine Zeta-Jones is Joining the Cast of Prodigal Son Season 2
Catherine Zeta-Jones shares her enthusiasm as she is joining the cast of Prodigal Son season 2 on Fox.
Disclosing that she is a "fan of the show," the actress mentioned the favorite aspect of her role in the drama series, which is the fact that she is working with the Welsh actor Michael Sheen.
The 51-year-old model, who recently opened her own fashion brand, admitted that she grew up in the same part of Wales, and also had common friends with Michael, but never had an opportunity to meet each other before now.
Catherine said it's really incredible that they have actually crossed paths their entire life, noting that their parents know each other, and when she was in the contemporary dance theater, she was also a part of the acting theater.
Do Not Miss: NBC News Anchor Kate Snow's Plastic Surgery – The Complete Breakdown!
The legendary actress portrays Dr. Vivian Capshaw opposite Michael, who plays Dr. Martin Whitly. And speaking about her experience in the filmmaking process, she says Sheen is a brilliant performer, stating that "it takes a fantastic actor to embody a serial killer that you really like, in relation to his character.
We reminisce and we both click back into our very strong Welsh accents and it's been a real treat.
She also notes that she likes the plot of the season, describing how the story started as something amazing and became this immense wealth of opportunities for her.
Visit Weight & Skin for more plastic surgery stories of your favorite celebs.