Grab all the details of Amelia Gray Hamlin's alleged plastic surgery procedures, most notably breast implants and lip fillers. She underwent breast reduction surgery at the age of 16 following a strep infection.
If you are intrigued as to whether Scott Disick, 37, and Amelia Hamlin, 19 are still dating, the answer is a resounding yes. Like, more publicly than ever before.
The pair went from the age-old art of "subtly" uploading pictures from the same spot on the same night to taking a stroll around the beach, to making it 100% Instagram official.
Recently, fans have gathered curiosity over Amelia's appearance as well. Has she performed plastic surgery? Let's get to the bottom of it.
Amelia Gray Hamlin's Plastic Surgery – The Actress Confessed to Going Under the Knife
Amelia Hamlin had no idea that her nipple piercing would require her to undergo breast reduction plastic surgery when she was just 16.
In a reappeared segment on the Skinny Confidential: Him & Her podcast, the teenage model shed light on the infection she had gotten at Coachella, which almost forced her to go into sepsis.
You Might Like: 'Marriage or Mortgage' Nichole Holmes' Plastic Surgery – Has the Real Estate Agent Gone Under the Knife?
She said,
I had a 104 fever. 104. My left boob was out to here. I was 16 and had mastitis, whatever the heck that is. It was the worst thing I've ever been through.
Hamlin added,
I went to the emergency room, they told me, 'You have a kidney infection.' No, I didn't have a kidney infection. [I] had to go to Cedars [Sinai hospital's] special disease doctor and he was like, 'Yeah, you have strep in your left breast.'
As per Mayo Clinic,
Mastitis is an inflammation of breast tissue that sometimes involves an infection. The inflammation results in breast pain, swelling, warmth, and redness. You might also have a fever and chills. Mastitis most commonly affects women who are breast-feeding (lactation mastitis).
Harry Hamlin and Lisa Rinna's daughter, who is currently dating TV personality Scott Disick, was just "12 hours" away from a complete body infection.
Also See: NBC News Anchor Kate Snow's Plastic Surgery – The Complete Breakdown!
Amelia recalled,
The nipple piercing being pulled caused a small abrasion in my body. I already had the strep living in my system and then it went to that part of my body because it was an open wound. When I tell you, my boobs were this big, and I, like, didn't just get those down naturally … I had to fully get surgery. I had to get a breast reduction.
Amelia jokingly said her mom was going to "kill" her for discussing plastic surgery but said she was genuinely worried about having to live the entire life with one of the breasts being "significantly larger."
Fans Often Accuse Amelia Hamlin of Undergoing Plastic Surgery, Notably Breast Implants & Lip Fillers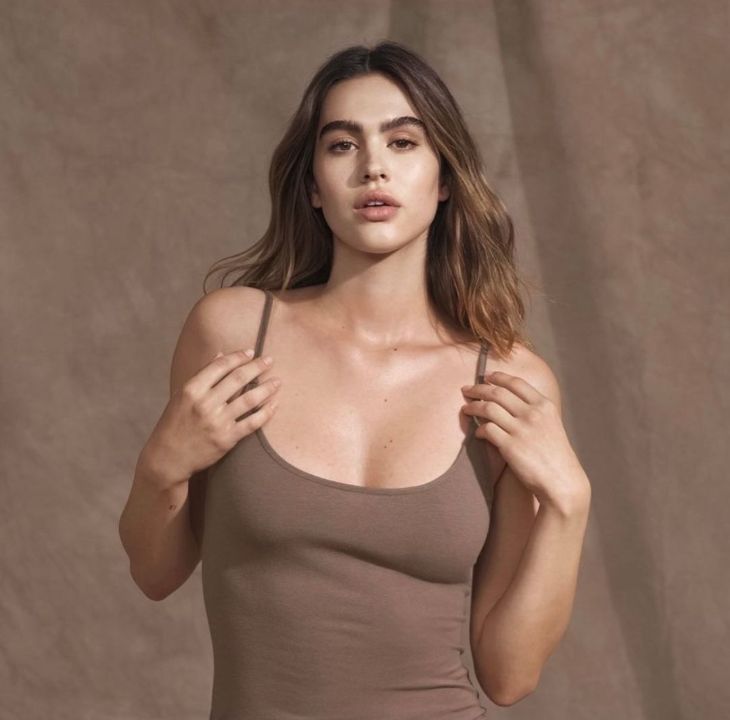 Amelia Gray Hamlin's plastic surgery allegedly includes breast implants and lip fillers.
Image Source: Instagram
Back in May 2018, a fan accused Lisa Rinna's daughter of performing plastic surgery, notably breast augmentation and lip fillers, and the model responded in the best possible manner.
Amelia Gray Hamlin is not scared to provide a defense for herself whenever bullies pop up on her Instagram account.
Just like her The Real Housewives of Beverly Hills mother, who shut down a disrespectful remark on Instagram about her makeup-free picture, Amelia's putting down online trolls, too.
Also Read: Real Truth About Ronan Farrow's Plastic Surgery Speculations
It all began when Amelia shared a black-and-white snap of her red-carpet prom outfit. Someone wrote:
Boob job & fish lips like Mama … ICK, nice work RINNA (also taught her girls how to give a good BJ).
The teen was not having any of the disrespectful remarks. She responded in the comment section with a blithering of emojis.
Aw thanks! Actually I was just born blessed. You can't even get a boob job till you're done growing and you're 18. same with your lips or any plastic surgery! Don't you have better things to do than assume a 16 year old with blessed boobs and lips has gotten everything done.
Amelia wasn't finished yet. She added, "Don't insult my mother" just because she was born with big breasts and large lips. Hamlin continued sticking up for her mom, "Hope your karma isn't as bad as your insults."
Amelia Hamlin Calls Scott Disick Her "Dream Man"
Amelia Hamlin has a note to fans who can't hold their excitement over her booming relationship with Scott Disick: "Calm down."
The teen daughter of Harry Hamlin and Lisa Rinna replied to a post from Best of Bravo Instagram, featuring two side-by-side pictures of Hamlin, 19, and Disick, 37.
Gray commented on the uploads; one of them shows her in a whole sheer top while sitting on Disick's lap. She wrote,
Everyone can calm down.
The pair believed to be dating since November is spending time around Miami lately, joining a weekend party at The Setai Miami Beach.
Previously, Hamlin shared a snapshot enjoying dinner with Disick and named him "My Dream Man."
Do Not Miss: Lana Condor's Plastic Surgery – The Untold Truth!
Disick was previously in a relationship with 22-year-old Sofia Richie following his infamous breakup with Kourtney Kardashian.
Disick—who, by the way, is yet to follow Hamlin on Instagram despite their dating endeavors becoming public on Valentine's Day—talked about his affection for Kourtney, the mom of his 3 kids, in the forthcoming episode of Keeping Up with the Kardashians.
Disick said.
Wherever Kourt stands, I stand with her … forever. I love you. And I'm ready to marry you, right here, right now.
It's not clear as of yet when exactly the clip was recorded.
Visit Weight & Skin for more plastic surgery stories of your favorite celebs.