Grab all the details of 'Coming 2 America' star Eddie Murphy's plastic surgery endeavors on his face. Has the actor gone under the knife? Have a look at his before and after changes.
The Academy Award nominee, Eddie Murphy, is not oblivious to the impact that Coming to America (1988) made on the audience. It was the very first comedy film with an (almost) all-Black cast that was popular and successful all over the world.
Usually, when they share their stories, it's about political strife or regional issues. But Coming to America was about love, family, culture, and doing the correct thing, all of which are universal themes.
33 years later, the actor stars in the highly-anticipated sequel Coming 2 America. Amid the COVID-19 pandemic, the movie released on Amazon Prime Video on 4th March 2021.
Following the release of the sequel, the 59-year-old is currently at the forefront of plastic surgery speculations on the internet. Is there any shred of truth to it? Let's find out.
Eddie Murphy's Plastic Surgery – Did the 'Coming 2 America' Star Get Some Work Done on His Face?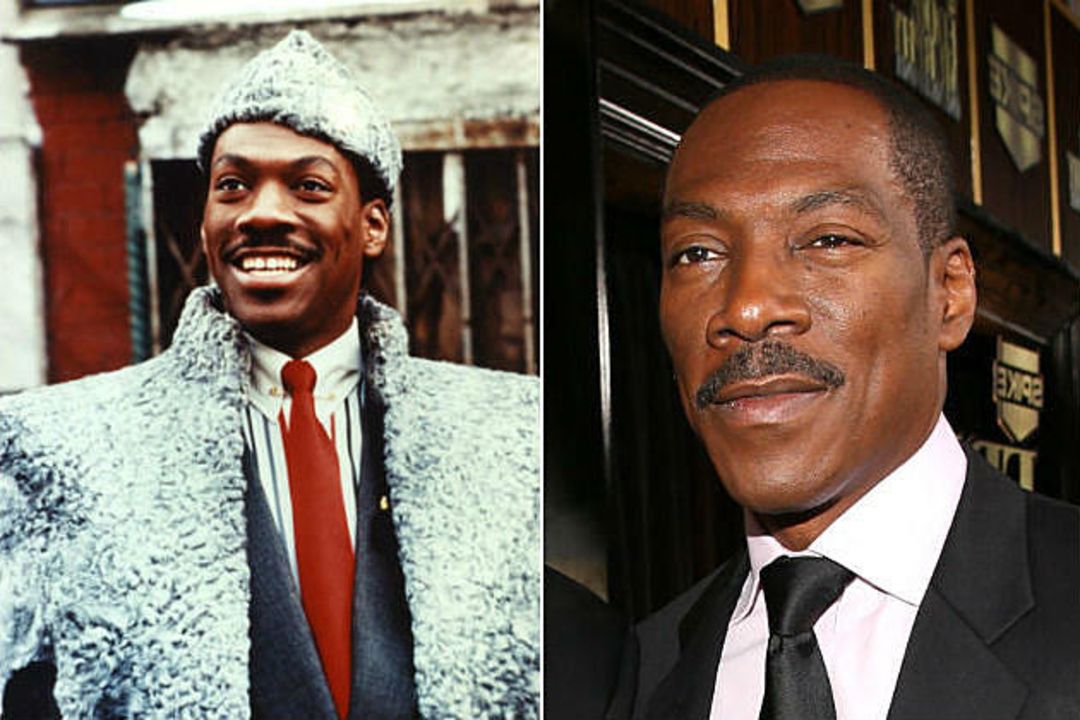 Eddie Murphy before and after alleged plastic surgery.
Image Source: Pinterest
To be quite blunt, Eddie Murphy doesn't seem to have altered his appearance by undergoing plastic surgery. By simply taking a look at his face, we can conclude that he did not go under the knife to change his facial structure.
Eddie Murphy is the same dashing man who has been admired in Hollywood throughout his career.
Apparently, Eddie is content with his physical appearance and doesn't want to make any modifications. Rather, Murphy focuses on his family life, and prior to the birth of his 10th child in 2018, he also celebrated his engagement with the pregnant model fiance, Paige Butcher.
You Might Like: David Hasselhoff's Plastic Surgery is Making Rounds on the Internet
The actor loves spending time with his entire family. They come together on special occasions, reinforcing their relationship and affection for one another.
Needless to say, the actor is in a loving relationship with Paige and things appear to be going well for the pair.
Coming 2 America may have brought accusations of plastic surgery towards the actor, but the movie was much-awaited amongst fans that we're sure he does not care much for the speculations over his appearance made by some section of viewers.
'Coming 2 America' Paid Tribute to Another Eddie Murphy Classic
Coming 2 America is packed with references to the first film. But there's also a scene in the movie that provides a callback to another famous Eddie Murphy moment.
In the shot where Lavelle (Jermaine Fowler), the estranged child of Akeem (Eddie Murphy) goes to a job interview, he takes a seat and names the guy taking the interview Mr. Duke (portrayed by Colin Jost).
That's supposed to sound familiar for Murphy fans, but then the next instant really does hammer it home as Duke informs Lavelle to only call him Calvin since his father is Mr. Duke and his grandfather and great uncle founded Duke & Duke.
Also See: Amelia Gray Hamlin's Plastic Surgery is Trending But Is It True?
Then, we see an art installation (an oil painting) of Randolph Duke (Ralph Bellamy) and Mortimer Duke (Don Ameche) on Calvin's wall.
They are sort of selfish siblings who play the antagonists in the 1983 film Trading Places starring Eddie Murphy and Dan Aykroyd. For anyone with a very sharp eye, you will find the business sign "D&D Digital Corporation" in the reception zone.
Coming 2 America helmer Craig Brewer said the original sequence was not going to pay tribute to Trading Places.
Brewer told Insider,
That whole scene was going to be someone that's not connected to the Dukes. Calvin was just going to be a guy that was interviewing Lavelle.
Brewer then added it sparked an idea,
I thought, what if this is the company that basically sprung from the ashes of the Dukes' doom when Akeem gave them money in 'Coming to America.'
Yeah, there's a nice nod to Trading Places in 1988's Coming to America. In a section where Akeem is walking with Lisa (Shari Headley), he stops and gives a couple of homeless folks some "pocked change."
Also Read: 'Marriage or Mortgage' Nichole Holmes' Plastic Surgery – Has the Real Estate Agent Gone Under the Knife?
But the change turns out to be thousands of dollars, and it's disclosed that the people are Randolph and Mortimer Duke. Evidently, the two of them encountered rough times following the incidents at Trading Places.
When he sees the money, Randolph states, "Mortimer, we're back."
Brewer said,
So it's this full circle thing that this company Lavelle is interviewing for was basically founded off of the money that Akeem gave the Dukes.
And to connect to the realism of the scene, was the oil art on the wall from Trading Places.
In reference to the production company that made Trading Places, Brewer said:
We got that painting out of the vault at Paramount. They sent it to us. We just wanted to drive home that this is the Duke family business.
Brewer has now featured alongside Murphy in two films. Prior to Coming 2 America, he starred in Dolemite Is My Name (2019) with him. Could they work together in the Trading Places sequel? We shall wait and see.
Do Not Miss: NBC News Anchor Kate Snow's Plastic Surgery – The Complete Breakdown!
Visit Weight & Skin for more plastic surgery stories of your favorite celebs.