Grab all the details of Ghost Adventures star Zak Bagans' weight loss, diet plan & fitness routine, through before and after pictures.
Born on 5th April 1977, Zachary Bagans is an American paranormal investigator, who features as the lead host of the paranormal documentary and reality TV series Ghost Adventures on Travel Channel.
Recently, Zak Bagans is at the forefront of weight loss curiosity among the online community. Did he really lose weight? Let's find out.
Did Zak Bagans Undergo Weight Loss?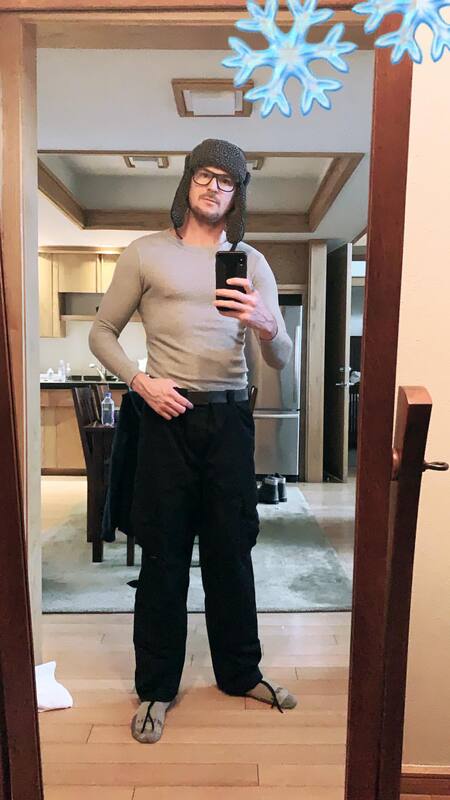 Zak Bagans is the subject of weight loss through before and after images.
Source: Twitter
Every time a celebrity makes a TV appearance, their physique is something that always catches the eye of the viewers. Zak Bagans is no different, who is at the center of weight loss speculations, following his brand new Ghost Adventures special on Travel Channel.
Back in February 2019, the ghost hunter took to Twitter to share a picture with an adorable service dog. He wrote:
all guests we have at the museum aren't only people… (I was tryin to tell my mom to take the pic from the front and she wouldnt listen. Dog was frustrated too)
A fan was quick to notice Zak's change in physique. She quoted his tweet and asked if he underwent weight loss.
You Might Like: Full Story on Thai Professional Golfer Ariya Jutanugarn's Weight Loss
Bagans affirmed he did lose weight and shared some of his own diet and fitness tips. He wrote, "Yes. Been doing lots of cardio and eating healthy."
A fan replied,
Maybe i should try that. Maybe i can lose some weight. You don't need to lose that much weight zak you look good just the way you are.
The second said:
Good job! You look awesome either way but it's good to eat right and exercise. Not that I do it, but it's good that you do. Good job!
The third stated,
You certainly looked lean & toned in your photo from your last investigation. You always look good & take good care of yourself though
Bagans' weight loss transformation is easily noticeable in his official Instagram account as well. In the recent images, he looks much leaner than he used to in the past.
Check Out: Wolfgang Van Halen's Weight Loss is Trending But Is It True?
Zak Bagans Felt 'Dark Energy' During Joe Exotic Zoo Investigation
This is the time of year. For fans of Travel Channel's most highly regarded Ghost Adventures show, Halloween brings a couple of hours of a special investigation by creator Zak Bagans and his gang, Aaron Goodwin, Billy Tolley, and Jay Wasley.
The squad is now exploring the Greater Wynnewood Animal Park, better recognized as the Joe Exotic Zoo seen in Netflix's Tiger King: Murder, Mayhem and Madness. Zak said:
I really didn't know what to expect. I had watched [the series], and I'd heard all about it, but as soon as we stepped foot on the property, it was the same kind of chaos and pandemonium.
In the special episode this year titled Ghost Adventures: Horror at Joe Exotic Zoo, Bagans was welcomed by Jeff and Lauren Lowe, who bought the park back in 2016, to perform the first-ever supernatural inquiry after the shocking unintentional suicide of Exotic's husband, Travis Maldonado, who killed himself in the gift shop.
The paranormal investigator added:
You definitely feel a presence of dark energy and I think it's from what has occurred there. It was just like holy sh–, this is crazy.
Talking to park staff — like Erik Cowie and Allen Glover from the Netflix series — Bagans and his team quickly uncovered additional information about the mysterious past of the park, like premonitions, shadowy figures, writhing voices, and mild anomalies.
Also See: Full Story on Chris Rock's Weight Loss Speculations
Bagans recalled,
Jeff was like, 'You won't believe the things that go on here.' Erik told me that Travis sat on his couch for two minutes days after his death. He's like, 'I don't believe in ghosts. I'm a total skeptic. But I'm going to tell you right now, Travis's spirit sat on my couch for two minutes and I was completely sober.'
The inquiry, which was even stopped once after cadaver dogs found human remains on the grounds, links back to Joe Exotic's old cabin, where the team collected unusual signs (including an image on the SLS webcam) that may confirm that Maldonado's ghost is troubling the park and its workers. Zak stated:
Some really incredible things started happening. Honestly the whole chain of events was absolutely amazing and completely unexpected. We were all tripping out.
Ghost Adventures: Horror at Joe Exotic Zoo debuts on 29th October 2020 on Travel Channel.
Zak Bagans Says He Got Ill After Investigating the Real-life 'Conjuring' House
Trained paranormal investigator Zak Bagans – who is the subject of nose job plastic surgery – claims he fell ill after researching the real-life home that influenced the first "Conjuring" film.
The iconic Travel Channel show "Ghost Adventures" aired an episode on Halloween in 2019 from within the Rhode Island house of the Perron family, whose encounters have influenced producers to create the 2013 horror film.
Bagans told People,
This house made me sick, and I did not recover from this investigation for about three weeks. It took everything out of me. My body wasn't functioning right. My balance. This place is haunted by something I believe is very ancient.
The outlet claimed the Perron family had encountered a great deal of poltergeist and alleged possession incident in 1971.
Also Read: Did Ghost Nations' Steve Gonsalves Undergo Weight Loss Surgery?
They quickly requested the aid of famed paranormal researchers Ed and Lorraine Warren, portrayed in the movie by Patrick Wilson and Vera Farmiga.
The couple believed the ghost that infests the home was one of the most violent in their lengthy paranormal career.
While Bagans cautioned the current occupants of the home that they could be grappling with something pretty strong, he could not help but stress the historic importance of the property.
Bagans said,
As an investigator, this is the ultimate place to go because of the history. Being able to get inside of the house and back inside of this case, reopen these files, learn some things that people don't know about this investigation, was just an absolute thrill.
Zak Bagans carries a fascination for the gruesome elements of history. As per TMZ, he recently bought a range of objects recovered from the notorious serial killer Ted Bundy's Volkswagen Beetle to be exhibited in his Haunted Museum in Las Vegas.
Do Not Miss: 'Ned from Spiderman' Jacob Batalon's Remarkable Weight Loss in 2020 – The Full Story!
Among the things are Bundy's ski mask, a teal-handled ice pick, gloves, a torch, orange cable, garbage cans, a blue exercise pack, a white linen rope, and stripes of sheets.
Artifacts were collected by retired investigator Jerry Thompson when Bundy's vehicle was confiscated in 1975.
Visit Weight & Skin for more weight loss stories of your favorite celebs.