Jacob Batalon, best known as the Ned actor from Spiderman films in the MCU, underwent remarkable weight loss in 2020. Here's the complete story.
For the fans of Spider-Man: Homecoming and Spider-Man: Far From Home, Jacob Batalon is a pretty familiar face. The actor played Peter Parker's best friend Ned Leeds, who soon becomes aware of his mate's true identity as the web-slinging superhero, portrayed by Tom Holland.
Batalon managed to gain plenty of fans following a brilliant performance as Ned in both the films. So, it's become quite clear viewers would be pretty curious to follow the actor outside his profession.
Recently, Jacob Batalon shocked his followers on Instagram by looking so slim; he was almost unrecognizable. In light of this, we've got you covered with the actor's unbelievable weight loss journey.
Jacob Batalon's Weight Loss in 2020 is Truly Remarkable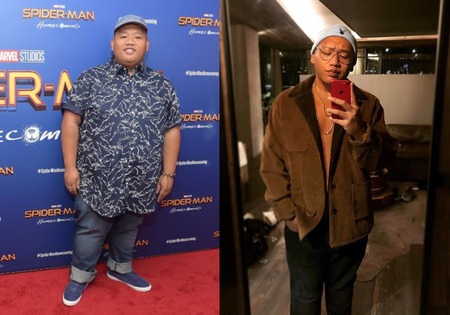 Ned from Spiderman star Jacob Batalon before and after weight loss in 2020.
Source: Weight & Skin
Peter Parker has a fairly iconic slate of side characters who have all had a bearing on Spider-Man's live-action adaptations in a multitude of ways, even though no one has confined Peter's life more than his Homecoming closest buddy, Ned Leeds.
Portrayed by actor Jacob Batalon, Ned Leeds carries a genuine bond with Peter, both of whom are nerds for superheroes. In addition, they created Lego Death Stars and sometimes saved the world from doom working together.
And with Leeds expected to come back for the forthcoming Spider-Man 3, there's no knowing what kind of journeys the character is going to take in the next edition of the film.
You Might Like: Wolfgang Van Halen's Weight Loss is Trending But Is It True?
In the meantime, the 'Spider-Man' star Jacob Batalon took to Instagram to reveal his amazing weight loss journey.
The actor captioned the post,
Don't try to get at me..imma be vibin all day??????cheee?by the way, while I appreciate the concern, people can stop telling me to lose weight now??‍♀️ #kobeyear 2️⃣4️⃣
As expected, fans showered the actor with love and appreciation for his amazing weight loss.
One fan joked,
Neds Gona look ripped in Spider-Man 4
The second speculated,
Getting that body for Hobgoblin?!? ???????? Love to see it!
The third wondered:
Who the **** is telling you to lose weight and how fast did you drop their weight?
Meanwhile, actor Matthew Noszka was proud of Jacob's physical transformation as he wished him a happy birthday. "Happy birthday, my brother! You look damn good, G! Keep grinding."
Batalon is yet to reveal how many pounds he shed and the diet he followed to achieve this remarkable feat.
Fans on Reddit Congratulated Jacob Batalon on Achieving Astonishing Weight Loss
Taking to r/MarvelStudios, fans congratulated Jacob Batalon as he looks "fantastic," and they couldn't be more "happy for him."
One user said,
How Will Spider-Man 3 Explain Ned's Change in Physique?
Spider-Man 3 is expected to start filming really soon, and it looks like Jacob Batalon is introducing his fresh look to the role of Ned Leeds for the threequel.
To be quite blunt, the character is more than likely to receive a basic one-line interpretation of a time jump in the film, particularly considering that Spider-Man will have a fair share of new problems.
One Reddit user tried to come up with a plausible explanation:
I assume Peter is going to be away from New York to lay low for a while after his Identity is made public. And so for some reason he has to return to New York and by then he realizes a lot has changed and people have moved on, one such being Ned who has lost his weight and become more mature you know. Could be a great premise!
Another tried to paint Peter and Ned's possible conversation when he notices his weight loss transformation.
Peter: "So the only thing you did was stop drinking soda?"

Ned: "Yeah. I lost fifty pounds in one month."

Peter: "How much soda were you drinking?"

Ned: "I know, right? Probably too much."
Meanwhile, Eternals star Kumail Nanjiani also unveiled a sleeker physique to his Instagram a couple of months ago, in which the star spoke a lot about his personal growth and how receiving time, money, and resources to work on a Marvel project helps a lot in the process.
Also See: Complete Details of 'Fixer Upper' Star Joanna Gaines' Weight Loss Speculations
With Jacob Batalon openly announcing his own weight loss on social platforms, the star is obviously quite proud of the work ethic he put in to reap the rewards.
With Jamie Foxx's Electro and Benedict Cumberbatch's Doctor Strange joining the cast of Spider-Man 3, it's going to be super interesting to see exactly where Ned Leeds fits in.
As Spider-Man's "man in the chair," the discovery of Peter Parker's true identity at the conclusion of Far From Home would certainly also have an impact on Ned's life.
Now that the web-slinger can face a plethora of cross-dimensional challenges, Peter will need the assistance of his faithful friends more than ever.
Visit Weight & Skin for more weight loss stories of your favorite celebrities.