Grab all the details of Fargo star Chris Rock's supposed weight loss journey, diet plan, and fitness routine.
The tale of organized crime in the United States is the story of American immigrants through the prism of a lot of mainstream literature.
The FX anthology show Fargo — which made its return for its fourth season this week after an absence of three years — has historically not been about this kind of crime drama.
Chris Rock stars as mob boss Loy Cannon in the fourth edition of the show. Since the series premiered, fans have been noticing the change in his physique, claiming some form of weight loss.
So, did the comedian really shed pounds? What's his diet plan and fitness routine? Let's find out.
Did Chris Rock Undergo Weight Loss?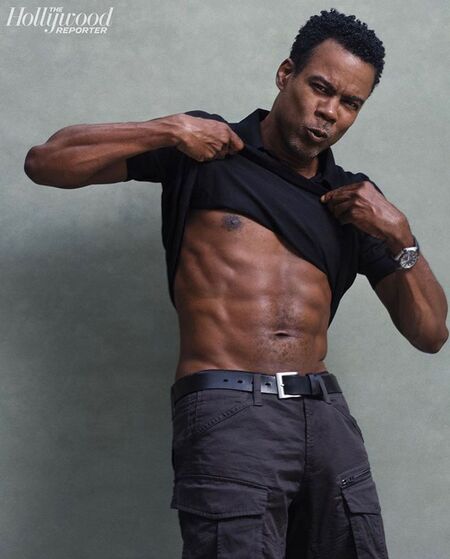 Fans suspected weight loss after Chris Rock showed his ripped physique.
Source: Chris Rock Instagram (@chrisrock)
Fans have been wondering for a while whether Chris Rock achieved weight loss after looking much fitter than before. Well, looking at his recent Instagram pictures, it does look like this is the case.
On 18th September, the actor took to Instagram to promote season 4 of Fargo along with a collage of pictures, some of which displayed his killer abs. He wrote,
Fargo – September 27th – The press tour has begun. #thehollywoodreporter @karlfergusonjr #thenewyorktimes @danascruggs
As expected, fans couldn't help notice Chris Rock's physical transformation. Actress Gwyneth Paltrow wrote,
Good man. Good abs.
In the meantime, actor Malcolm-Jamal Warner bantered about his character Pookie from the 1991 action crime movie New Jack City:
How Pookie get abs like that???
Meanwhile, a user called nettie_g14 dropped a controversial comment
This explains your misplaced blame this morning. You must have been recruited by Kanya to help Trump win a 2nd term?
Since the 4th season of Fargo premiered on 27th September, viewers are pretty aware of Chris Rock's impressively ripped physique. This has naturally brought curiosity about his weight loss. However, there's no concrete information surrounding him losing weight.
You Might Like: Did Ghost Nations' Steve Gonsalves Undergo Weight Loss Surgery?
Having said this, Chris Rock does look a lot fitter than before. The majority of the credit goes to his workout schedule and fitness routine during the COVID-19 quarantine. In fact, he had been spending time at home "walking, weight-lifting, swimming and cutting out sugar."
The Comedian Revealed Non-Verbal Learning Disorder Diagnosis
Earlier in 2020, Chris Rock became diagnosed with a cognitive disability, finding it impossible for him to pick up non-verbal cues. This is something that Rock claims could have contributed to a divorce from former wife Malaak Compton in 2016 after two decades of the marital relationship.
Rock told The Hollywood Reporter that following a long examination, the physicians diagnosed Rock with a syndrome called non-verbal learning disorder, or NVLD. Rock clarified he's having trouble with non-verbal signs, which make up about 80 percent of the conversation.
By the way, all of those things are really great for writing jokes — they're just not great for one-on-one relationships.
Chris Rock continued,
And I'd always just chalked it up to being famous. Any time someone would respond to me in a negative way, I'd think, 'Whatever, they're responding to something that has to do with who they think I am.' Now, I'm realizing it was me. A lot of it was me.
The "Kill The Messenger" star is currently on treatment seven hours a week with two specialists to cope with his disability and a traumatic upbringing that saw him mercilessly humiliated as the only black pupil in an all-white academy.
Also See: 'Ned from Spiderman' Jacob Batalon's Remarkable Weight Loss in 2020 – The Full Story!
Another aspect the single father of two gained after the lockdown was those killer abs because of a mix of cycling, weight-lifting, surfing, and sugar cutting. This most definitely helped him undergo noticeable weight loss.
The comedian currently stars as crime boss Loy Cannon on "Fargo" season 4 that premiered on FX on 27th September.
Chris Rock Allegedly Cheated on His Wife with Kerry Washington
Chris Rock provided a rather interesting interview to Rolling Stone, in which he admitted he cheated on his former wife, Malaak Compton Rock, with three separate women, describing the three as "famous," "semifamous" and "one a member of the retail class."
As per Page Six of the New York Post, the well-renowned woman was Kerry Washington. A source told the publication:
He was cheating on his wife with Kerry when they were filming ['I Think I Love My Wife'] about him, ironically, having fantasies of cheating on his wife. That went on for a while, for like six months, and she found out. There's no gray area.
The movie was made in 2006 and Kerry was engaged with actor David Moscow during that period.
Also Read: Wolfgang Van Halen's Weight Loss is Trending But Is It True?
Another source close to the comedian said Chris' marriage to Malaak Compton-Rock was "rocky," but he tried to downplay the remarks, claiming that it was just a shtick.
The second source said,
I take it as a joke when he says he cheated with a famous person. He even says he cheated with a member of Destiny's Child, but not Beyoncé. He was friends with Kerry around that time. They did the movie together. He was also separated from Malaak around that time. They were off-and-on a lot during their marriage. It was a rocky situation.
Kerry is now in a marital relationship with Nnamdi Asomugha, a former NFL player. Chris, meanwhile, went on to date actress Megalyn Echikunwoke. The couple split after 4 years in March 2020.
Speaking of his romantic life, Chris said:
That actually goes the other way. My faults are magnified. Your significant other, if they really love you, has a high opinion of you. And you let them down.
Soon after he and Malik had gone separate ways in 2014, Rock used the rift as content in his stand-up performances, but those days are long gone.
Do Not Miss: Complete Details of 'Fixer Upper' Star Joanna Gaines' Weight Loss Speculations
Talking about his split, the comedian said:
It's not fair. I have a mic, she doesn't. God forbid people are bugging her in the supermarket. That's not cool. I'm going to have to see her at weddings and graduations.
He also remembered he was once upset with his ex, but then he asked himself whether he wanted to be furious for a year. It was definitely not a pleasant place to be plus it's not healthy.
Visit Weight & Skin for more weight loss stories of your favorite celebs.