Learn all the facts behind Zak Bagans' nose job plastic surgery through before and after pictures.
Born on 5th April 1977 in Washington, DC, Zak Bagans is an American paranormal investigator and reality TV personality, who soared to fame after serving as its main host on 'Ghost Adventures.'
The Travel Channel program is airing for over a decade now, with the debut of season 20 on 5th November 2020. His upbringing and intimate other-worldly encounters led him to walk passionately down the less beaten track.
Lately, Zak Bagans is the subject of plastic surgery speculations on the internet, most notably nose job. So, without further ado, let's dive deep into the details.
Zak Bagans Underwent Nose Job Plastic Surgery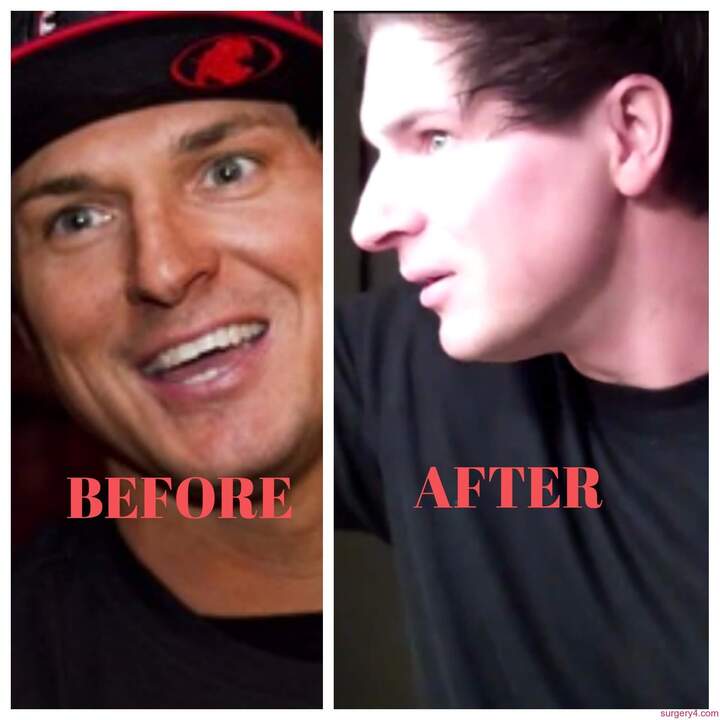 Zak Bagans before and after nose job plastic surgery.
Source: Pinterest
While most people struggle to notice something new about someone, it's not easy to get away with a nose job without being pretty obvious.
Many actors who opted to alter their nose often receive the spotlight right away. The same thing happened to Zak Bagans after he underwent plastic surgery.
Previously, his nose was slightly bigger and broader. It appeared to fill his whole face. The latest look, however, makes it quite clear he performed a nose job.
You Might Like: 'Cobra Kai' Star Martin Kove's Plastic Surgery – What's the Secret to His Good Looks?
Bagans' nose is now slimmer and symmetrical. This has definitely added a more youthful look on his face.
One user on Pinterest said,
He's still looking hot with the new nose
While it's obvious Zak Bagans had a nose job, what's the reason for it? To shed light on it, the TV star previously took to Twitter to explain his plastic surgery. He wrote:
I've had problems breathing thru my nose for 20 years had my septums fixed and well..I had them give me nice new beautiful nose too! Why not!
Bagans – who is at the forefront of noticeable weight loss – is often the subject of plastic surgery speculations on Reddit as well. One user wrote;
Did he get a nose job? His nose looks a little more prominent back then.
In the meantime, most fans are not impressed by Zak's personality. So, they tend to express their thoughts on Reddit. One such user said:
Zak Bagans has the most fragile ego out of all fragile egos.
The comment section, as expected, was filled with remarks for and against Zak Bagans, although most seem to agree with the OP's sentiments. One user commented:
I've been watching this show since the very first episode. What Zak used to wear In the early seasons was cringey. He wore muscle shirts with Jean Co jeans with that awful haircut. If you haven't noticed he had a nose job done as well a few years back and it also looks like he finally hired a stylist.
The second added,
Also, not sure if I'm the only one that picked up on this but Zak's face has changed dramatically since the show started. He had some seriously janky teeth and now he's got a perfect set of pearly whites.

He may have had a nose job, too…Not judging him for that, it's just something I've noticed after years of watching.
The third replied,
He's just a goofy dude. If you go back and watch the old seasons it's obvious he's had a nose job, and he definitely comes across as the prima Donna of the crew.

However, I agree with what other folks here are saying which is that he is a very entertaining host and I enjoy watching him. He's just an easy target with the overuse of hair gel, wearing black parachute pants on the early seasons, Etc.
To be fair, Zak Bagans admits his nose job openly as it was for a deviated septum. However, not every fan is buying it's purely for medical reasons.
I think he's had 2 nose jobs (not sure though). I noticed immediately a few years ago when he first got it done, it just looked slightly different, then I stopped watching for a bit, and now its wayy smaller than it was originally.

I think that was a mistake. His nose was masculine. Not sure what look he's going for now, but he really needs to stop with all these cosmetic procedures.
There's definitely an aesthetic motive as much as a medical necessity when it comes to Zak Bagans' plastic surgery.
Fixing an internal septum problem doesn't require shaving off the cartilage and changing the overall look of the nose. He even admitted that he wanted a "beautiful new nose" while getting the other stuff fixed.

He's also gotten botox and fillers most likely (I work at a dermatologist office). I get he has insecurities, I just think he looked much better before IMO and he is going overboard. Less is more, he is a naturally good looking dude.
It definitely makes more sense when you recall the fact that the Ghost Adventures star said he wanted a "beautiful new nose."
Also See: 'The Real' Co-Host Jeannie Mai's Plastic Surgery – Did She Get Butt Implants?
Besides the apparent nose job, Zak Bagans is also subject to Botox and fillers on his face. Although it's not as obvious, you would not rule out a TV personality undergoing a few plastic surgery procedures during his career.
Zak Bagans' Haunted Museum in Las Vegas Scares Visitors on Holloween Eve
On Halloween's Eve 2020, the people of the valley had some Halloween fear at the Zak Bagans' eerie Museum in Las Vegas. Termed "Late Night Flashlight Ghost Tour Experience," Bagans provided limited, unparalleled access to his Haunted Museum, 600 E. Charleston Blvd.
Teams of 20 people got the full reign of the whole facility in complete darkness for 90 minutes at a time.
In 2019, the founder and star of "Ghost Adventures" allegedly paid $50,000 for the famous goggles of late serial killer Ted Bundy, which are on show in the museum.
Also Read: 'Agents of SHIELD' Star Chloe Bennet's Plastic Surgery is Trending But Is It True?
Bagans announced he had bought the scary eyeglasses and that it would be on display in his Haunted Museum. Initiatives were in place for the goggles to be positioned behind the prison display, with the real prison bars.
Bagans said,
Ted Bundy was one of the most evil human beings to ever set foot on this planet. His eyeglasses will be on permanent lockdown behind jail bars where they belong on exhibit at the Haunted Museum.
TMZ claimed Bundy wore the glasses during his kidnapping of 12-year-old Kimberly Leach in Lake City, Florida, back in 1978.
The acquisition of the specs also contained an authentic brown evidence package, an exhibition tag, and a crime scene picture of the goggles inside the Volkswagen Beetle Bundy before he was captured.
Do Not Miss: 'Miss Universe Phillippines 2020' Rabiya Mateo's Plastic Surgery Rumors
A Bit on Zak Bagans' Professional Life
Zachary Bagans started his journey in the entertainment industry in 2004 when he co-directed a documentary-style film, 'Ghost Adventures.'
The award-winning feature was first shot in 2004 and developed by 4Reel Productions in 2006. It debuted on SyFy Channel on 25th July 2007 and, the subsequent year, it evolved into a docu-reality show based on the same concept. He has been the lead anchor of the Travel Channel show for two over a decade and the entirety of 20 seasons.
Check Out: Complete Breakdown of Jared Kushner's Plastic Surgery Procedures
In the fall of 2017, the reality star opened The Haunted Museum in Las Vegas, Nevada. Bagans then became the owner and manager of the museum.
Since its opening in October 2017, the museum became the focus of a number of conflicts.
For instance, news of some of the artifacts having questionable sources and a scandal involving a tourist going unconscious after witnessing paranormal phenomena from a rocking chair, allegedly possessed by a demon.
Additionally, Zak Bagans co-wrote "Dark World: Into the Shadows with the Lead Investigator of the Ghost Adventures Crew" with Kelly Crigger. His second project as a writer was his novel 'Ghost-Hunting For Dummies,' which released in December 2019.
Recommended: Real Truth About Alicia Witt's Plastic Surgery Procedures
Visit Weight & Skin for more plastic surgery stories of your favorite celebs.