Learn all the facts behind Lara Beitz's 40 pounds weight loss, along with her diet plan and fitness routine. Check out the comedian's amazing before and after transformation.
Lara Beitz, born and raised in Milwaukee, Wisconsin, began her career in the Chicago comedy circuit before heading to Los Angeles and emerging as the most discussed newcomer in the iconic Comedy Store's roster.
Since becoming a constant figure, Lara has rapidly attracted fans from the pinnacle of the comedy world, including Judd Apatow and Joe Rogan, who called her "the real deal" on Instagram. Soon after, she earned more fans when she appeared on David Spade's Comedy Central series Lights Out.
Lately, Beitz is making rounds over her incredible 40 pounds weight loss. Get all the facts of her diet plan and fitness routine here.
Lara Beitz's 40 Pounds Weight Loss – How Did She Pull It Off?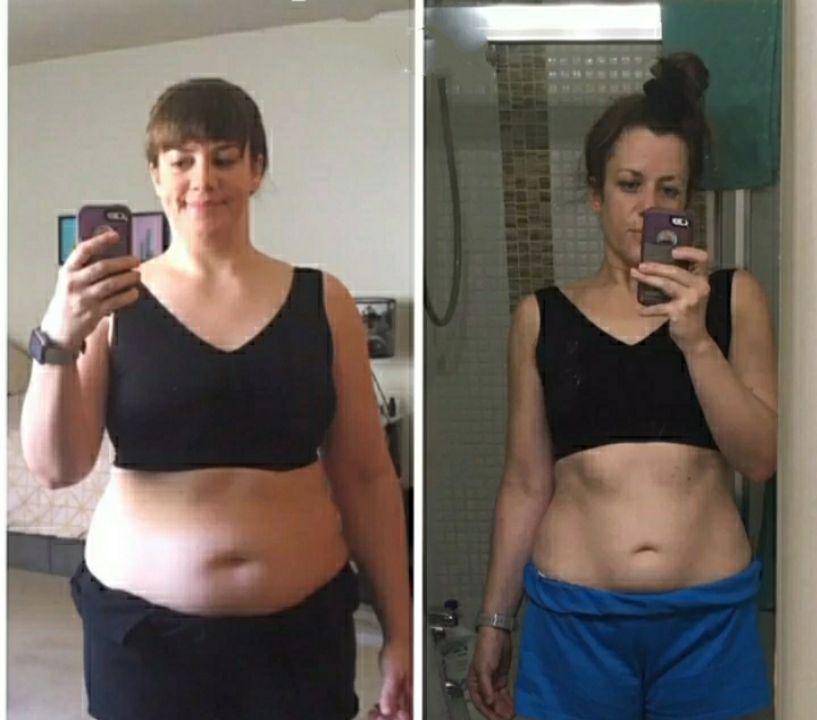 Lara Beitz before and after 40 pounds weight loss.
Image Source: Stasia Patwell Instagram (stasiapatwell)
Speaking on the Joe Rogan podcast, Lara Beitz said all she needed to do was go outside, start talking, and she ended up losing weight without even wanting to in the first place.
Even it was unintentional, she admitted she's happy to be lighter. "I feel lighter, that's exactly how I feel. Well, it's the equivalent of like eight bags of potatoes, and if I think about what it would be like to carry that around in a backpack like through an airport and then you get to set it down…"
You Might Like: Full Story on Matt Gaetz's Weight Loss, Diet Plan & Fitness Routine
Rogan claimed how her weight loss is equivalent to one of those big 45 pounds barbells. "My ankle weights and my hand weights together are 20 pounds and if I think about carrying that times two even across a room I would be tired and I feel so much better," she said.
"I mean I had back pain from the time that I was a teenager. I had joint pain and I thought that I was just gonna have it for my whole life because I didn't think I was heavy enough. It was affecting my joints and that pain is all gone, and it makes sense to me because, again, if I carry around a heavy bag through an airport like my back will hurt at the end of the day."
"If I do that right now, to have to carry that weight around everywhere I go, everything I do. Even just sitting having that extra weight like I just don't want it back and I think part of it might be because I stopped eating flour and sugar which I've heard are inflammatory as well. So, I think part of it might be that but the other thing is just getting to set down the weight, I feel awesome. I think both are factors."
Logically, weight is definitely a factor as much as sugar, flour, and any processed foods that cause inflammation. Joe Rogan then asked Lara Beitz about her exercise schedule, workouts, and fitness routine. She revealed,
I play tennis and swim and I do workouts that Stasia Patwell created. She was a comic, she ran a show at the store, and she's a trainer. She started doing these classes on zoom for female comics and a bunch of us have had before and after transformations, where a bunch of fat comics has gotten hot because of her workouts.
A quick glance at Stasia Patwell's Instagram shows just incredible she truly is and nobody can question her track record in helping achieve dream weight loss for women.
Also See: 'American Idol' Grace Kinstler's Weight Loss Surgery & Secret to Her Hips!
Upon taking a glance at Patwell's Instagram highlights during the podcast, where Beitz's before and after transformation showed up – she couldn't believe she used to be so fat. "I did not know I was that fat. Boy, do I have egg on my face."
As for what she was thinking before undergoing this transformation, she said:
I thought I had 25 pounds to lose. I mean I'm comfortable talking about numbers, so my top weight was 180. I set my goal weight at 155 and now I'm 142.5. I'm in a healthy weight range, so if my body stops easily losing weight then I'll be like, 'okay, this is the weight that my body wants to be,' but I'm still losing weight, and it's not protesting. I'm certainly not starving myself.
Turns out it was just a matter of eating the right food and forcing yourself to do rigorous exercise. "I joined a support group for overeaters and I weigh, measure, and write down every single thing I put in my body and eat balanced portions that were given to me by a dietitian."
"I measure out like protein grains fruits and vegetable fats and then my goal that I try for is to be in a caloric deficit of about 250 calories a day which averages out to about a half a pound a week of weight loss. I don't do it perfectly but like that's enough where I'm not starving all the time."
"I'm satiated, so it's sustainable but I'm also steadily losing weight and I haven't had pizza in a year like I haven't had any added flour, any added sugar in like 10 months."
Also Read: R&B Singer Ari Lennox's Weight Loss is Making Rounds on the Internet
Joe Rogan couldn't have been more impressed by her discipline and work ethic. He said,
Well, you're a disciplined person, you know. I really admire your work ethic, and I know I've told you this before because you would come to the store with your notebooks. I'm like, 'look at you, your notebook is like you're meticulous.' Like all your stuff would be super written out and so many comics are so impulsive and sort of scatterbrained and they don't focus and I really admire that you're focused.
Lara reciprocated and thanked him while acknowledging how much she admires the same aspects about Rogan so "that means so much coming from you, I admire your work ethic."
Lara Beitz Reveals the Immense Dedication Required to Achieve Your Weight Loss Aspirations
Lara Beitz says she took the energy that she had been putting into stand-up and just applied that same thing to her weight loss aspirations because "it's like if you really want to do something why f&&& around, why waste the effort like what would be the point."
She spent so long trying to diet without weighing and measuring, and it turned out pointless. So, she figured she would now put up plenty of boundaries, turning it into something where failure was not an option.
Do Not Miss: Laura Geller's Weight Loss Journey – How Did She Shed Pounds?
She believes in taking actions in the direction of the thing that she wants but it doesn't help her if she's trying to just eat better which is such a general concept. "Then if I'm stepping on the scale once a week then what happens when my weight is up. Because as it stands now, I'll step on the scale, my weight could be up three pounds and that's fine."
"I don't trip because I wrote everything down. I know that I'm in a caloric deficit and I know it's water or salt, whatever. I don't understand that stuff but then I step on the scale the next week and it'll be down, you know."
Weight loss is undoubtedly a process, but the problem is everybody wants to get there so quickly. She concurs. "I think a huge part of it too is like the action has to be the reward so like I love doing my workouts because she (trainer) makes me laugh. It's built right into my routine. I eat my oatmeal. I meditate and then I do one of her workouts and it feels good."
"It feels good for my body and the same thing with food like I don't eat most of my favorite foods from before anymore, but I love everything I do eat because I've learned how to cook stuff (like) brown rice vegetables proteins."
Check Out: 'The Bachelor' Winner Rachael Kirkconnell's Weight Loss – Result of Pressures from Scandal?
Lara Beitz admits she's learned how to cook food the way that it tastes good to her. So, she's not doing workouts she hates. She's not eating food that she hates. Therefore, the entire process is sustainable, which is the perfect approach to undergoing weight loss.
Visit Weight & Skin for more weight loss stories of your favorite celebs.