Grab all the details of The Bachelor season 25 winner Rachael Kirkconnell's weight loss. The reality star ended up at the forefront of racism controversy during the historic Matt James season.
Rachael Kirkconnell, a Cumming, Georgia native is described as "a southern sweetheart with a close-knit family," as per her franchise bio.
The Bachelor season 25 winner came under fire for her social media history, including a picture she posted sporting an antebellum-style gown during an event hosted by the college fraternity Kappa Alpha at Georgia College & State University.
Moreover, Rachael has been accused of liking racist social media posts in the past. She previously liked a picture of a couple of Caucasian girls wearing hula costumes standing in front of a Confederate flag.
In the midst of all the controversies, Rachael Kirkconnell is the subject of weight loss speculations on the internet. Did she lose weight? Let's find out.
Did Rachael Kirkconnell Undergo Weight Loss?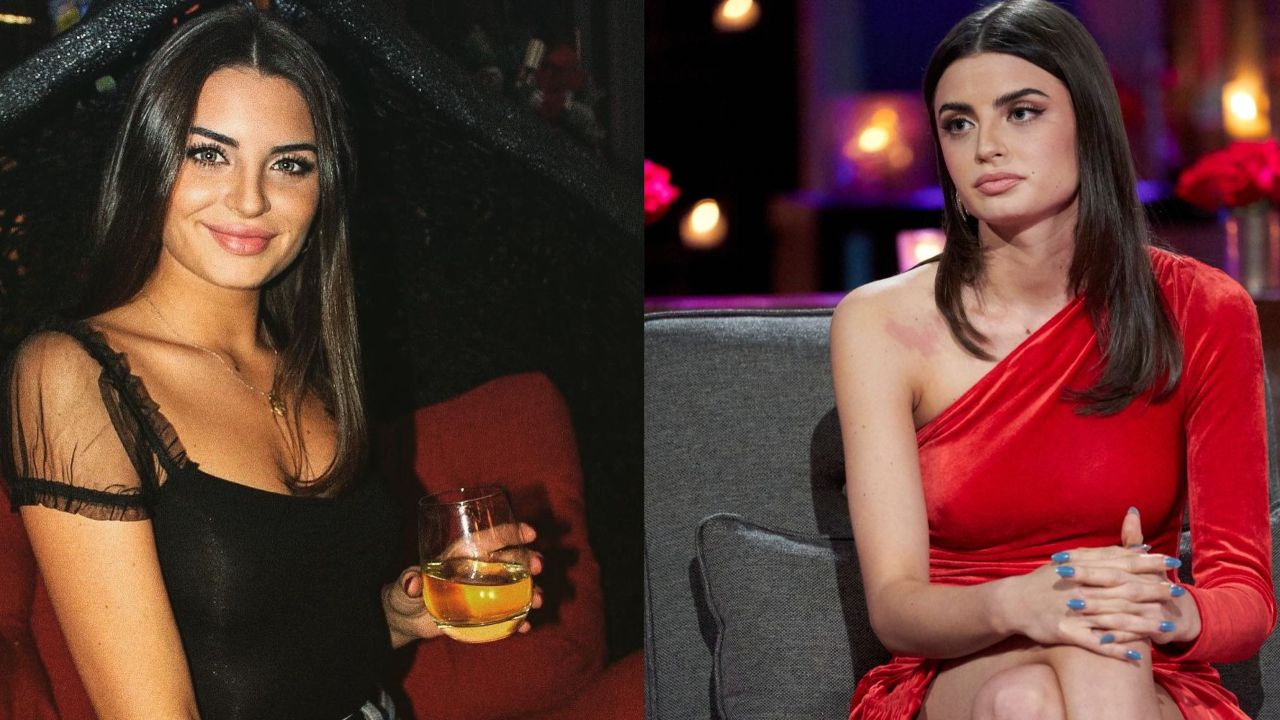 Rachael Kirkconnell before and after weight loss.
Image Source: Weight & Skin
It's not unusual to see people undergoing weight loss as a result of the extreme amount of stress. Rachael Kirkconnell seems to fall in the same category.
Recently, Rachael's mother, Kim Kirkconnell, broke her silence on her daughter's defense in an interview with The Sun on 25th February, saying nobody should have to suffer what she's been through following her break up from Matt James.
She said,
We will never be able to understand how he feels about this situation as a Black man. We respect his stance on the situation
Her mom added we have witnessed Rachael's misery and emotional turmoil as a result of this. She feels compelled to show him she has grown and that she will work with him to fight racism.
You Might Like: Dua Lipa's Weight Loss Secrets – The Complete Breakdown!
Rachael's momma insisted this isn't about winning a contest. This was all about falling in love with Matt.
She also mentioned the fact that Rachael has lost a significant amount of weight due to the pressures of the scandal.
Looking at her most recent appearance, it does look like her mom is right and Rachael Kirkconnell has indeed undergone noticeable weight loss.
Rachael Kirkconnell Addresses Racism Controversy
The season 25 winner is finally sharing her point of view. During the 15th March episode of After the Final Rose, host Emmanuel Acho questioned Bachelor contestant Rachael Kirkconnell about her previous blatantly racist Instagram pictures.
During the historic season of Matt James' The Bachelor as the first black lead, pictures of the graphic designer at an "Old South" antebellum-themed party in 2018 reemerged. Additionally, screenshots of her "liking" pictures of friends sitting in front of Confederate flags popped all over social media.
Also See: 'TWICE' Sana's Weight Loss Journey – Complete Breakdown of Diet Plan & Fitness Routine!
Echo asked 24-year-old Kirkconnell what she saw after displaying the pictures on the finale special.
She explained,
I see someone who was living in ignorance without even thinking about who it would be hurting. I never once asked myself at any point, like, 'What's the tradition behind this? What does this represent? Why do we wear those dresses?'
Kirkconnell added,
I'm not gonna sit here and say I didn't know any better, because I could have easily asked myself those questions. I never took the time to make that connection, because if I would have taken the time, I easily could've understood what was wrong with it. … There is no excuse.
Acho also inquired as to why she had taken so long to offer an apology.
She replied,
I wanted myself to really understand exactly why people were so hurt by this because I want to do better.
The 29-year-old James picked Kirkconnell during the finale on 15th March. However, during the After the Final Rose special, he disclosed they had split as a result of the scandal.
The Bachelor said,
There's a lot of work that needs to be done. I have to take a step back and allow her to put in the work. We are not [together]. It was as tough as you can imagine. It's heartbreaking. If you don't understand that something like that was problematic in 2018, there's a lot of me that you won't understand.
When questioned what he would tell to those alleging him of splitting up with her over something that happened a long time ago, James responded, "You know what was a long time ago? Plantation."
Also Read: 'Legacies' Danielle Rose Russell's Weight Loss – Did She Perform Bariatric Surgery?
Rachael Kirkconnell stated that James' decision to terminate the relationship caught her off guard. She said,
I thought about how strong I thought our relationship was, so for him to end things, he must have been very, very hurt by everything. It was hard because I lost the love of my life and in the process of doing that, I hurt him. … I love him so much and I always will. I do feel like I finally do know what real love feels like.
It's fair to say, this whole fiasco is far from over!
Visit Weight & Skin for more weight loss stories of your favorite celebs.