Grab all the details of New Amsterdam star Tyler Labine's weight loss struggles, eating disorders, and suicide attempts. This mirrors his character, Dr. Iggy Frome's life.
The experience of Dr. Iggy Frome (Tyler Labine) with disordered eating has played an important role in Season 3 of New Amsterdam.
As a matter of fact, his assistant thought he had coronavirus in one of the episodes when he looked frail and weak. However, as Iggy's friend and patient Dr. Lauren Bloom (Janet Montgomery) learned, this was actually due to Iggy stopping to eat following a binge.
Iggy then tells Dr. Bloom about how his profound food problems came to be. He recalls his father pinching his stomach and calling it gross, as well as keeping a chart to track his nine-year-old son's weight loss progress.
Although it may be upsetting to hear a character on a show discuss such things, viewers at the time were unaware that this was the truth for actor Tyler Labine, who plays Dr. Iggy.
Tyler has had to contend with a father who found him gross, multiple unsuccessful weight loss attempts, and suicidal tendencies.
Tyler Labine's Weight Loss – Previously Struggled with Eating Disorder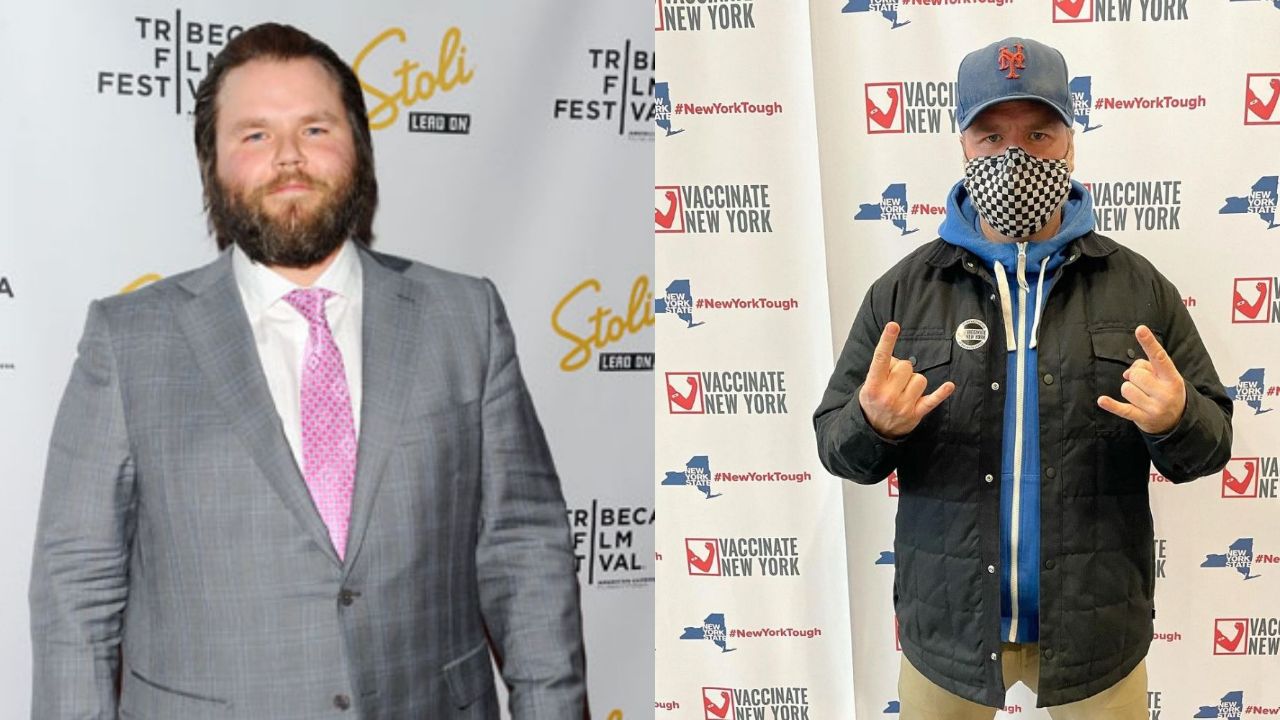 Tyler Labine before and after weight loss.
Image Source: Weight & Skin
Tyler Labine, an actor & comedian, is a part of the acting industry since he was a teenager and has starred in guest roles on shows such as Nickelodeon's Are You Afraid of the Dark (1994) and Sabrina the Teenage Witch (1996).
Tyler – who is at the forefront of weight loss curiosity among fans – secured his first lead role in the teen comedy-drama Breaker Higher in 1997, alongside a young Ryan Gosling, where teenagers went to high school on a cruise ship. Tyler played the witty Jimmy Farrell on the series.
You Might Like: Laura Bush's Weight Loss – How Many Pounds Did She Lose?
Tyler is also renowned for playing Dale, the uncertain and unsophisticated countryman in the comedy/horror Tucker & Dale vs. Evil (2010).
Perhaps, Tyler is best known for portraying Dr. Iggy Frome, the chief of psychiatry in the hit NBC medical drama New Amsterdam, based on the book Twelve Patients: Life and Death at Bellevue Hospital by Eric Manheimer.
Iggy addressed his body problems and how they influence how he perceives his value in Season 2 of the show. In Episode 12, he declares that he will make better food choices.
When Iggy is at work, though, he resorts to eating junk food when he is distressed. Iggy is forced to binge eat as a result of his sorrow.
New Amsterdam didn't say what he was up to last season, but the second episode of season 3 clarifies that Iggy is suffering from an eating disorder, and Dr. Bloom (Janet Montgomery) – the actress, who is the subject of weight loss of her own – asks him about it.
Tyler disclosed how the writers dove into his background in an interview with Philadelphia radio station 98.1 WOGL.
Also See: 'The Bachelor' Kelley Flanagan's Weight Loss – The Full Story!
They incorporated key elements for the recent New Amsterdam stories, such as disordered eating and risky fad dieting, a suicidal tendency at the age of 12, and pursuing support after decades of struggle, into the narratives.
He shared,
The main theme for Iggy, between Season 2 and Season 3, is that he doesn't know how to love himself or love his own body. Which is cool because I struggle with that, and that's not something I've seen represented from a male perspective in any type of medium.
Tyler added,
My parents are big fans of the show, and they are going to be shocked. There is stuff in there that I haven't even talked to them about.
The actor also discussed with People about his previous appearances on the show, saying:
I wish I'd done it sooner. It's been really cathartic to embark on this journey with Iggy, but it's a big breakthrough for me to tell my story, and hopefully, it will help other people.
Tyler then explained his journey in his own terms, saying:
Around nine, I started to get a little chubbier than my two brothers. One night my dad saw me with my shirt off, slapped my gut, and said, "Oh my God, that's disgusting. Look at that thing!"
He went on to add,
From then on he put me on these crash diets and made me feel very different from the rest of my family. He built a little makeshift gym in the basement and would take pictures of me to chart my progress. I felt like the love I received was in direct relation to how much weight I lost. At 11, I'd lie in bed at night dreaming about getting liposuction, and at 12, I made a clumsy attempt at killing myself.
Labine was a pretty outgoing, funny child, but he was in so much pain on the inside.
Also Read: 'Good Trouble' Emma Hunton's Weight Loss is Dramatic and Shocking Her Fans!
Tyler Labine Wanted to Get Help with His Eating Disorder
Tyler Labine revealed that as a child, he learned he had a severe eating problem after visiting the clinic a few times and the diagnosis revealed he had body dysmorphia. Tyler began drinking after breaking into the acting world.
He said,
The 'funny fat guy' characters I often played seemed impervious to people's insults, but I would feel hurt by them. Drinking became a way for me to mask my feeling of being less-than.
Finally, in his late 30s, he received badly needed support.
Labine declared,
Now, I've been sober for the last three and a half years. I'm in a 12-step program, I'm on antianxiety meds, and I do talk therapy once or twice a week, which has allowed me to start erasing some of those messages from my parents.
Tyler concluded,
I'm learning to accept, surrender, and forgive, and I'm starting to look at myself as a more whole human being whose successes have nothing to do with weight. And dinners with my family are what they should be: We talk, we eat the same tasty food, and it's fun.
In the meantime, here's hoping Iggy will find a way to deal with his food addiction as the season progresses, and it will be fascinating to see what part Dr. Bloom will undertake in his recovery.
Do Not Miss: 'George Lopez' Star Valente Rodriguez's Weight Loss – The Complete Breakdown!
Visit Weight & Skin for more weight loss stories of your favorite celebs.