All the facts behind The Bachelor star Kelley Flanagan's weight loss journey. What's her diet plan and fitness routine? Check out her before and after changes.
Former Bachelor stars Peter Weber and Kelley Flanagan's on and off relationship finally came to an end this year.
The 29-year-old Flanagan explained what contributed to them calling quits to their relationship in February while she appeared on ex-Bachelorette Kaitlyn Bristowe's podcast, Off the Vine on PodcastOne.
The lawyer finished fifth on Weber's season of The Bachelor after they had only bumped into each other once before the show began filming.
After the pilot's interactions with leading contenders Hannah Ann Sluss and Madison Prewett didn't go so well, Weber tried again with Flanagan.
He revealed their breakup on New Year's Eve, months after they agreed to relocate to New York City together. The couple attempted to repair their relationship again, but in February they parted ways for good.
Away from the dating scene, meanwhile, Kelley Flanagan is lately making rounds over her weight loss journey. How many pounds did she drop? Let's find out.
Kelley Flanagan's Weight Loss After 'The Bachelor' Surprised Fans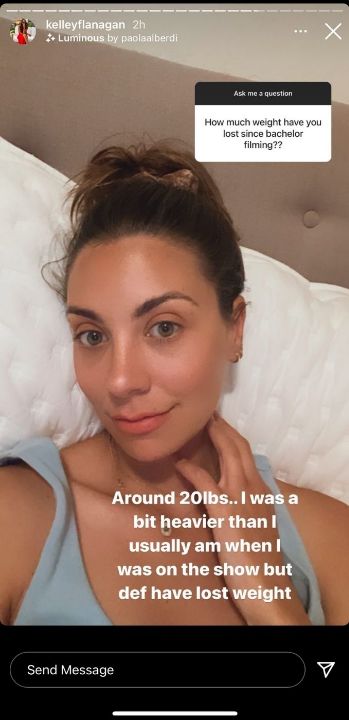 Kelley Flanagan underwent 20 pounds weight loss since filming The Bachelor.
Image Source: Instagram
When Kelley Flanagan is away from reality TV, she keeps herself busy interacting with fans on social media.
Her followers are aware that she is searching for a new place to live in New York City. She was formerly based in Chicago, but she has stated that she is not bound to a single place.
You Might Like: 'Good Trouble' Emma Hunton's Weight Loss is Dramatic and Shocking Her Fans!
That was a lesson that the COVID-19 crisis taught her. Kelley did, however, reply to some obtrusive questions in a recent Q&A session with fans. One of them was related to her noticeable weight loss.
As it became quite obvious, some of Kelley's followers have noted that she seems to have shed some pounds. When one of her followers inquired how much weight she had lost after The Bachelor, she had no trouble responding.
Kelley answered,
Around 20lbs…I was a bit heavier than I usually am when I was on the show but def have lost weight.
Kelley took part in the filming of The Bachelor with Peter Weber in the fall of 2019, and the show aired in the first couple of months of 2020 – just before the COVID-19 pandemic swamped the world.
Also See: 'George Lopez' Star Valente Rodriguez's Weight Loss – The Complete Breakdown!
The reality star, however, did not disclose how she managed to achieve such an impressive weight loss. She has not opened up about her diet plan and fitness routine either.
Why Did Kelley Flanagan Split from Peter Weber?
Though Peter sent Kelley home in the sixth week, the two reconnected after the show ended. He eventually moved in with her in Chicago, and after merely a month, the two announced that they were giving their romance another go.
The pair had met before The Bachelor when they happened to run into each other in a hotel suite, but Peter decided to send her packing.
Peter announced they had gone their separate ways soon after Christmas after reigniting their relationship during the quarantine. Fans were taken aback by the breakup, as they were hoping for Peter Weber and Kelley Flanagan to work things out in the long run.
Also Read: Full Story on Marcus Mumford's Weight Loss Speculations
The couple was seen together in February at a Super Bowl party in Tampa Bay. Peter and Kelley were hanging out and seemed to be in a good mood.
Fans spotted Kelley at Peter's residence in New York a few days later, but they never revealed anything. They seem to have been simply embracing each other's friendship during that moment.
Kelley hasn't disclosed the status of her relationship with Peter, but she has told fans that she will still be relocating to New York.
Visit Weight & Skin for more weight loss stories of your favorite celebs.