Grab all the details of Doja Cat's weight loss journey in 2021. What's her diet plan and fitness routine? Check out her before and after pictures.
Doja Cat, a multi-talented music sensation, is an LA-based singer and songwriter, who has over 11 million Instagram followers watching her Instagram Live clips to hear her sing spontaneous songs about strep throat, animals, and whatever else she's feeling.
Doja has a large music library, in addition to her sporadic social media tracks. Her emotionally driven, often wild persona appeals to many rap fans, as she exudes vintage vibes and is sometimes brutally honest.
Likewise, her divisive tweets or her epic home video in which she shows her moves in a cow outfit may have brought her to your attention.
Recently, though, Doja Cat is the subject of weight loss curiosity among fans on social media. Did she lose weight? What's her diet plan and fitness routine? Stay with us to find out.
Did Doja Cat Undergo Weight Loss in 2021?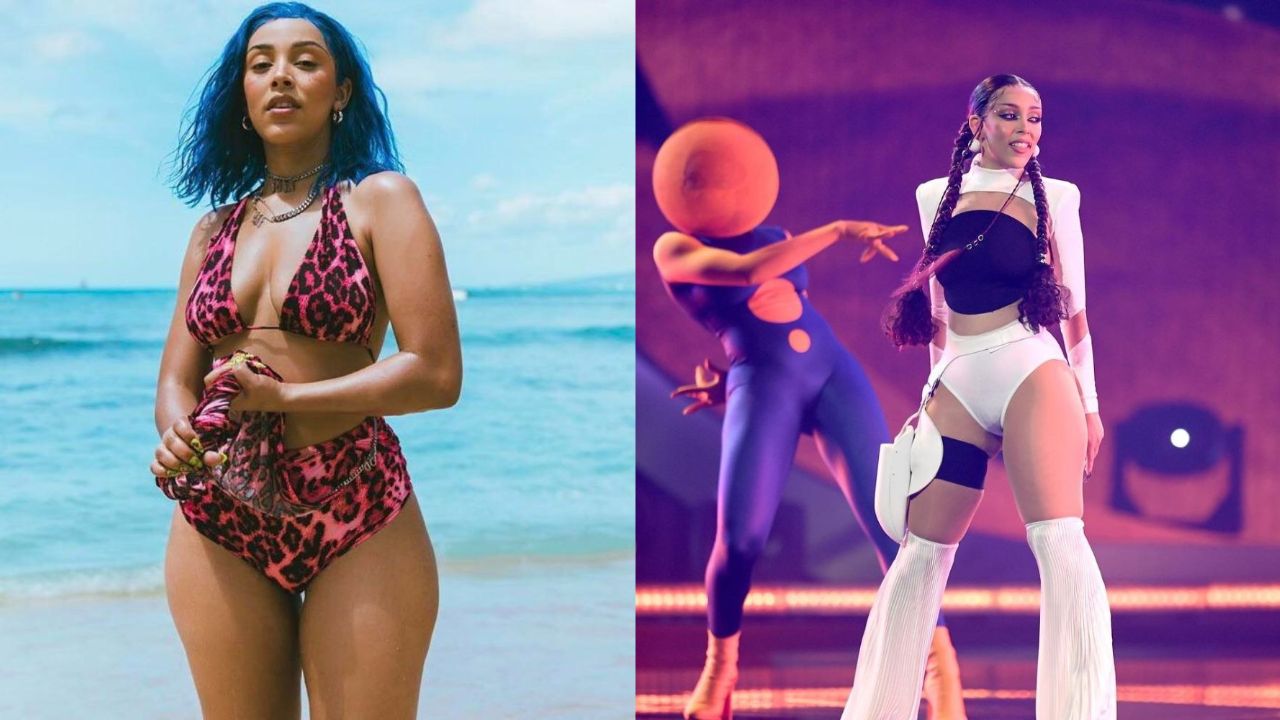 Doja Cat before and after weight loss.
Image Source: Weight & Skin
It's usually fans who are the first to notice the weight loss of their favorite celebrities. The same happened with Doja Cat as her fandom began discussing her physique which seemed to get slimmer since last year.
Taking to Reddit, one fan raised a question wondering whether they're fond of her dropping pounds or not.
You Might Like: Jason Kaplan's Amazing 100 Pounds Weight Loss Journey, Diet Plan & Fitness Routine!
The person wrote:
This is not meant to be offensive in any ways, I just kind of worried about Doja Cat. She seems fine, but she also look like she's lost a lot of weight – especially in her face, and as someone who dealt with a similar weight loss issue and …interesting methods – I see similarities I guess and I am kinda worried. Do any of you notice this as well or am I just trippin?
One user responded,
I noticed this too but I think she just wanted to loose some weight for the Grammys, not sure why cause she's looked better the bigger she is. She seems to be putting it back on tho so I'm sure she's fine ?
As it turns out, she did undergo weight loss, but it was completely intentional as she had been working with a trainer to shed the pounds.
Also See: Full Story on Kathryn Hahn's Weight Loss – Has the 'WandaVision' Star Shed Pounds?
Back in December 2020, the rapper took to Twitter to draw light on her diet plan. She wrote,
I bought groceries before the election cuz I thought it was gonna get stanky out there so I just been cooking for myself ever since. I eat two eggs and spinach tortilla w caramelized onions pepper jack cheese and hot sauce and roll it up. I also eat a lot of seaweed.
There remains little doubt Doja Cat is definitely getting skinnier, but as long as she's happy and healthy, most fans are delighted for her.
Doja Cat is Proud of Her "Healthy" Weight Loss
During an interview with Dick Clark's New Year's Rockin' Eve, Doja Cat – who is also the subject of plastic surgery – was asked about the new things she learned in the year 2020. On answering that question, she appeared to hint at her "healthy" change in appearance by showing off her body.
The singer said,
If I put my mind to something, I can do it because there's a lot of things that I've struggled with and I feel like I won't specify. It's not like anything edgy or crazy but you know like as far as taking care of myself, I feel like I've been doing pretty good. I look better. I'm a little more healthy.
Like most fans, we believe Doja Cat looks stunning, to say the least! Every celebrity, in fact, loses weight after being dragged in every direction to make appearances and performances all over the world.
Also Read: YouTuber Boogie2988's Weight Loss Journey Aided by Gastric Bypass Surgery
However, at the other end of the spectrum, some fans are disappointed about Doja Cat's change in physique since they like "thick doja" and you can't really blame them.
Responding to this remark, one fan wrote:
She's pure thicc, so if she loses weight she'll just be slim thicc ? still incredibly gorgeous
There are other fans, who feel her body is beautiful either way, but at the end of the day, her music is what matters the most.
One fan was pretty elaborate about why they're "sad" about Doja Cat opting for a thinner frame. They wrote,
I am a bit sad because I felt represented by the way she was. Like curvy but not super plastic/ unrealisticly toned. I LOVED juicy with like actual big thighs and some dimples while looking hot af (plus she used diverse back up dancers to really show different body types which was soooo great) and told everyone that if more women like that were represented in the media it would be so healing for women. It's her choice but I feel like it's a step back for representing ACTUAL curvy women (not nicki minaj implant style and walking pjotoshop curves)
This is exactly how several fans seem to be feeling right now. They reckon it's even more upsetting to see her wrapped in several pairs of tights to hide her dimples and jiggle.
However, they do understand she's got her reasons; being scrutinized must be difficult, and they admit they're adding to that by criticizing her body choices.
Do Not Miss: Jose Figueroa Jr.'s Amazing 66 Pounds Weight Loss – How Did 'The Voice' Alum Slim Down?
One fan, meanwhile, specifically mentioned it was nice to see Doja Cat's legs like theirs (regular person's) in a popular music video since she was widely regarded as attractive and beautiful when Juicy came out.
It appears some fans are upset that they can't relate to Doja Cat anymore!
Visit Weight & Skin for more weight loss stories of your favorite celebs.