Grab all the details of 'The Voice' star Jose Figueroa Jr.'s remarkable weight loss, diet plan & fitness routine. Check out his before and after transformation.
Making it in the entertainment business can be a slow and arduous process, and it only takes one successful opportunity to transform an artist's life completely.
Jose Figueroa Jr. had been waiting for a moment like the one he had on The Voice his whole life. His blind audition piqued the judges' interest in his voice, prompting John and Nick to turn around with the goal of landing him on their squad.
Jose has chosen team Nick and is ready to join the race and prove to everybody the reason he deserves to be The Voice's next breakout star.
Besides his remarkable talent, Jose Figueroa Jr. is at the forefront of weight loss curiosity among internet users. How did he drop so many pounds? What's his secret? Let's find out.
Jose Figueroa Jr.'s Weight Loss – How Many Pounds Did He Lose?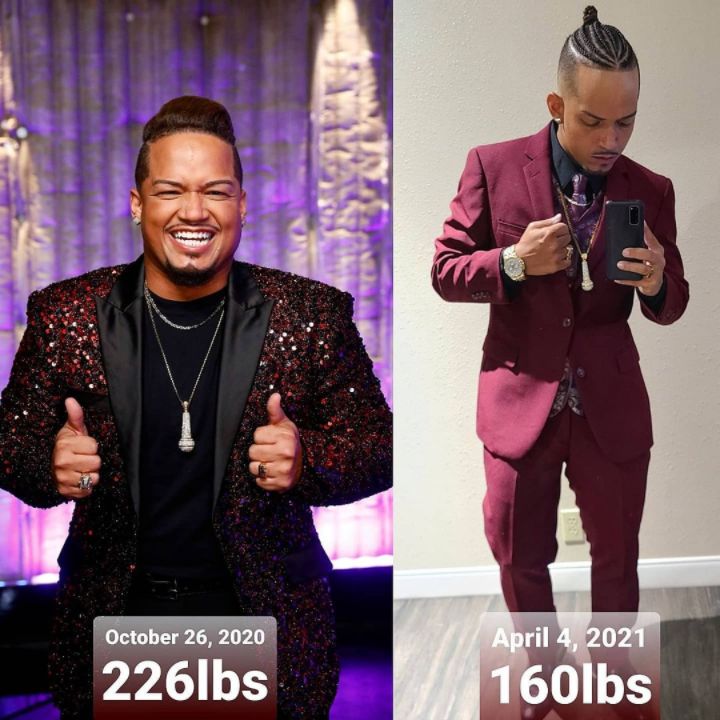 Jose Figueroa Jr. before and after an incredible 66-pound weight loss.
Image Source: Instagram
It's no secret that Jose Figueroa Jr. has undergone an impressive weight loss amid the pandemic. Merely taking a quick glance at his Instagram, this becomes quite obvious.
Taking to the picture-sharing platform on 7th April 2021, the singer shared a before and after transformation of his remarkable change in physique.
You Might Like: Tess Holliday's Weight Loss Journey – Caused by Anorexia?
As the image shows, he was 226 lbs on 26th October 2020. Six months later, he seems to have achieved 66 pounds weight loss and he now weighs 160 lbs.
One user responded,
I'm so freakin PROUD OF YOU!!!!! ??????
Another said,
So proud of you Jose. You are inspiring in countless ways. ❤️
Despite his apparent change in physique, he is yet to reveal the precise details of his diet plan and fitness routine.
Meanwhile, Jose aspires to look and feel his best, in addition to sounding his best. He is committed to doing everything he can to maintain his fitness, and he enjoys sharing his enthusiasm with others.
Also See: Full Story on Matt Raub's Weight Loss, Diet Plan & Fitness Routine
According to his website,
Jose also has a passion for living healthy and helping people lose weight.
Moreover, he is a widely desired Zumba Instructor, in addition to educating people about appropriate dietary behaviors to prevent conditions that impact many African Americans and Hispanics at a greater level.
Jose Figueroa Jr. is a Dance Instructor and Award Winner
Jose is best known for his singing, but that isn't the only manner he enjoys expressing his passion for music. He has also worked as a dance instructor, as per his website.
Sadly, Jose's site does not specify which art forms he has performed with. Jose has also had experience as a modeling and acting mentor.
While The Voice is Jose's first appearance on a television talent show, this is far from the first time he has participated in a fierce competition. He won Amateur Night at The Apollo's gospel version in 2010. He had also entered Steve Harvey's Sing Your Way to the Freedom Friday Party competition.
Also Read: Mark Henry's Unbelievable 80 Pounds Weight Loss – Is He Making a Return to WWE Ring?
Meanwhile, Jose is still working on getting to where he needs to be with his career, but he has achieved a lot already. Numerous individuals have appreciated his talent, and he has won several accolades.
He came out the victor in the male vocalist category at the Staten Island Gospel Festival for two consecutive years in 2012 and 2013.
Visit Weight & Skin for more weight loss stories of your favorite celebs.