Grab all the details of Matt Raub's weight loss speculations on the internet along with his diet plan and fitness routine. Check out his before and after changes.
Matt Raub is best recognized as Smosh Games' creative director and executive producer who would assist in the direction of Honest Game Trailers and Smosh Game Bang series.
He is also credited with other Smosh credits like Cell Outs, Smosh Winter Games, Smosh Summer Games: Camp, and What're Those!?
On a personal front, Raub tied the knot with his wife Ashley Ukleja in May 2017. He's got five siblings, all of whom are brothers.
Meanwhile, Matt has recently gotten himself at the forefront of weight loss curiosity on the internet. Is there any truth to it? Let's get to it.
Matt Raub's Weight Loss – Fans Speculate His Change in Physique on Reddit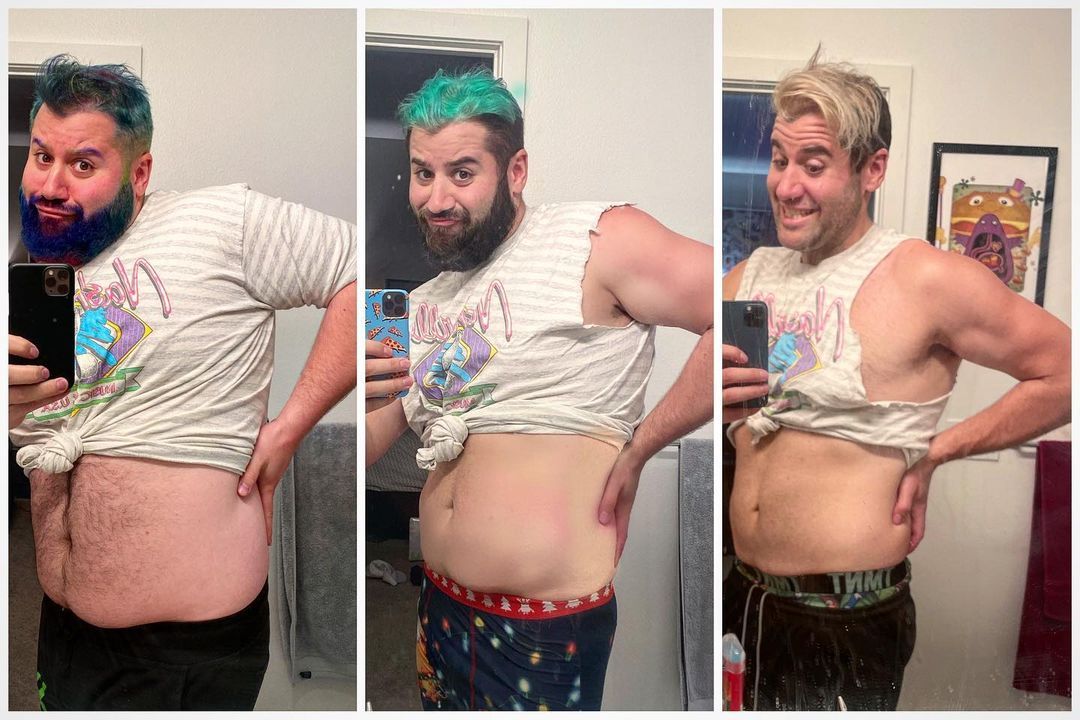 Matt Raub before and after incredible weight loss.
Image Source: Instagram
It's not unusual to see well-renowned celebrities becoming the subject of weight loss on the internet.  Whenever there's a noticeable change in physique, fans on social media tend to speculate and comment on it.
Matt Raub recently turned up at the forefront of curiosity concerning his body among online users. One such person took to Reddit, where he wrote:
I know it's none of my business and it's all his decision, but am I the only one who grew a little uncomfortable toward Matt Raub's weight loss? I don't know how to explain it, he just looks less okay somehow.
As expected, the post got downvoted and fans were having none of it. One user replied,
I mean considering the fact that he might be trying to have a better lifestyle and be in better health…..yeah you might be the only one.
Another said it's commendable the progress he has made in his lifestyle.
The third, meanwhile, said:
He looks a little bobble-headish.
Taking a quick glance at his Instagram, it's quite evident Matt Raub has undergone an impressive amount of weight loss.
You Might Like: Mark Henry's Unbelievable 80 Pounds Weight Loss – Is He Making a Return to WWE Ring?
It turns out he began this remarkable journey back in April 2020 when the pandemic first wreaked havoc all around the world. In merely a year, he has managed to make an unbelievable transformation. To display his achievement, Raub shared a post on Instagram last month writing,
April > August > April I've finally become a real life Animorph
Back in May 2020 when he first started his adventure to a healthier lifestyle, the 34-year-old took to Twitter, where he wrote:
If you ever get discouraged losing weight, always remember: One pound of muscle weighs more than 30 pounds of uncooked cookie dough.
While fans are keen to learn his diet and fitness routine, Matt Raub is yet to shed light on it. Hopefully, he will address his physical transformation in more detail in the near future.
Who is Matt Raub?
Born on 23rd October 1986, Matt Raub is an American director, producer, and writer, who is the Vice President of Unscripted at Smosh right now. He was the lead developer and director of Smosh Games during the DEFY Media period.
He was known for producing the series Cell Outs, plus directing Honest Game Trailers, Game Bang, and various other Smosh shows, in addition to handling talent. Matt is a regular on the shows Family Style and Mystery Challenge.
Also See: Ann Dowd's Weight Loss – Has the Aunt Lydia Actress Shed Pounds?
During the time between the demise of Defy Media and the purchase of Smosh by Mythical Entertainment, Matt presented a show called Cringe Party, in which he and a couple of guests would watch a notoriously bad film and remark on it.
Following Smosh's comeback under Mythical, Matt Raub was promoted to Senior Staff within the organization.
Visit Weight & Skin for more weight loss stories of your favorite celebs.