All the facts behind Mark Henry's weight loss journey, diet plan, and fitness routine. What's the reason for him dropping pounds?
Born on 12th June 1971, Mark Henry is an American powerlifter, Olympic weightlifter, strongman, and former pro wrestler.
He is a two-time heavyweight champion in World Wrestling Entertainment and currently operates as a backstage worker for the organization.
Lately, though, Mark Henry is at the forefront of weight loss speculations on the internet. Why did he shed pounds and how did he manage to achieve it? Let's find out.
Mark Henry's 80 Pounds Weight Loss – Is He Returning to WWE?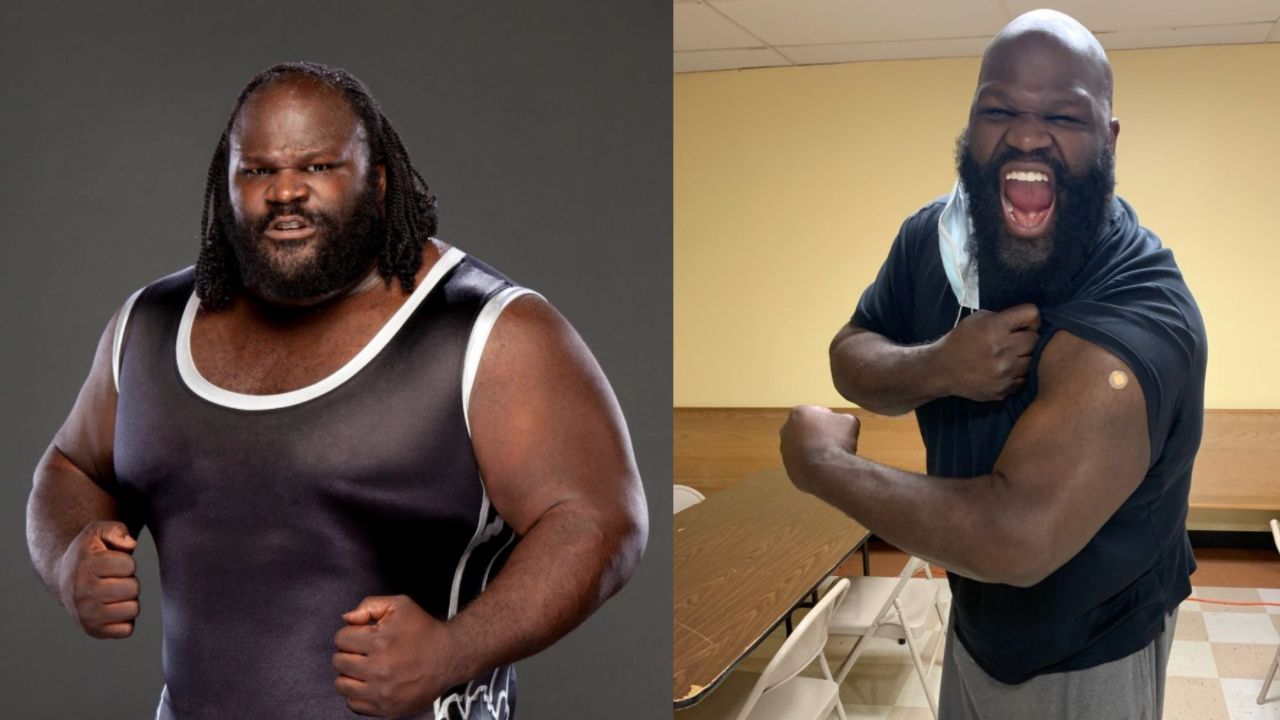 Mark Henry before and after 80 pounds weight loss.
Image Source: Weight & Skin
WWE Hall of Famer and Olympic weightlifter Mark Henry explored the reason he is eager for one more match on the latest episode of Booker T's podcast The Hall Of Fame.
Henry said a few weeks earlier that he wants to perform one more match in 2021 after undergoing 80 pounds weight loss.
You Might Like: Ann Dowd's Weight Loss – Has the Aunt Lydia Actress Shed Pounds?
On Booker's podcast, the World's Strongest Man said:
There's a lot of kids that didn't get to see me wrestle. They only saw me on Youtube. It's been enough time that has passed. Also, I quit before I had a last match, before I waved at everybody and said, 'Ok. I had the pink jacket on. I'm sorry I lied to you all that I was leaving and retiring. I own it.'
Henry regretted that he didn't get the match where one goes and pays tribute to the fans and then wrestles someone young with promising potential, giving them the rub.
He didn't do it, so he's sorry for it. Mark reckons this is the reason he is undertaking it. The former WWE superstar figured he'd wait until he's 50 when the stakes are lighter.
Henry added,
At 50, they don't expect me to go out there and have a 20 minute, five-star match, just to be honest (Henry laughs). I'm telling you that right now.
He continued,
Listen, I'm going to go out there in really good shape. I'm already 80 pounds lighter than I was when I had my last match. I'm going to be in really good shape. It's going to take a good man to beat me, but it might not take him long. (Henry laughs again).
There remains little doubt Mark Henry is all prepared for one more match after undergoing an incredible weight loss this year. In the meantime, he is yet to reveal his diet plan and fitness routine that helped him achieve this remarkable feat.
Also See: 'HGTV Interiors' Tiffany Brooks' Weight Loss, Diet Plan & Workout Routine
Will Mark Henry shed light on his incredible change in physique anytime soon? Don't hold your breath, but here's hoping he will.
Is Mark Henry Legitimately the World's Strongest Man?
Most professional wrestlers nicknamed the "world's strongest man" over the decades have never had a valid claim to ownership. Many alpha males, undoubtedly, like Ken Patera, had pretty impeccable accomplishments but nothing that could turn them into the absolute strongest person in the entire world.
Mark Henry, in contrast, could be the strongest guy to ever step foot on this earth, not just the strongest individual for the past two decades. While other performers have thrived in powerlifting, Olympic lifting, or strongman events, Henry has shown that he is top-notch in all three.
Also Read: Sunny Anderson's Weight Loss – Learn Her Diet & Reason for Shedding Pounds!
Henry began in powerlifting prior to transitioning to Olympic lifting, where he made multiple national high school records in less than a year. He broke the record for the combined averages of the five lifts in the two sports during his time preparing to participate in the Olympics.
Although he did not compete in the Summer Olympics in two consecutive events in 1992 and 1996, he did win a silver medal in the 1995 Pan American Games. Following the Olympics in 1996, he transitioned into pro wrestling with World Wrestling Federation.
Half a decade later, he took some time off to train for the first yearly Arnold Strongman Classic, a "world's strongest man" style contest held in February 2002 as one of the representatives of Arnold Schwarzenegger's large exhibitions.
Having to compete against world-class athletes (many of whom had already been finalists in the much more excellently Met-Rx funded World's Strongest Man series, which airs on ESPN), Henry won $10,000 and a Hummer, which he still takes for a drive to this day.
Do Not Miss: Full Story on Tyler Labine's Weight Loss, Eating Disorder & Suicide Tendency
In addition, Henry became the first person to flawlessly raise the famed 172-pound Thomas Inch Dumbbell above his head. Since the circumference of the shaft is almost two and a half inches, this barbell is extremely difficult to handle.
Mark Henry may not be the greatest powerlifter, Olympic lifter, or even strongman competitor of all time, but he has flourished at all three formats to an unrivaled level. In terms of raw power, Henry may be unmatched.
Visit Weight & Skin for more weight loss stories of your favorite celebs.