Grab all the details of WandaVision star Kathryn Hahn's weight loss journey, diet plan, and fitness routine. Check out her before and after transformation.
As fantastic as Elizabeth Olsen (Wanda) and Paul Bettany (Vision) were in the Disney+ series WandaVision, Kathryn Hahn was the real star of the show.
Agnes, the titular couple's "nosy neighbor," evolved into much more than a bit part, perfecting every sitcom variation and eventually turning into the show's big bad while she stole nearly every scene she was in.
Hahn has mastered the art of taking over the spotlight throughout the years, appearing in a number of big and small screen projects.
From supporting roles in comedies like How to Lose a Guy in 10 Days (2003) and Step Brothers (2008) to acting in dramas like Private Life (2018), Hahn is possibly one of Hollywood's most overlooked stars.
For some reason, we could recall her face but we were unsure as to why. Fortunately, this shall no longer be the case moving forward in the future.
As we thank Marvel Studios for bringing her into the mainstream, it's worth noting the curiosity surrounding her personal life has massively increased as well.
Recently, Hahn has become the subject of weight loss speculations on the internet. Did she really slim down? Let's find out.
Kathryn Hahn's Weight Loss – What's the Tea?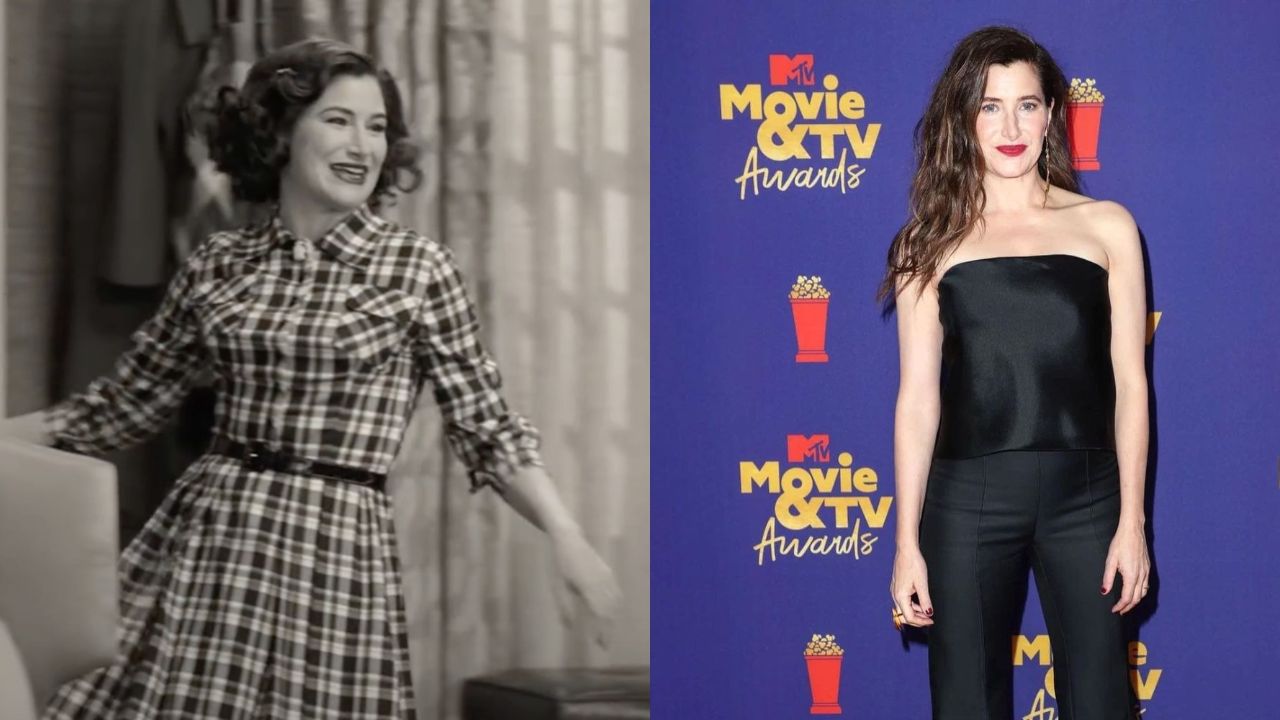 Kathryn Hahn before and after supposed weight loss.
Image Source: Weight & Skin
Kathryn Hahn is currently making rounds in more ways than one. These include her professional accomplishments as well as her physical appearance, notably her weight loss.
The 2021 MTV Movie & TV Awards began on 16th May, with Best Hero Anthony Mackie receiving the very first award of the evening for his part in the Disney Plus series The Falcon and the Winter Soldier.
But, let's face it, it's the evildoers we root for, and the Golden Popcorn for Best Villain went to WandaVision's Kathryn Hahn later that night.
You Might Like: YouTuber Boogie2988's Weight Loss Journey Aided by Gastric Bypass Surgery
Hahn was tasked with the portrayal of Agatha Harkness, a deceitful and dominant witch who lives next door to Elizabeth Olsen's Wanda and Paul Bettany's Vision.
Hahn, who received her award at the Palladium in Los Angeles, had previously cemented her overarching comedic range in shows like Parks and Recreation (2012-2015) and I Love Dick (2016-17).
Following her appearance at the MTV Awards and her subsequent victory, many fans on the internet began wondering if the actor had undergone some form of weight loss.
While she does look a bit slimmer, it feels pretty natural as everybody undergoes normal weight fluctuations at one time or the other. Given her supposed weight loss, some fans are curious to learn her diet plan and fitness routine, but there are no notable schedules as far as Kathryn Hahn is concerned.
Meanwhile, at the ceremony, as she claimed her award from the ensemble of Outer Banks, Agatha's soundtrack "Agatha All Along" played. "This is bananas," she said, while a voice from the crowd screamed, "I love you."
Also See: Jose Figueroa Jr.'s Amazing 66 Pounds Weight Loss – How Did 'The Voice' Alum Slim Down?
Kathryn mentioned an incident from high school in her victory speech. She said she was in The Wizard of Oz when she was in high school, where she took on the role of the Tin Man.
While she wanted to play Dorothy since she adored her shimmery red shoes, apparently, it took her a really long time to know that hidden somewhere there was also the vicious witch.
She ended her speech with a rallying cry. "To all my witches out there, let's use our power for good."
Kathryn Hahn Wants to Reunite 'WandaVision' Duo Agatha and Elizabeth Olsen's Wanda in Future MCU Projects
Actress Kathryn Hahn, who played Agatha in WandaVision, said she'd like to see Agatha join forces with Wanda Maximoff in a potential Marvel Studios venture.
Prior to the MTV Awards, Hahn shared during a Twitter Q&A:
Yes… I would love for them to be together again. Who knows? They run a tight ship. I've heard nothing.
Hahn, who played Agnes/Agatha in the Disney+ show, said the relationship between her character and Wanda Maximoff/Scarlet Witch, played by Elizabeth Olsen was her favorite part.
Do Not Miss: Full Story on Matt Raub's Weight Loss, Diet Plan & Fitness Routine
She explained,
The dynamic that our director [Matt Shakman] kind of put in our head…was like [Wolfgang Amadeus Mozart and Antonio Salieri].
Adding,
…Which I don't know if you guys know that reference but Amadeus is a great movie from back in the day.
The 47-year-old continued,
And that's kind of what our relationship was. Like, I wanted her power, but I also wanted to befriend her, I wanted to teach her, I wanted to learn from her, I wanted…all of it.
WandaVision's season finale culminated with Wanda approaching Agatha and sending her back to the Salem vision from the previous episode, in which Agatha murdered her legion and mother in her search for supremacy and freedom.
Agatha promised to take Wanda's power in return for her family after her deceased victims returned to life and confirmed Wanda's position as the Scarlet Witch.
Wanda, on the other hand, reacted by transporting them to the present, while Agatha proceeded to absorb her magic.
Also Read: Tess Holliday's Weight Loss Journey – Caused by Anorexia?
Although it seemed that Agatha had taken possession of Wanda's powers, Wanda disclosed that she had imprisoned Agatha in a circle of runes, just as Agatha did to her previously.
WandaVision season finale aired on 25th March 2021 on Disney+.
Visit Weight & Skin for more weight loss stories of your favorite celebs.