Grab all the details of Teen Mom star Chelsea Houska's plastic surgery procedures, most notably butt lift, breast implants, lip injections, Botox, and nose job.
The Teen Mom cast members are no strangers to the allegations of plastic surgery, and that's mainly because they've had plenty of it!
Almost the majority of the cast got a bit of nip and tucks, others opting solely for filler injections, while some shared their entire journey of cosmetic surgery on Snapchat.
Because of Chelsea Houska's latest glow up, it's no surprise fans are curious to know whether she went under the knife, too.
Chelsea Houska's Plastic Surgery – Did She Have Butt Lift?
Nowadays, it seems like every celeb or even mildly famous reality star had some sort of plastic surgery. Often it's just a matter of whether or not they accept it openly. This is most definitely the case with Teen Mom stars.
Although some of the cast members are honest about the various operations they have undergone or even record the procedure itself, others argue that they have never had surgery despite speculations amongst fans.
Chelsea Houska belongs to the latter category. But now she's breaking her silence as she addressed the rumors of a butt lift.
Some procedures in the realm of fame are quite subtle. From lip fillers to nose jobs, though, other treatments are a lot more discreet, encouraging the stars to deceive fans from the reality.
When it comes to major changes in the physique, however, it's even more difficult to cover them up.
As for Chelsea Houska, she appears to be more devoted to living life in a normal way. It's fair to say we're almost never seeing her without a whole makeup look, but there used to be not much speculation surrounding her alleged cosmetic alterations
You Might Like: Rumer Willis' Plastic Surgery is Making Rounds on the Internet
But now it seems like maybe that's going to change. Chelsea spent a lot of time in the beauty office undertaking various treatments for her skin before reports of her Brazilian Butt Lift swirled.
A quick swipe through Chelsea's Instagram reveals she certainly pays a great deal of care to catalog her Instagram. Some of her images are professional, while others that aren't, happen to be family portraits or staged.
But when she slices the curtains back and gets raw for her fans, it's fun for everybody.
Following lots of rumors, however, Chelsea began to get serious on her Instagram!
She said,
Hello everybody! A few weeks ago, I made a story saying that I was going to be doing some more, like, face stuff, like lasers and everything. And so I thought I'd pop on today because I'm here at Artisan Skin and Laser.
She added,
And if you can tell, my face is shiny because I have some numbing stuff on. I'm doing today BBL + a micro laser peel… If I don't look too scary, I will show you guys what I look like afterwards.
She then shared a vulnerable selfie, captioning the post:
Oh we just a bit red. Didn't hurt too bad. I'm excited for some nice skin.
Following lots of fan speculation, the reality star took to social media once again to clarify a few stuff.
Also See: Hilaria Baldwin's Plastic Surgery is Trending But Is It True?
She wrote on Instagram,
Okay, so since I just washed off all my makeup. We're nerding out, we're ready to go to bed.
She explained she had received a BBL Broadband Light Treatment and "not a Brazilian Butt Lift." She insisted her backside is still flat.
Fans Often Debate Chelsea Houska's Plastic Surgery on Reddit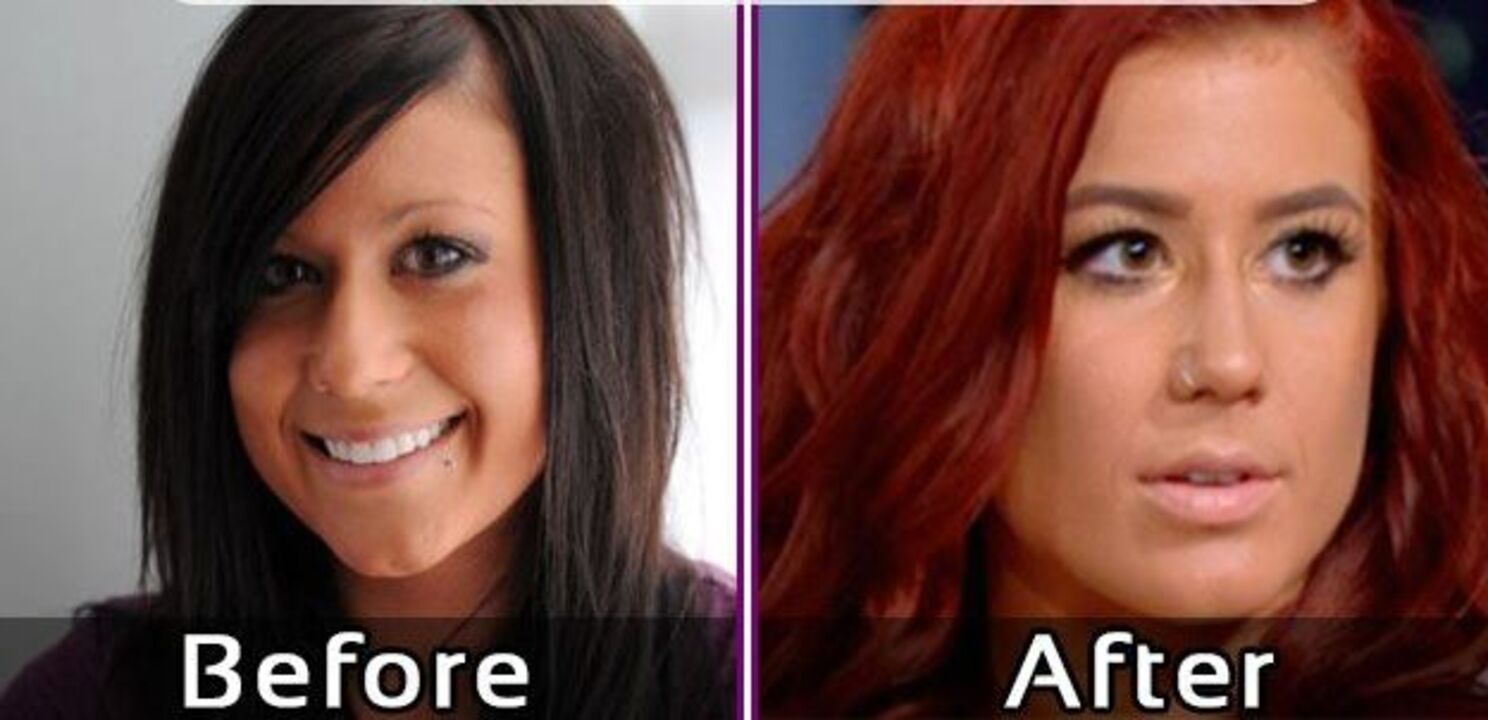 Chelsea Houska before and after plastic surgery.
Image Source: Weight & Skin
Fans of the Teen Mom reality series often take to Reddit to discuss Chelsea Houska's alleged plastic surgery. Back in 2019, one such user wondered:
Do you think Chelsea has had plastic surgery? Or is it just weight loss?
A user replied,
I can't put my finger on exactly how but I think her eyes have changed drastically. They look droopy somehow.
The second said,
Botox, weight loss and different make up/brows/hair.
The third was even more elaborate,
I don't think she went under the knife, but I'm sure she got botox. Probably fillers/whatever else injections there are too. Maybe veneers not because her teeth were bad, but because her dad's a dentist. Plus weight loss and different makeup techniques.
The fourth claimed,
I never noticed her lip injections until just now. It's very subtle and natural; crooked-lips should take some notes from chelsea.
Going through all the comments, it appears lip injections and Botox are quite popular while some reckon she performed a nose job as well.
To sum up, Chelsea Houska likely had Botox, and fillers (jaw contouring, lip injections, and maybe even a little bit on her nose too). Some viewers mentioned her teeth looked a bit different as well.
Also Read: Real Truth About Ashley Judd's Plastic Surgery Speculations
Meanwhile, the only thing every fan seems to agree on is the fact that Chelsea underwent weight loss that has significantly changed her appearance.
Chelsea Houska Previously Shut Down Rumors of Breast Implants
Back in October 2019, Chelsea Houska clapped back at fans who accused her of going under the knife.
Rumors started to circulate after Houska posted a gorgeous photo of her reunion on Instagram.
Even though the reality star was quickly overwhelmed by adoring messages, it wasn't long before fans began to discuss the fact that Chelsea may have undergone plastic surgery, notably breast implants.
Do Not Miss: 'Wonder Woman' Actor Chris Pine's Plastic Surgery Includes Botox & Eye Lift Surgery!
But Chelsea was having none of it as she shared,
My boobs are wrinkled and shriveled after breastfeeding. I had a nice push up bra on today lollll.
Some followers even made bold claims about Houska's physique.
One wrote,
She looks beautiful and also here's a gentle diagnosis for her: she must still take prescription stimulants for ADD.
The second said,
1) That's why she's so thin despite her body's natural tendencies and recent pregnancies and 2) that's why she's having such a problem with panic attacks.
Chelsea instantly put an end to this rumor as well. She stated,
I actually do not take that lol. I am very dedicated to eating right on my diet.
Luckily, few supporters were there to give her some suggestions as well. One Twitter follower wrote,
One thing I am qualified to tell you though is issues with anxiety and panic attacks CAN go away (even if it's not from taking anything). Feels like h*ll but it's NOT forever.
It goes without saying, fans are split on Chelsea Houska's cosmetic enhancements as well as lots of other personal stuff.
Check Out: Pamela Alexandra Before and After Plastic Surgery – Butt Implants, Boob Job & Laser Treatments?
Visit Weight & Skin for more plastic surgery stories of your favorite celebs.