Check out the complete breakdown of Pamela Alexandra's plastic surgery through before and after pictures. The OnlyFans star's procedures include butt implants, a boob job, and laser treatments.
Pamela Alexandra is definitely one of the most elegant models in the world. Her sexy bottoms, wavy brown hair, brown eyes, complemented by the height of 5 feet 6 inches are all the ingredients to make her the talk of the town.
Such gossip has also brought accusations of plastic surgery and fans are now wondering whether her beauty is natural or aided by cosmetic enhancements. Additionally, people want to know how she looked before surgery.
Pamela Alexandra Before Plastic Surgery – How Did She Look?
Modeling is not an easy task for everyone – it takes immense confidence and courage to deal with the microscopic attention. Pamela Alexandra is one of those Instagram models who has thrived beautifully in the fashion world.
The most distinguishing feature is her large butts, big busts, curly hair, and her beauty in general. However, the majority of fans feel she achieved these through plastic surgery, and none of these are, in fact, natural.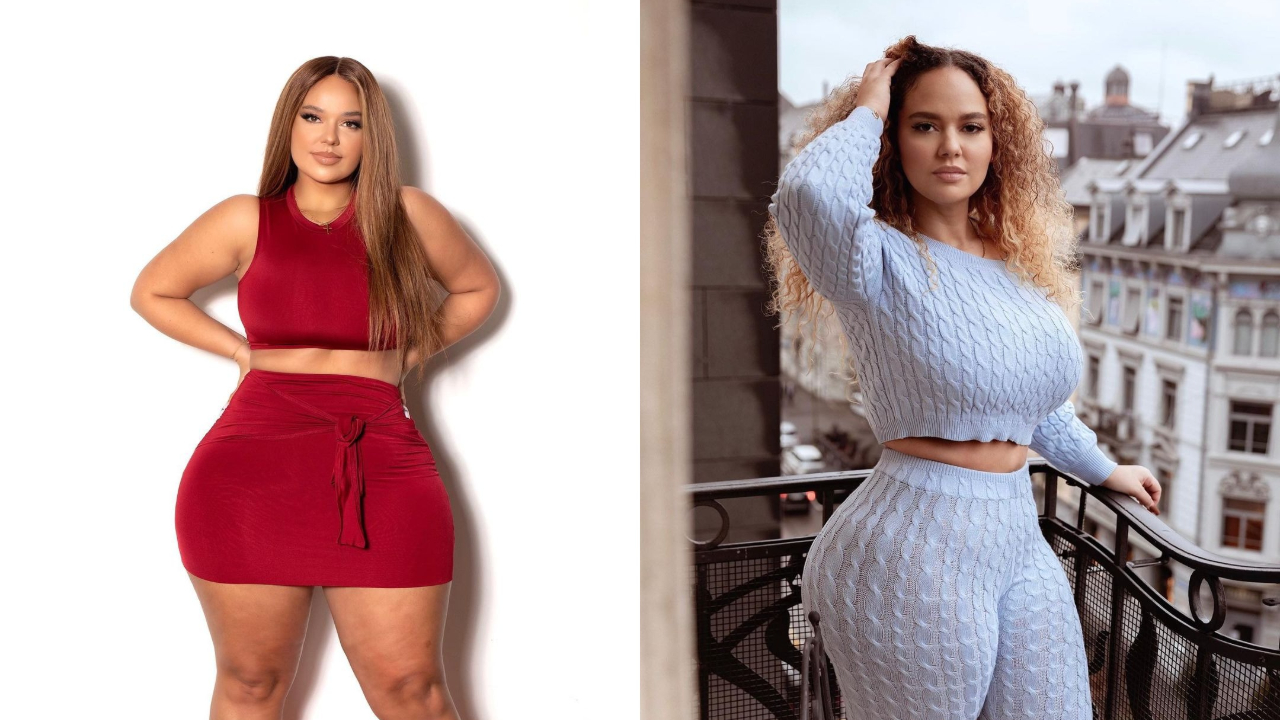 Fans are keen to compare Pamela Alexandra before and after plastic surgery due to her unrealistic physique.
Image Source: Weight & Skin
Pamela, besides being a social media celebrity, is pretty reserved in nature and discloses very little to the public. The Brazilian model stands at 5 feet 6 inches or 168 cm tall.
While this elegant model may desire so much more in herself, Pamela carries the charm and boldness to achieve anything she pursues in life. We guess this is one of the reasons for her evident success.
You Might Like: Dua Lipa's Plastic Surgery Speculations – Breast Implants and Nose Job?
There is no doubt Alexandra has an attractive body. Her physique is pear-shaped along with the most amazing backside.
However, numerous fans assume her incredible body is due to plastic surgery. To be fair, she's quite clearly had a boob job and butt implants.
Likewise, she claims her hair is genuine and her curls are organic. She needed a lesson on how to love them as her parents both had straight hair. Interestingly, though, everybody on the mother's side of her family has curly hair.
The model who flaunts wavy brown hair and a pair of brown eyes has never admitted to going under the knife. She apparently loathes wearing makeup while the only operation she admits was when she was 17 and down with tonsils.
People who are not familiar with her personally think of her as a "sexy beast" but her good friends who call her "Pammy" don't view her as a social media persona.
In real life, she's always walking around like a "bum" and she's really silly. She likes to joke around and doesn't believe she's arrogant.
In the meantime, it's been reported that in an effort to retain her status as an excellent model in the demanding modeling universe, Pamela Alexandra must have gone under the surgeon's knife.
Also See: TikTok Star Pierre Boo's Plastic Surgery – The Untold Truth!
Though Pamela has not confirmed nor denied any allegations related to her plastic surgery, some form of laser treatments along with the already mentioned breast implants and buttock augmentation appears to be the reason for her voluptuous figure.
Experts also argued Alexandra's lean figure is the product of cosmetic surgery while her wavy brown hair is due to possible laser operations.
Pamela Alexandra Previously Flaunted Generous Curves and Busty Chest
Instagram star Pamela Alexandra often shares hot clips on social networks, in which she displays her curvy frame in sexy outfits.
On one such occasion, the model shocked fans with a white bikini top, which seemed to be on the shorter side, barely covering her large breasts, offering the audience an unobstructed view of cleavage.
The clothing was pulled to the edges to reveal more skin. The bikini bottoms were glued to the waist in a few strips of glitzy stuff and rose high on the pelvis.
Also Read: Real Truth About Charlotte Flair's Nose Job Plastic Surgery
The focus was given to Pamela's slender waist and curved hips and thighs. She gathered her brunette hair into a bun positioned on the crown of her head and trumpeted a display of painted nails.
The video which has since been deleted was shot at the outdoor seating area in Rio de Janeiro, as per the geotag.
Pamela is a Swiss-Brazilian model who frequently posts content across multiple social platforms that are captured or recorded in Brazil.
In the shot, Pamela sat on a blue seat next to the counter, featuring white tiles and a wood topper. In the background, there was a sprinkling of patio furniture, palm trees, and larger structures in the distance.
As the video started to play, Pamela relaxed back in the chair, looking down at her body, fixing her top with one hand. Her other arm lay on the bar, holding a bottle of water in her palm.
Do Not Miss: SNL Alum Kristen Wiig's Plastic Surgery in 2020 – Botox, Teeth, Nose Job!
The camera snapped from top to bottom, displaying Pamela's thighs before moving down to her feet. She glanced at the video producer with a closed-lip grin on her lips, and then looked down at a distant level.
The influencer left a brief caption to the upload, asking if anybody needed water. Her followers seemed quite crazy about the clip, leaving almost 900 comments on the first day. It was already watched more than 130,000 times by then.
The comment thread was packed with congratulations to Pamela and messages composed entirely of emoji, including fire symbols, smiles, tongues, clapping hands, and heart-eyed smileys.
One Instagram user commented,
I don't know if I'd rather be the chair or the camera person.
The second said,
Wow you're absolutely stunning!
The third added,
If perfect was a person, that's u..nice video
Another follower wrote,
I can't get enough of you!
Meanwhile, several of the comments were written in Alexandra's native Portuguese tongue.
Check Out: Olivia Culpo's Plastic Surgery is Making Rounds on the Internet
Visit Weight & Skin for more plastic surgery stories of your favorite celebs.