Learn all the facts behind former Miss Universe Olivia Culpo's plastic surgery procedures through the inspection of before and after pictures.
More than just a stunning face, Olivia Culpo's modeling career burst through the digital ceiling, adding glamor, prestige, and popularity to the word "influencer."
She is the quintessential goddess of beauty in America. Her portrait has been adorned all over the internet since she earned the title of Miss Rhode Island, followed by Miss Universe.
Olivia Culpo's Plastic Surgery – Did She Go Under the Knife?
American fashion influencer and social media personality Olivia Culpo has not confessed to getting plastic surgery, but there have been noticeable improvements in her face and body, which indicate some work has been performed.
She carries no judgment on those who want plastic surgery, though.
Olivia Culpo's appearance and facial features have powered her from a distinguished career as a model to one of the most influential fashion celebrities on social media to date.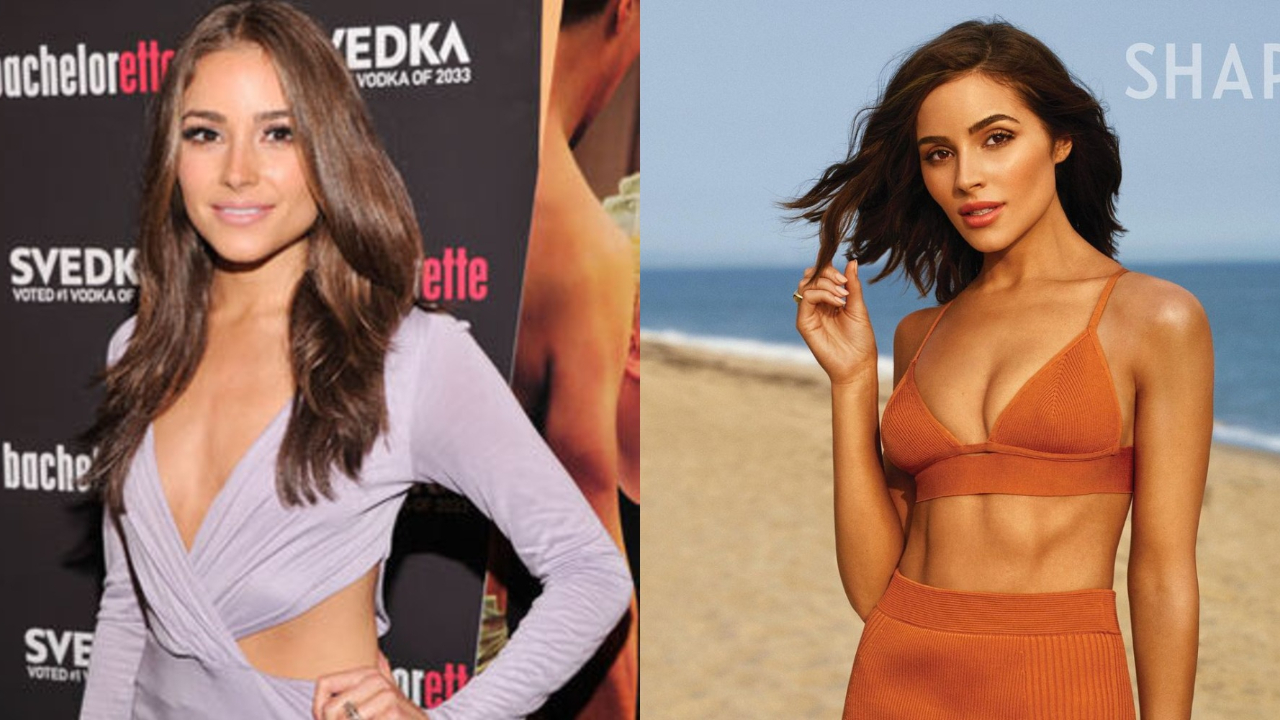 Olivia Culpo before and after alleged plastic surgery procedures.
Image Source: Weight & Skin
Culpo is a pageant queen who received the title of Miss Rhode Island USA in 2012. It was the first time she had participated in the pageant.
After her victory in this contest, she ended up winning Miss USA and then Miss Universe beauty competitions later in the same year, and became the first American to come out victorious in the pageant since 1997.
You Might Like: 'Start-Up' Star Kim Seon Ho's Plastic Surgery Explained!
This must have been a huge booster of belief for someone who wasn't quite confident gazing at her.
Olivia said she had some anxieties due to her fuller eyebrows, and the fact that she was a chubby kid.
She remembers being mocked with titles like "unibrow" and being called dorky because of her Bandcamp practices.
Nowadays, her eyebrows are envious to many and the pattern of fuller eyebrows is now the norm.
Olivia also performs self-care with the right meditation and workouts, particularly yoga. She takes quite good care of her skin in general.
Culpo has reportedly hired the services of dermatologists to aid her to refine some of her facial appearances and enhance her skincare procedures.
Also See: Complete Breakdown of TV Chef Sandra Lee's Plastic Surgery
There is a lot of talks, though, Olivia has done much more to attain the look that inspires her fans and followers.
The number of improvements Olivia Culpo has performed through plastic surgery includes breast implants, rhinoplasty aka nose job, and slimming of the chin.
Rumors of breast enlargement is the product of a contrast between the photographs taken while participating in the Miss Universe pageant, and the images that she shared on her Instagram profile, revealing more ample cleavage.
Olivia Culpo's Enviable Beauty Standards is Causing Plastic Surgery Suspicion
Maxim's sexiest woman in 2019 is happy with her position as a top fashion endorser on social networks. Olivia Culpo is said to still look beautifully elegant and well placed in her fashion sense.
Speaking of plastic surgery, Culpo said:
It's hard to always be happy in your own skin. If people have surgery to be happier, it's something that they should be able to do without being ashamed.
This is by no means an indication she has undergone cosmetic surgery, but one would presume even if she feels the need to seek minor alterations, she might not feel the need to make it public.
Also Read: Riley Burruss' Plastic Surgery – Real Truth About Her Nose Job!
The beauty requirements of Olivia Culpo have grown with her fame and it might have tempted her to perform plastic surgery.
Several of these specialists in the United States have suggested their clients' wish to look like Olivia, with many calling for unique aspects of her face.
The irony is she is stunning, and her chiseled jawline is often demanded. Surgeons claim this look can be accomplished by using jawline fillers.
Some people reckon Olivia Culpo is flawless and the perfect Instagram face that posters are looking for when they want to share photos with their fans.
Olivia Culpo Reveals Her Amazing Beauty Routine
Olivia Culpo insists she did not wake up looking like this. In the latest clip for Vogue, the ex-Miss Universe, 28, reveals her entire makeup routine—a 40-step procedure involves more than three dozen different items that cost around $4,300 in total.
Culpo's skincare routine alone comprises 12 stages, with brunette beauty opting for the classics.
Do Not Miss: Jenny Lee Burton's Plastic Surgery Addiction – The Untold Truth!
These include Sunday Riley Ceramic Slip Cleanser ($35), GlamGlow Gravity Mud Firming Treatment Mask ($60), and Dr. Dennis Gross Alpha Beta Extra Strength Daily Peel ($150).
As per Page Six,
She also uses the LED-powered Déesse Pro Mask ($1,900) and a whopping four different products from Dr. Barbara Sturm — her Hyaluronic Serum ($300), Calming Serum ($250), Glow Drops ($145) and Eye Cream ($140).

Next, it's on to makeup, with products including Clé de Peau Concealer ($73), Koh Gen Do Maifanshi Moisture Foundation ($77), Clarins Radiance-Plus Golden Glow Booster ($32) and Charlotte Tilbury Beauty Highlighter Wand ($38) all making their way onto Culpo's famous face.
The publication added,
The star also swears by several palettes — like Laura Mercier Highlight & Glow Face Palette ($52) and Charlotte Tilbury Filmstar Bronze & Glow Contour Duo ($68) — along with One/Size by Patrick Starrr Point Made 24-Hour Liquid Eyeliner Pen ($19) for the perfect cat eye.

Finishing touches include a duo of Dior lip products — Dior Addict Lip Tattoo ($30) and Lip Glow ($34) — and a spritz of Louis Vuitton California Dream Perfume ($265).
Regardless of the time, commitment, and cost involved, Culpo said she likes a more naturally beautiful look, and that she's not a lover of the full face of makeup she often wore back in her busy days.
She doesn't even know who that individual is, reflecting closely at those pictures since it's just too much, she claims.
Check Out: Nadia Bjorlin's Plastic Surgery – The Complete Breakdown!
Olivia Culpo is not a great fan of adjusting what your face looks like. She likes the thought of changing aspects that make you distinct, instead of making a brand new identity. She just enjoys working with the canvas you've got.
Visit Weight & Skin for more plastic surgery stories of your favorite celebs.