Grab all the details of TikTok star Pierre Boo's plastic surgery procedures, most notably cheekbone surgery. Fans are keen to witness how he looked at age 18. Check out his before and after pictures.
The TikTok star Pierre Boo, born and raised in Paris, France to parents, Virginia and Jean-Pierre Crespeau, has a sister named Marie-Sophie and two brothers, Arnaud and Giancarlo.
He has earned over 7 million followers on his TikTok account 'itspierreboo' since signing up to the platform in the summer of 2019.
Pierre usually uploads clips with his boyfriend Nick Champa. The couple began a relationship in early 2017.
Meanwhile, Boo started to post on his personal Instagram account in September 2014. Later, Boo and Champa started a YouTube channel titled Nick and Pierre.
Pierre Boo is a Strong Advocate of Plastic Surgery Operations
The French native, Pierre Boo, born in Paris to Virginia and Jean-Pierre Crespeau, was raised alongside two brothers and a sister prior to relocating to the US to pursue a career as an actor.
Likewise, his partner Nicky Champa was born in Dallas, Texas, and raised with his brother by a single mother in Manlius, New York.
Meanwhile, plastic surgery is a subject that splits opinions, but Pierre and Nicky have come out as major advocates for it.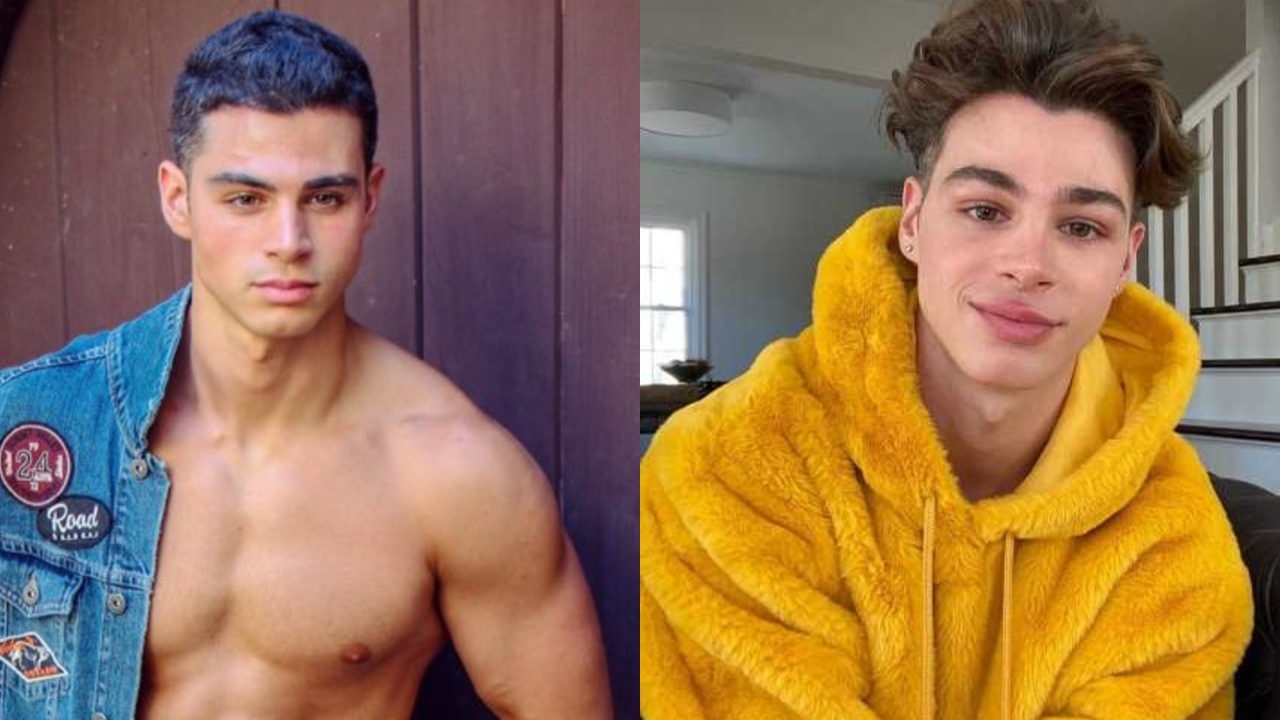 TikTok sensation Pierre Boo before and after plastic surgery.
Image Source: Weight & Skin
Pierre underwent cheekbone surgery to make his features more symmetrical. He liked the results, but Nicky clarified that plastic surgery is best used to only alter something an individual cannot change by leading a healthier lifestyle.
In a video that has been removed, the couple explained:
It's the cherry on top of the cake. Your appearance, your health, your well-being is like a big cake with layers.

It starts with drinking water, eating well, working out, cosmetics, and the last layer of the cake is filler, botox, and plastic surgery.

To fix those things that you can't fix with anything else.
Previously, as soon as Pierre Boo went viral on TikTok, everybody was like he's just another trendy teenager. He looks incredibly young.
You Might Like: Real Truth About Charlotte Flair's Nose Job Plastic Surgery
However, they were surprised to find out he was over 30. So, evidently, people screamed – Plastic Surgery. There's no chance a person in his 30s can look so young. So, what's the actual reason?
The majority of fans are keen to witness how the internet personality looked at age 18. After bumping into a picture he took before going under the knife, we noticed his fans seem to think he used to look much better pre-surgery.
Despite the public opinion, after all, it is Pierre Boo's life and the choices he makes are completely up to him to decide.
A Bit About TikTok Couple Pierre Boo and Nicky Champa
Pierre Boo and Nicky Champa are a successful social media pair who have made a name for themselves for their creative TikTok clips.
Both of them have separate TikTok accounts, Nicky's account has 7.9 million followers while Pierre's account has 8.6 million followers. In addition, the duo runs individual Instagram accounts as well as a joint profile of 149K followers.
Also See: SNL Alum Kristen Wiig's Plastic Surgery in 2020 – Botox, Teeth, Nose Job!
The couple also operates a YouTube channel, but they've only uploaded three videos in the last two years. It also explains why they have much fewer subscribers/followers on YouTube than their other social media accounts.
The duo's material varies from pranks and competitions to romantic couple videos and viral dances.
Pierre and Nicky bumped into each other at a film audition on March 3, 2017. Nicky noticed Pierre, and he was overwhelmed by his charm.
During that moment, Nicky was not aware of it, but he and Pierre had the same agent. He called his agent and inquired who he was.
The agent told Pierre that Nicky wanted to get close to him, and because Nicky was so nervous, Pierre made the first move.
Also Read: Olivia Culpo's Plastic Surgery is Making Rounds on the Internet
Two days later, Pierre asked Nicky to assist him to shoot a video audition. Pierre said in a video clip entitled How We Met that he was a little wary of beginning a relationship with Nicky because he had his heart broken numerous times in the past.
Nicky, though, helped him recover from his past heartache.
Pierre explained.
I was coming out of a hard, tough relationship. I think after 1,2,3,4,5,6 heartbreaks, it's hard for you to keep on dreaming about love the way you used to before.

I kind of lost that dream of that beautiful fairytale… Without you, I couldn't have put my walls down.
Nicky was still in a dysfunctional relationship, and he'd put himself out there to meet someone to build a good bond with.
He saw the guy in Pierre, and he was ready to enter into a relationship with Pierre right from the beginning.
As much as Pierre Boo tried to slow down his affair, he could not ignore the bond he had with Nicky. Merely a month after they met, the pair began living together.
Do Not Miss: 'Start-Up' Star Kim Seon Ho's Plastic Surgery Explained!
Pierre and Nicky don't steer away from expressing the affection they have for one another. There are plenty of social media posts demonstrating the close relationship that the couple shares.
In September 2019, Pierre shared a series of Instagram images wishing Nicky a happy birthday. The following caption was attached:
I feel so extremely lucky to have you. You make me hope and believe. We have our ups and downs and we are far from perfect, but I love it.

I love you and our relationship for what it is, and I don't know if I could survive in this world without you. May all your wishes come true.
It's fair to say these two couldn't look more adorable together.
Visit Weight & Skin for more plastic surgery stories of your favorite celebs.