Tara Jayne McConachy's plastic surgery includes five breast augmentations, a nose job, butt implants, veneers, Botox, and fillers, among others. Check out her before and after transformation.
Tara Jayne McConachy is becoming frightening. The trippy-looking OnlyFans model from Botched on E! now sports an E-cup and a 95-pound frame after endless plastic surgery treatments.
Australian medics are worried that the Melbourne resident has gone too far. All of the doctors she's spoken with have opted to cut her off and forbid her from having any more surgery.
So, without further ado, let's dive into the details of Tara Jayne's plastic surgery efforts.
Tara Jayne's Plastic Surgery: Breast Augmentation, Nose Job, Implants, Botox, Fillers!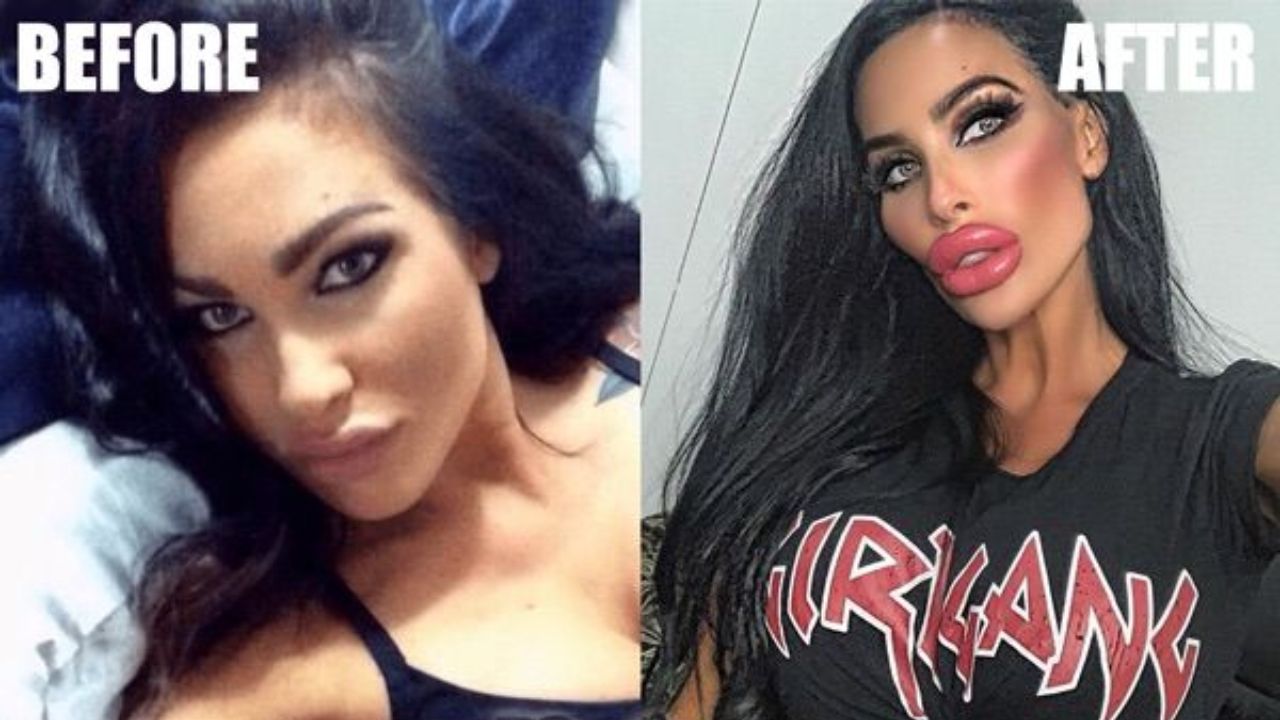 Tara Jayne before and after plastic surgery.
Image Source: Weight & Skin
Tara Jayne McConachy, an Aussie plastic surgery fanatic, stated she had expended over $250,000 on cosmetic treatment and operations to fulfill her objective of transforming herself into a living doll.
Speaking in an interview, the 32-year-old model said that she paid a shocking sum of dollars to generate an incredibly over-the-top figure with huge lips and gigantic breasts in order to achieve a "fake" look that she professes to adore.
She said,
I am just not into the whole natural look. I like to look fake.
Tara Jayne further explained why she looks like a doll, claiming that dolls are flawless, before clarifying that she has no wish to appear like a Barbie since she is a brunette, but rather wants to develop her own identity.
You Might Like: Amado Carrillo Fuentes' Plastic Surgery: The Untold Truth!
So far, she has admitted to having had five boob jobs and currently uses a G-cup bra. She has also undergone submuscular gluteal inserts to provide her more curved buttocks, facial fillers, specifically in her lips, and a Sculptra procedure on her rear.
She donned a full set of cosmetic dentistry to help her "living doll" look more polished and admits to going mad with filler for half a decade.
She also said that she did everything just for her personal pleasure and not for the sake of satisfying others – she is unconcerned about other people's views.
She added,
I get it is not everyone's cup of tea, but I don't do it for everyone, I do it for myself. If someone is throwing insults at me – 'you're fake this, you're fake that' – I don't find that an insult because you put money and effort into things and if someone is going to say you look real well, then there is really no point.
Due to her strong urge to make her appearance look outrageously phony, Australian physicians refused to conduct any additional procedures on her, prompting her to seek options from abroad.
Tara had her last bosom and buttock implants in Turkey in March 2020, for which she paid $30,000.
She still has got a large list of treatments she wants to perform, notably a complete facelift, additional breastwork, Hydrogel silicone infusions, cheek implants, and a new set of porcelain veneers.
Also See: Stockard Channing's Plastic Surgery: Before and After Pictures Suggest It's Not Just Aging!
Her uncommon looks have gotten her a lot of publicity and media exposure, as she has appeared on the renowned makeover TV show, Botched, and is presently highlighted in an Australian beauty show titled Mirror Mirror. She also has an OnlyFans page and hopes to start her own bikini line, Fak3, shortly.
Tara stated that she does not consider her pursuit of cosmetic procedures to be an addiction, but rather a pastime.
I am not hurting anyone. People have hobbies, they ride bikes, play basketball, go to the movies – they do things they like and I like plastic surgery.
Well, it's not often you hear someone claiming their hobby is plastic surgery.
Plastic Surgery Addict Tara Jayne Weighs Just 43 Kg
OnlyFans model Tara Jayne from Australia says she has nearly had two kg of implants in her physique. Tara Jayne, widely known for her appearance on the E! series Botched, also stated her weight is only 43 kg. Despite her alarmingly low weight, the 32-year-old maintains she leads an absolutely "healthy" life.
She told Sydney Morning Herald,
I currently have 1050 cubic centimeters of implants, along with 410 ml of silicone implanted in my butt.
She added,
I just don't care what anyone else thinks. It's my body, and it's my choice.
Tara also claimed that she has been barred from undergoing surgery in Australia, requiring her to travel abroad for additional nips and tucks.
Also Read: Jennifer Granholm's Plastic Surgery: Botox Injections, Fillers & More!
She said,
I am now going to Europe where they are happy to take my money but with lockdowns, I have had to take a break for a while.
Tara attempted to increase the size of her boob jobs from 540cc to 1000cc on Botched last year. Dr. Terry Dubrow and Dr. Paul Nassif, however, turned her down because she was too thin for surgery.
Paul said,
You need to put on some weight because I'm worried about your health.
Tara also claimed that she was barred from having surgery in Australia, requiring her to travel abroad for additional nips and tucks.
Visit Weight & Skin for more plastic surgery stories of your favorite celebs.