Grab all the details of Stockard Channing's plastic surgery endeavors, notably facelift, cheek implant, and fillers. Check out her before and after transformation.
The American beauty famous for playing Betty Rizzo in Grease and First Lady Abbey Bartlet in the NBC television series The West Wing, Stockard Channing, originally Susan Williams Antonia Stockard, is a well-known personality in the cosmos of entertainment.
Appreciated and much loved for her roles on screen, Stockard shocked her fan in a television appearance on the show Lorraine on October 17, 2017.
77 years now, the actress's appearance raised curiosity and questions among the audience about whether she might have done something to her face, perhaps plastic surgery.
Stockard Channing's Plastic Surgery: Make Up Your Mind with Before and After Pictures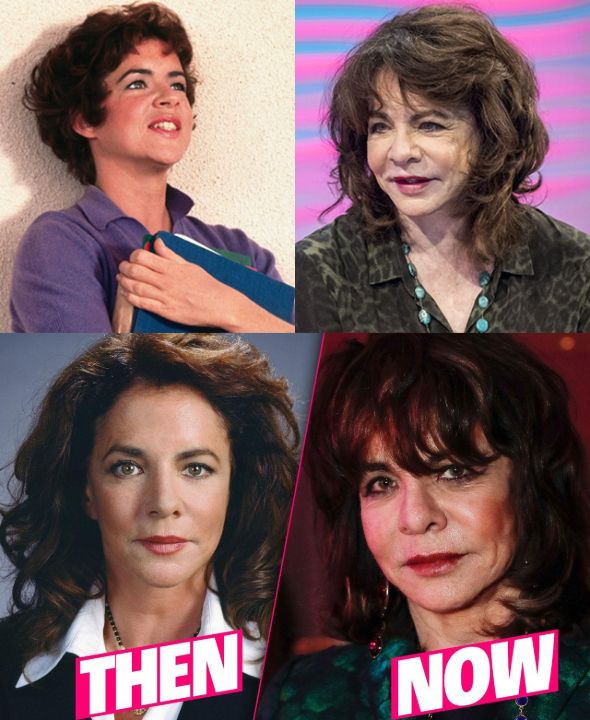 Stockard Channing before and after plastic surgery.
Image Source: Weight & Skin
Splitting her time between the silver screen and broadway shows, Channing was last seen on screen in the movie Pulling Strings / Amor a Primera vista as Virginia in 2013.
The stunning actress then made an appearance on the UK talk show Lorraine on October 17, 2017, and fans were speechless at how different she looked.
You Might Like: Jennifer Granholm's Plastic Surgery: Botox Injections, Fillers & More!
It has been speculated that Stockard Channing got plastic surgery and it didn't go that well. The Grease actress personally neither denied nor accepted the claims. The appearance of the actress stunned the audiences to the point where many plastic surgeons too analyzed and evaluated the allegations.
Dr. Norman Rowe, a board-certified plastic surgery expert claimed that Stockard Channing could have had a facelift and a possible cheek implant. The reason behind her surprising look now could possibly be fillers instead of redoing the lifts.
Another plastic surgeon, Bruce E. Katz, M.D., Clinical Professor at Icahn School of Medicine at Mt. Sinai and Director of the Juva Skin & Laser Center said Stockard had too much filler injected in her cheeks, probably Voluma, and too much in her lower lip which caused her upper lip to be out of balance.
Comparing her before and present condition, the surgeon claimed she looks "stretched".
Nonetheless, Dr. John Paul Tutela declared that it could just simply be aging combined with fillers as seen on her full cheeks.
He suggested,
There is also a good chance that she had a facelift at some point as you can see the vector of her smile is more horizontal.
The claims of these renowned plastic surgeons and views from the audiences suggest that Stockard Channing could possibly have performed some procedures on her face. Or it could merely be aging which caused her skin to stretch.
Also See: Will Smith's Plastic Surgery is Making Rounds on the Internet
Though some fans reacted negatively towards Stockard's present look and claim she has been botched, many believe it's just changed with time.
Stockard Channing Was Once Will Smith's Secret Crush
In a very recent revelation by Will Smith, he shared that he fell in love with Stockard Channing during his first marriage. Stockard Channing and Will worked together in Six Degrees of Separation together.
Starring as Rizzo in the famous Grease, Channing has been the crush of many, but this recent disclosure left many wondering.
In his memoir Will, Smith explains that he had just welcomed his first child, Trey, with his then-wife Sheree Zampino when he was cast in the 1993 film Six Degrees of Separation alongside Stockard Channing.
Also Read: Monica Crowley's Plastic Surgery: Did She Go Under the Knife?
Despite the fact that their relationship maintained professionalism, Will somehow fell for Channing's charm.
In an excerpt obtained exclusively by People, Will writes, "She'd married a guy named Will Smith and now she was living with a guy named Paul Poitier," referring to his character in the movie. "And to make matters worse, during shooting I fell in love with Stockard Channing," he continued.
As per Channing's response, in an exclusive interview with Page Six at the "Six Degrees of Stockard Channing" event in McKittrick Hotel, she said, "Well, I'm very flattered".
She adds on, "That's a wonderful thing . . . I adored him from the first time I laid eyes on him because I thought he was genuinely sweet. I felt very protective of him because it was his first big job. It's amazing for me to hear that he felt that way, I'm delighted."
Appearing recently on Apologia, an Off-Broadway production of Alexi Kaye Campbell's 2009 play, Stockard Channing portrays Kristin Miller. Miller is a long-time activist, American expatriate, and noted art historian who has entitled her recently published memoir Apologia.
Her work in "Apologia," a Roundabout Theater Company production directed stiffly by Daniel Aukin, goes a long way toward masking the forced exposition of a work that never quite finds a natural flow or touches you as much as it should.
In an interview with Paul Wontorek Channing exclaims," It resonates with people as a parent and children because you know we all like to think we have the accurate version of history, and it's all subjective."
Do Not Miss: Jocelyn Wildenstein Before Plastic Surgery: Check Out Cat Face Lady Before and After!
Tony winner Stockard Channing's work in Apologia has been absolutely loved and appreciated by the audience.
Visit Weight & Skin for more plastic surgery stories of your favorite celebs.