Grab all the details of Stevie Nicks' alleged plastic surgery procedures.
When you recall the greatest rock stars of the last 50 years, Stevie Nicks must be one of them. The legendary singer and songwriter, who gained stardom with Fleetwood Mac before launching a very popular solo career, turned 70 in 2018. Impressively, she still appears as gorgeous as ever.
What's the secret to Stevie Nicks' amazing looks? Could it be plastic surgery or is it all-natural? Let's find out.
Has Stevie Nicks Had Plastic Surgery?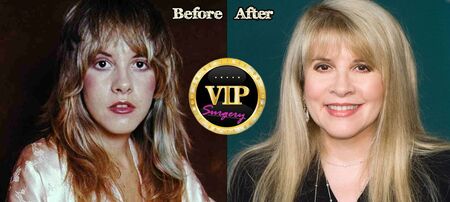 Stevie Nicks before and after plastic surgery.
Image Source: Pinterest
While many celebrities rely on Botox to remain young, Stevie Nicks does not fall into this category. The Dreams singer admitted she had attempted Botox a few years earlier, but she soon discovered that the infamous surgical treatment was not for her.
Nicks previously told The Telegraph:
Botox makes everybody look like Satan's children. You'd have to tie me down to get me to do it again.
Back in 2017, one fan said:
She's 70 next year and still ravishingly gorgeous. I don't know if it's surgery, or fillers or both but it's been fabulously done. And a great make-up artist and quality hair extensions.
The second stated,
I'm surprised anyone thinks it looks natural. I think everyone has the right to do whatever they like to their faces but I wish we could see a little more honesty about what having a face and hair like that at 70 really entails.

I know how hard ageing can be but this is not a look I aspire to. I have a number of friends who are Stevie Nick's age and I would rather look like they do.
The third claimed:
I can see she clearly has had a lot of surgery and has that 'big face' look that only too much work produces. Personally I think she looks extremely fake and cant understand why you would want to look like her. I'd avoid that 'look' like the plague.
Meanwhile, the singer spoke about her beauty routine, and how she's always been able to take care of her face, even during her worst days.
Stevie was honest about her former substance use and even admitted to Oprah's Master Class that she used to hold a gram of cocaine in her boot all the time.
You Might Like: Real Truth About Aimee Osbourne's Plastic Surgery Speculations
Stevie told People she never went to sleep without cleaning her face, particularly in those turbulent days.
Nicks told the magazine she takes good care of her skin.
I never go to bed in makeup. I haven't laid out in the sun since I was 28. While everyone else is out there burning up, I'm walking around going, 'When I do look 60, you will all look 100. Enjoy it now because you aren't going to be happy when I look young enough to get a date and you don't.' I'll still be going out when I'm 75. Everybody else will be in the rest home!
To conclude, no one actually knows for sure, but there's a lot of evidence she possibly has at least some sort of non-surgical operation.
Also See: British Journalist Katty Kay's Plastic Surgery – Did She Have Facelift?
Nicks herself said she had never had any plastic surgery on her face. In fact, she had reservations she would ever have one since she was afraid it would drastically alter her look.
One expert speculated, "My personal opinion is that she's probably had some sort of "refresher"… like dermabrasion… but nothing major, as her face, doesn't have the tell-tale "pulled" look of most facelifts."
Stevie Nicks Opened Up About Her Cocaine Addiction
Nicks revealed the first time she used cocaine was when she was a cleaning lady and she was cleaning someone's home, and as a prank, they left a coke line underneath everything, just to see if she was genuinely a house cleaner.
And of course I was, and of course I found it. That's the first time that I actually remember using it… That was like 1973…
It was amazing how when people talked about it, how it was not a big thing. Nobody was scared. Nobody had any idea how insidious and dangerous and horrible it was.
When asked how much she spent on cocaine, Nicks said:
Millions. Millions. And yes, don't I wish that we had that money and I could give it to cancer research today. Yes, I do.
Stevie would be happier if no one ever showed her the drug. And that's something she really wants to be sure and remind people that much like anything else, it became pretty fun for two, three years.
Also Read: Governor of Michigan Gretchen Whitmer's Plastic Surgery is Making Rounds on the Internet
But it soon turned into a monster, and it's not worth doing it for a few years, because it will inevitably destroy you.
She went to a cosmetic surgeon who told her, "You know, you're really going to have a lot of problems with your nose if you don't stop doing this."
This really frightened her. And then she went on tour for seven months. Later, she returned home and went straight to Betty Ford. Nobody needed to make her go as she wanted to go ASAP.
Nicks – often the subject of plastic surgery – noticed she had this problem with her nose that could affect her vocal skills. And what would she do if she weren't a singer? She couldn't get to Betty Ford easily enough at the end of the 1986 tour.
When Stevie finally became aware it was just killing her, it wasn't that hard to get to Betty Ford.
Do Not Miss: Karen Pence's Plastic Surgery – The Real Truth!
As for whether she still drinks or uses drugs, she never wants to be drunk in public ever again because that's not her anymore.
Stevie Nicks never wants to be completely drugged ever in public because she likes herself and who she is. And then that stops her from worrying of going down some sort of path like that ever.
Visit Weight & Skin for more plastic surgery stories of your favorite celebs.