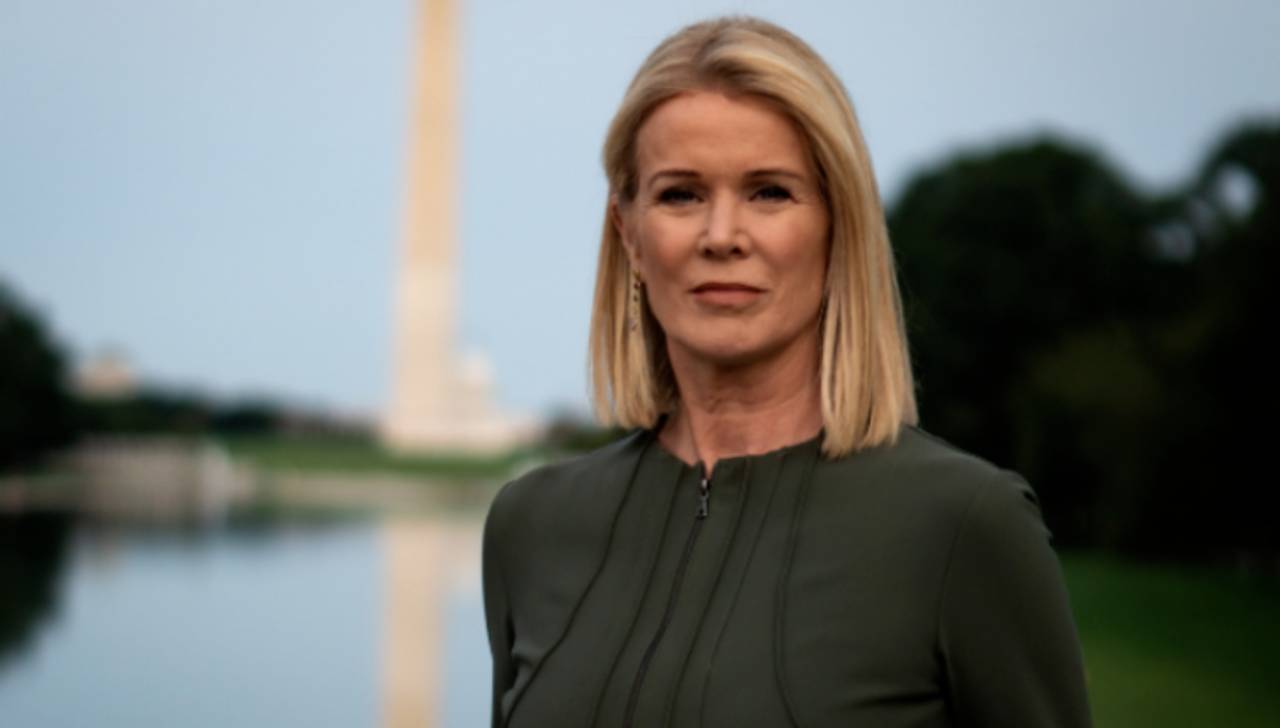 Learn all the facts behind Katty Kay's plastic surgery procedures, most notably facelift.
On TV, appearance is extremely crucial, and the use of plastic surgery to attempt to push the clock back is becoming more relevant than ever.
Katty Kay is one such television personality who is the subject of plastic surgery speculations, most notably facelift. Here's everything we know about her going under the knife.
Katty Kay's Plastic Surgery – Did She Have Facelift?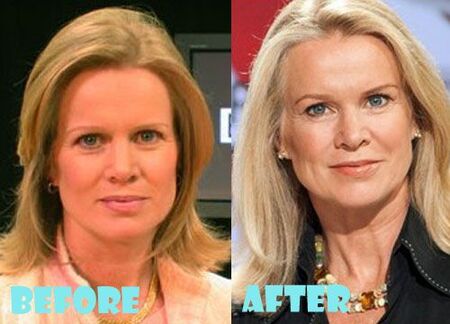 Katty Kay before and after facelift plastic surgery.
Image Source: Pinterest
Different people have a divergent view of plastic surgery! While some hate the thought of changing natural appearance by going for cosmetic surgery, some think it's worth trying; provided that surgeries are improving their confidence.
BBC anchor Katty Kay is also alleged to have improved her appearance with the aid of a facelift. But is there some sort of truth to the rumors?
The 55-year-old anchor, Katty Kay, appears younger than her age, and news on Washingtonian back in December 2012 attributed her beauty to a facelift.
You Might Like: Governor of Michigan Gretchen Whitmer's Plastic Surgery is Making Rounds on the Internet
The Director of the Washington Institute of Dermatologic Logic Laser Surgery, Dr. Tina Alster, offered her opinion on Katty's appearance and said:
She's an attractive woman who looks refreshed by likely having Botox or Dysport around her eyes and brow as well as hyaluronic-acid-filler injections in her nasolabial folds and mouth corners.
She added,
Either her toxin injections are providing a lifted appearance to her eyes or she's had a subtle eyelift. It's sometimes hard to tell.
The rumors about Katty's plastic surgery spread when her before and after images surfaced on the internet.
In spite of the accusation of plastic surgery, Kay has not yet come forward nor spoken on the allegations and is reluctant to break her silence on the matter.
A Quick Glance Into Katty Kay's Married Life and Career
In addition to being a BBC anchor, Katty is also a married lady. She exchanged vows with her partner Tom Craver, a former BBC reporter who is the current vice president of Control Risks Group.
The pair shares four kids, three of whom are daughters Maya Carver, Jude Carver, and Poppy Carver, as well as a son, Felix Carver.
Also See: Karen Pence's Plastic Surgery – The Real Truth!
Moving on to her profession, Katty joined BBC in 1990 as a Zimbabwe reporter for the BBC World Service's African segment.
She later joined BBC World Service Radio London and BBC News for Tokyo in 1992 and followed it up with a job in Washington DC in 1996.
Kay joined The Times news team only to return to BBC as a freelance reporter working in the United States in 2002.
She co-hosted BBC World News Bulletins in London until October 2007, when she was appointed as the BBC World News America anchor and is currently hosting the show.
In addition, she features in several programs, most notably 'The Chris Matthews Show,' 'Morning Joe,' 'Meet the Press,' 'Real Time with Bill Maher,' 'Larry King Live,' and 'The Diane Rehm Show.'
Also Read: Peta Murgatroyd's Plastic Surgery – Did She Go Under the Knife?
With her presence in various shows, she receives a reasonable paycheck that directly adds to her net worth, but the precise numbers remain confined to this date.
Katty Kay's New Book Inspires Young Girls to Gain Confidence
The BBC host, MSNBC consultant, and writer of the "Confidence Code" speaks about the forthcoming addition of her famous series of books.
Young girls are more likely to develop confidence by watching them live in the real world.
That's why Katty Kay and Claire Shipman share the experiences of 30 girls from across the globe, explaining how they've been able to develop confidence and accomplish their goals.
Kay, a BBC host and MSNBC affiliate, recently sat down with Know Your Value's Mika Brzezinski to chat about the new update to their "Confidence Code" book collection.
"Living the Confidence Code: Real Girls. Real Stories. Real Confidence." came out on April 28th, 2020.
Do Not Miss: Complete Breakdown of Fitness Model Jailyne Ojeda's Plastic Surgery
Girls generally strive towards learning from other girls, Kay stated. So, when they've got an inspiring role model who belongs to their generation, it's a positive effect on them. Kay and Shipman had that in mind when the 30 girls were selected.
Nowadays, many teen ladies live in a social media bubble and are under a lot of anxiety, Brzezinski said. Rather than relying on a flawless online picture, Kay emphasized the value of girls relying on the action, which in turn would create trust.
The women in the book are not trying to be flawless, and they are trying to overcome the many obstacles they face, she said.
Katty Kay added,
We got the Afghan robotics girls team. Who knew that Afghanistan had a girl's team of robotics? Of course, they have come under a huge amount of flack at home.

They're actually in physical danger because they have joined a robotics team but won't back down. They have carried on and they are now inspiring other girls to get into science in Afghanistan.
Another tale is about a young girl from Britain who has started a nationwide movement to bring free tampons and sanitary pads to high schools.
Kay continued,
She realized that even in the U.K., girls were missing school because they couldn't afford tampons and sanitary pads during their periods. 500 million girls around the world miss school because they can't have sanitary products.
The author said the women in the novel were also very frank about their mistakes. Kay said,
Guess what? If you take a risk, sometimes you're going to fail.
For instance, Kay referred to an American girl in the book who tried to open a small cafe in her neighborhood. However, the opening night was a tragedy.
Katty revealed,
She almost gave up because she was so embarrassed. But she carries on and she talks about the failures like that.
Katty claimed it's crucial for girls to know that you don't have to be flawless.
She concluded, "You will fail. It's normal. Mika, you've failed. I've failed. Your momma's failed. Your teacher has failed. Everybody has. The question is, what do you do about it then?"
Visit Weight & Skin for more plastic surgery stories of your favorite celebrities.