Grab all the details of It's Okay to Not Be Okay star Seo Ye Ji's plastic surgery endeavors. Check out her before and after transformation.
South Korean romance drama, It's Okay to Not Be Okay, has become the talk of the town lately because it presents a peculiar storyline that has piqued the interest of its viewers. In addition to heartthrob Kim Soo Hyun, the show also features Korean star, Seo Ye Ji.
Lately, Seo is at the forefront of plastic surgery speculations on the internet. Did she really go under the knife? Let's dig deep.
Seo Ye Ji's Plastic Surgery – Did She Go Under the Knife?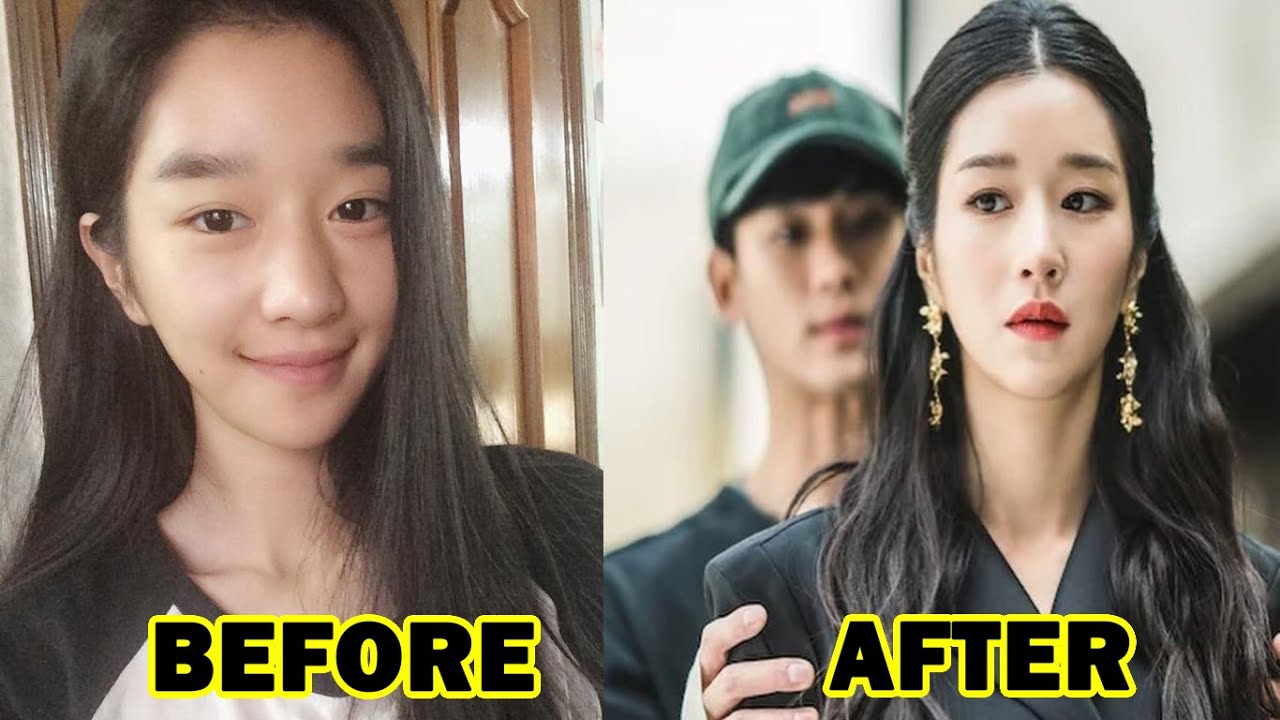 Seo Ye Ji before and after alleged plastic surgery.
Image Source: Pinterest
The pictures of actress Seo Ye Ji from her past are receiving a lot of coverage. Several old photos have recently surfaced in the internet community.
In the released image, Seo Ye Ji has different facial features from what she has now. Some people have thus persisted with the plastic surgery accusations.
You Might Like: Brenda Song's Plastic Surgery Includes Double Eyelid Operation?
On a side note, she's dressed beautifully in her school uniform, maintaining a good posture and producing a calm impression, particularly in the graduation picture.
Many fans were quick to respond upon seeing the photo. One said:
I think she only had double eyelid surgery.
Another claimed.
Did Seo Ye Ji get plastic surgery?. Its shocking!
The third said,
She's a completely different person from now.
Another user mentioned,
There's a photo similar to her face now. It doesn't seem to be plastic surgery.
Meanwhile, plastic surgeon Kim Gui-Rak stated:
Person in the photo is not Seo Ye Ji. If anyone thinks somebody's similar, their mouth and eyes look alike. If you look at the neck alone in the photo, the neck and hair are different. The degree of the bulge on the forehead, the eyebrows are different, and the forehead and chin are also different.
The actress, though, is yet to address rumors suggesting she went under the knife.
Seo Ye Ji's Supposed School Mates Dropped a Bombshell on Her
Upon the release of Seo Ye Ji's high school graduation picture on the internet, she's been the subject of cosmetic surgery and school violence.
One such person on the internet claimed she's a classmate of Seo Ye Ji, and she recalls the actress having her eyelids done during her senior year of middle school and then having her eye widened by an epicanthoplasty during her senior year of high school.
Also Read: Mickey Rourke's Plastic Surgery – What's Wrong With His Face?
She is quite clear about her memory because Seo informed all of her classmates about going under the knife. She then modified her nose and her friends were unable to recognize her because of her adjustment.
Another supposed classmate said Seo intimidated a lot of them during middle school, including her. She would ask for money and never return it. Her classmates told her the bully had made her acting debut and had changed her appearance.
She looked at her and didn't recognize Seo because her face had changed so dramatically, but they claim it's her. The person admits her current image is excellent, and she exudes a cheerful demeanor. However, she's so tired of seeing her with no conscience since she often features in advertisements.
Another user attested it's incredible that no one brought this up because Seo Ye Ji was a bully. She even sent her a direct message on Instagram telling her to apologize, but she ignored the request.
She figured she should just stop watching TV and bury the whole thing, but what was expected to explode did.
Also See: Katey Sagal's Plastic Surgery – The Untold Truth!
Seo Ye Ji allegedly invited her to hang out when she was in middle school, but she just wanted a "slave" rather than a friend. She was so afraid of her that she followed her around. When Seo didn't like anything, she would often hit her. The accuser then stopped spending time with her.
Visit Weight & Skin for more plastic surgery stories of your favorite celebs.