Grab all the details of Mickey Rourke's plastic surgery speculations, notably Botox injections on his face. Check out his before and after transformation.
During Mickey Rourke's early years, he displayed plenty of potentials that showed him as a man with a promising future and a lot of opportunities.
He was one of those people who had almost limitless potential, but as he grew older, things began to fall off the tracks a little and he appeared to fade away pretty quickly. His career seemingly took a nosedive and his popularity crumbled, but that wasn't how things ended for him, luckily.
Mickey is in the process of a return for several years now, and while he isn't quite as successful as he was when he first began, he is still regarded as a classic actor who has finally placed himself on the correct course.
In the meantime, Rourke is currently gathering curiosity over his alleged plastic surgery endeavors on his face. Did he really go under the knife? Let's dig deep.
Mickey Rourke's Plastic Surgery – What's the Tea?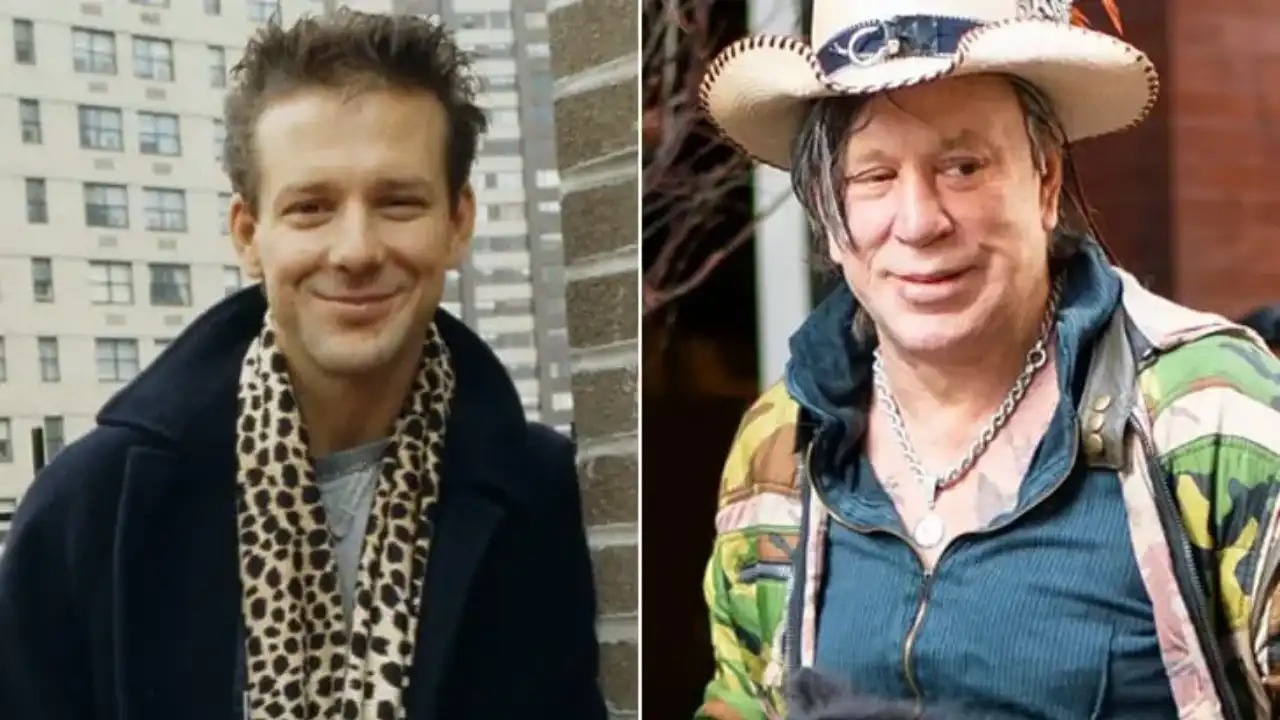 Mickey Rourke before and after botched plastic surgery on his face.
Image Source: Pinterest
Last September, Mickey Rourke exited from The Masked Singer in a pretty humorous way. Rather than awaiting the voters to decide who should be kicked off the competition, the actor took off his purple gremlin mask and ruled himself out because the costume was allegedly too hot.
According to USA Today, Rourke admitted he just took part in the show because he was merely around the corner and he evidently had a good time and dipped.
You Might Like Katey Sagal's Plastic Surgery – The Untold Truth!
The incident may have felt like a surprise to The Masked Singer's fans, but it is exactly the type of conduct that many have learned to know from Rourke.
The fighter has indeed lived on his own terms, even though it has often cost him his career. In 2020, The Guardian labeled him as a hopeful new talent gone horribly awry in the 1990s.
Since the 1980s, Rourke's professional life has risen and fallen, hitting a new high in the late 2000s when he received an Oscar nomination for his appearance in The Wrestler (2008) and starred in the blockbuster Iron Man 2 (2010).
But Rourke's dramatic career isn't the only subject of discussion in his life; there's even speculation about the actor's plastic surgery. Following Rourke's presence on The Masked Singer, the debate reached a boiling point, and with that in mind, here's all we know about his artificial enhancements.
Also See: 'Lexie Grey' Actress Chyler Leigh's Plastic Surgery is Trending on the Internet
Mickey Rourke started to find recognition as a Hollywood star in the 1980s, and he was lauded for his physical appearance. His vibrant presence was likened to Marlon Brando or James Dean by The Independent, who described it as quite masculine, soft femaleness blended with gritty manhood.
So when the actor's look shifted in the 1990s, viewers began to wonder, and it turns out that the reason for the transition makes perfect sense.
In 2009, Rourke spoke to the Daily Mail about his experiences with plastic surgery. He said,
Most of it was to mend the mess of my face after the boxing. I went to the wrong guy to put my face back together.
Rumors have escalated since then, as Rourke's look seems to be changing. His barely recognizable appearance on Good Morning Britain in 2019 attracted scrutiny, leading cosmetic surgeon Hala Elgmati to speculate to The Mirror that his face is indefinitely paralyzed from excessive Botox.
Also Read: Ron Isley's Plastic Surgery Speculations – Did He Go Under the Knife?
Dr. Youn, a cosmetic surgeon, told CBS News that the star had undergone hair transplants and a facelift. Rourke, for his part, does not seem to be involved in further discussion, although you can expect viewers to continue to weigh in with their thoughts.
Mickey Rourke is Dating Gorgeous Girlfriend Anastassija Makarenko
Dating in the entertainment industry is a different beast entirely than it is in the regular world, and when a famous personality starts dating someone who is not as popular as them, people start working overtime to find out everything they can about the new romance.
Big celebs often stick to other popular faces, but they occasionally like to switch things up.
Do Not Miss: Howie Mandel's Plastic Surgery is Making Rounds on the Internet
Mickey Rourke is in a relationship with Anastassija Makarenko since 2009, which is practically a lifetime in the business. However, not much is known about her. Despite the long relationship, she's done an excellent job of remaining out of the spotlight.
If you're curious to learn the rarely known details about Mickey Rourke's girlfriend, The Things has got you covered.
Visit Weight & Skin for more plastic surgery stories of your favorite celebs.