Grab all the details of Rumer Willis' weight loss curiosity on the internet. The actress slams body shamers. How did she manage to slim down? Check out her before and after transformation.
Born on 16th August 1988 in Paducah, Kentucky, Rumer Willis is the daughter of Hollywood icons Bruce Willis and Demi Moore, who won season 20 edition of the reality competition Dancing with the Stars.
Rumer starred in The House Bunny (2008), Striptease (1996), and The Whole Nine Yards (2000). She appeared on NBC's The Masked Singer in 2019.
Recently, the actress is the subject of weight loss curiosity among fans on the internet. Did she really slim down? What's the reason? Let's discuss.
Rumer Willis' Weight Loss – The Actress Slams Body Shamers!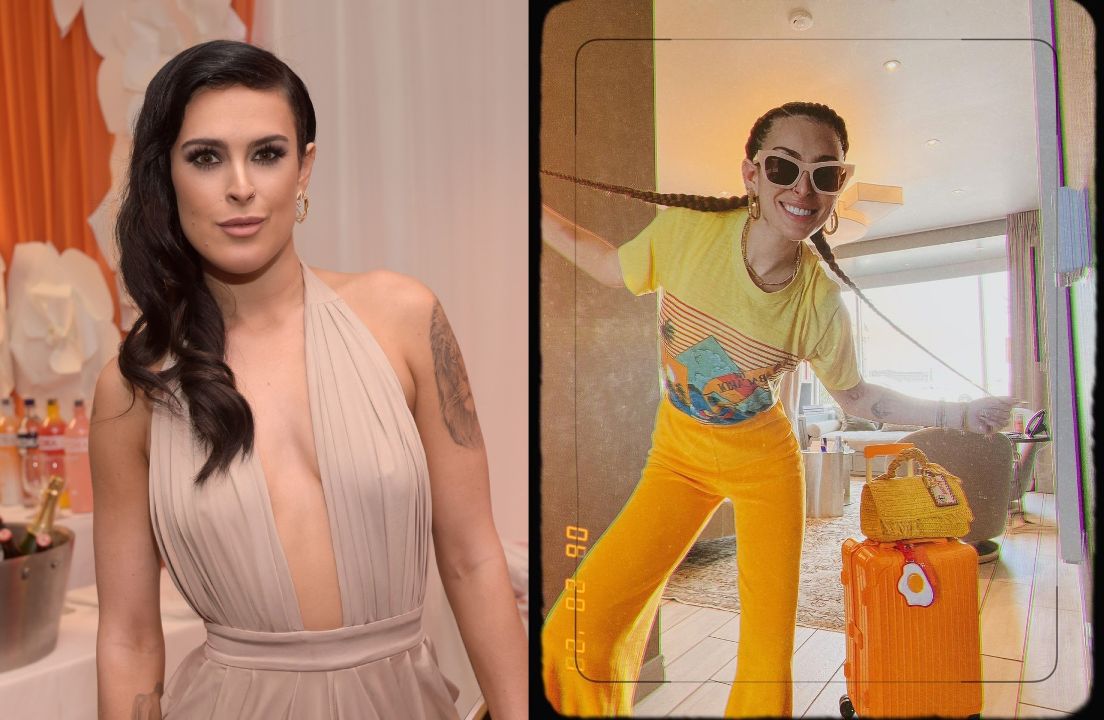 Rumer Willis before and after weight loss.
Image Source: Weight & Skin
Rumer Willis, 32, has had it with body shamers who continued letting her know she's too thin after undergoing noticeable weight loss and that she needs to be eating more.
You Might Like: Full Story on 'Good on Paper' Margaret Cho's Weight Loss Trauma & Diet Pill Addiction
On 29th June, Demi Moore and Bruce Willis's daughter shared a snapshot to Instagram of herself dolled up in a bright yellow attire with a piece of luggage, raring to go on vacation. She captioned the picture,
Leaving on a ? And honestly I really don't know if I'll be back again….??
Thousands of people have commented pointing out how she appears to be excessively slim, with one person even writing, "You need food." Another scathing remark claimed how she appeared to be on the verge of being sick.
Rumer – often the subject of plastic surgery – moved to Instagram Stories, where she shared a lengthy post targeted at keyboard warriors and how awful all of their responses were concerning her weight loss.
She wrote,
I know I don't need to do this but in an effort to spread some awareness and shed some light on body shaming tactics I felt the need to share. After the barrage of some really inappropriate comments left on my pic I posted yesterday I was left really bummed cause I was really enjoying the silly pics I took. It was a weird angle that even made me feel like I looked smaller than I do in real life.
Willis concluded,
Coming for me in my comments and telling me how I'm too skinny or I need to eat is absolutely not helpful and extremely body shaming. Body shaming of any kind is something I will not stand for.
While Rumer appears to have undergone significant weight loss, she was upset with people commenting on her own body, and we applaud her for standing up for herself.
Also See: Amara La Negra's 35 Pounds Weight Loss – Did She Get Bariatric Surgery?
Rumer Willis Previously Revealed She was Struggling to Love Herself During Pandemic
She was in Idaho during lockdown with both of her popular parents, Demi Moore and her former husband Bruce Willis, as well as her siblings Scout and Tallulah. Amid the pandemic, however, Rumer Willis found time away from her hectic family life to focus on her struggle with body image.
In an Instagram post, the actress, 31, confessed to trying to fit into a "perfect" healthy diet and exercise program when locked up at home.
Also Read: Scott Jennings' Weight Loss Journey – Intermittent Fasting Explained!
The celebrity, who also uploaded a post-workout photo of herself, revealed that while her physique "does so much," all she seems to worry about is what it "lacks" and neglects to "enjoy" its natural beauty.
Rumer wrote,
This is just an appreciation post for my body because I think it's important to celebrate ourselves. Not because we lost weight or we are a certain size or because we have a rare moment when a photo looks 'how we think it should to be accepted by mainstream'
She added,
My body does so much for me and works so hard for me. But more often than not the only thing it hears it what is wrong with it. What is lacking or what there is too much of. I am a fault of this all too often.
Willis continued,
Being in quarantine and struggling to find a new routine and not using food to find comfort when you are stuck at home all day is hard. Finding discipline to workout from home and eat healthy is hard and it's ok not to be perfect, I'm certainly not.
What is key is to discover ways to be content where you are and not to create an ideal size, weight, hair color, or body form some objective that will only bring you satisfaction and approval if you achieve it.
Willis reckons,
When we look in the mirror or at a photo we usually just go to all the things 'wrong' not the unique beauty. I had a moment today after I worked out and I took this picture and I tried just for a moment to just see all the amazing things and not my 'perceived flaws.'
She took the time to honor herself and her body and how much it does, and she appreciates being exactly who she wants, and she let go of the notion that in order to be pretty or attractive, you must be anything other than who you are at the moment.
In a second post, the What Lies Ahead star, who was dressed in a complementing grey-blue ensemble from Kim Kardashian's company Skims, also shared a video labeled "body talk." Rumer stated that she wants to be "honest" and offer her 882k followers her true self with no photoshop or any sort of filters/editing.
Do Not Miss: Lorde's Weight Loss is Trending Following the Release of 'Solar Power'
Both posts have garnered tens of thousands of "likes," as well as significant appreciation from admirers who praised her candor.
One person wrote,
Damn right, thank you for sharing love.
The second said,
GOSH I love you, you are such an incredible woman, whom I look up to so much.
The third claimed,
You have a beautiful, strong body and it looks like you take really good care of it. What an inspiration you are.
The fourth said,
I've been feeling the same way. Thank you beautiful.
It goes without saying she's got an incredible number of fans who adore her for who she is.
Visit Weight & Skin for more weight loss stories of your favorite celebs.