Grab all the details of Good on Paper star Margaret Cho's weight loss pill addiction due to the pressure of Hollywood. She notably developed a fen-phen addiction which was an anti-obesity drug.
Born on 5th December 1968, in San Francisco, California, Margaret Cho is a comedian and actress from the United States, who is well-known for her criticisms of social and political issues.
She has featured in movies such as Face/Off (1997), starring John Travolta, as well as television shows such as Drop Dead Gorgeous. She has received a number of honors for her work with the LGBT and Asian societies.
Recently, though, Margaret Cho is the subject of weight loss curiosity of the internet since the release of her new movie Good on Paper.
Margaret Cho's Traumatic Weight Loss Journey Due to Pressures of Hollywood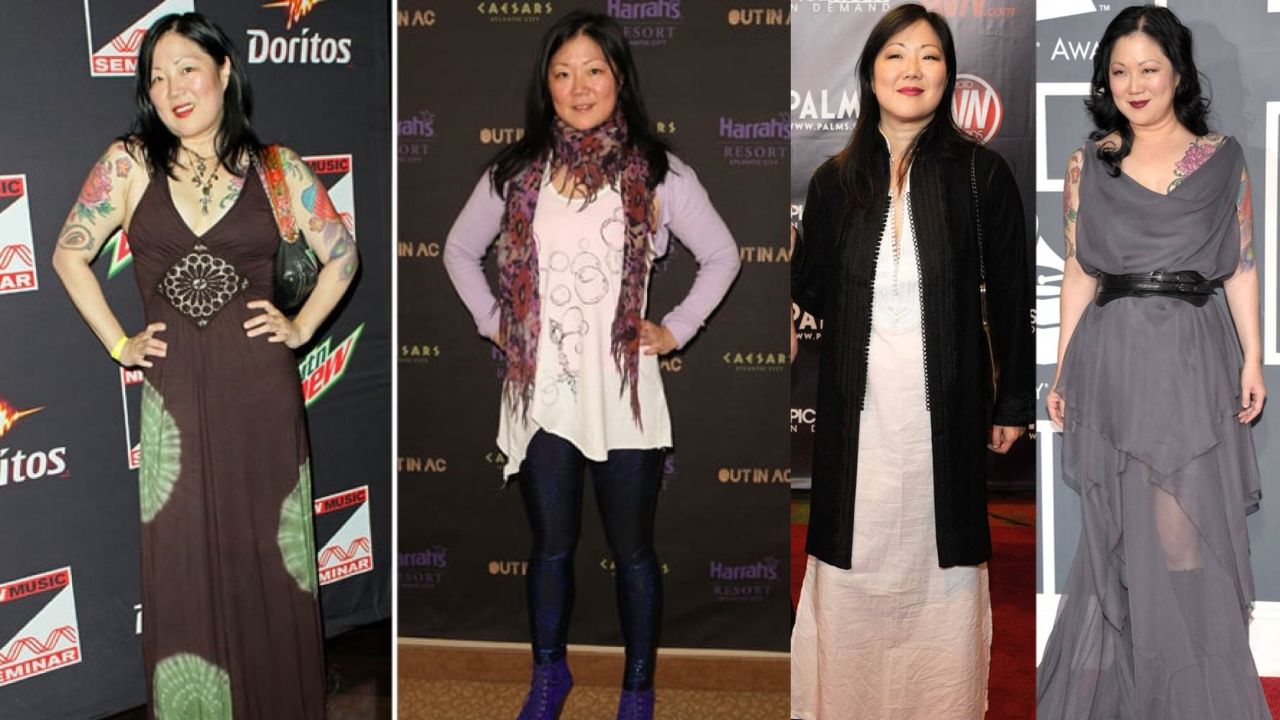 Margaret Cho before and after weight loss.
Image Source: Weight & Skin
Margaret Cho struggled with her weight as a child. ABC created and broadcast a sitcom centered on Cho's stand-up performance. It was known as All American Girl, and it was the first cable network program to feature an East Asian family.
Cho was the favorite of a pioneering show. The channel later decided that Cho was not the best representation of the term "Asian." The comedy series was about a defiant Korean family's daughter. In some ways, her real-life was very similar to this fabricated version of her life for television.
You Might Like: Amara La Negra's 35 Pounds Weight Loss – Did She Get Bariatric Surgery?
The network executives were bothered by Cho's physique and chastised her for it. They were concerned about her fuller-looking face and overall weight. She was so resolute to keep the show going that she went to extraordinary lengths.
Cho was 23 at the time of her breakout role in her career. It was a difficult period in her life. She ended up taking the networks' assessment of her and began looking for ways to undergo weight loss.
One of the ways she planned to achieve this was to use fast weight loss pills. She recruited a trainer and began working out for four hours six days a week. A dietitian was also hired, and she would only consume what was provided for her. Margaret managed to shed pounds through a combination of diet, workouts, and fear.
She used drugs to help her achieve weight loss. They were recognized as Phen-Fen at the time and were permissible. Because these medications were akin to speed, she didn't eat and spent her time doing fitness stuff because she carried an incredible amount of energy.
Dietary pills and their long-term implications were previously unknown. Cho claims she still struggles with maintaining a healthy weight from that time in her life.
Margaret Cho had become fixated with her physical appearance. Her addiction to dieting triggered her to undergo 30 pounds of weight loss in merely two weeks. This resulted in a covert emergency hospital admission for kidney failure, one of the dietary supplement overdose side effects.
Also See: Scott Jennings' Weight Loss Journey – Intermittent Fasting Explained!
Cho was scared to halt working out after she left the hospital. The series had been put on hold while she was in the health facility. She finalized taping the episode and sat waiting to see if this pilot would be turned into a series. It did turn into a series, which fueled her preoccupation with fitting in with the Hollywood elite.
She looks back and says that this period of her life was driving her insane. She barely had any time to work out while shooting the show, so she supplemented her food intake with diet pills. This is how she got hooked on fen-phen.
Margaret Cho Indulged in Drug & Alcohol Addiction After the Show Got Canceled
Even after her attempts, the sitcom was canceled after half a year, sending Margaret into a downward spiral. She developed depression, became anorexic, and started the abuse of alcohol and drugs.
Cho discussed what it felt to be acknowledged in her stand-up skit. For her, having her pilot show turned into a program felt like approval. Cho was led down a dark path after the show got canceled. She developed a drug and alcohol addiction.
Amid her drug addiction, Cho recalls placing cash through mail slots and receiving a small bag in return. She wasn't merely accustomed to one drug; she was hooked to several. According to Margaret, any pill was the correct drug.
Cho returned to stand-up comedy after being scarred by the sitcom journey. This was one of the primary causes of her substance abuse. She claimed she had fallen apart as a result of the termination of the show and had lost her individuality. She felt like she was a disappointment. This, she claimed when she turned into an alcoholic.
Also Read: Lorde's Weight Loss is Trending Following the Release of 'Solar Power'
She used drugs and booze rather than wanting to eat, which was her real addiction. Her principal drug of choice was speed since she was attempting to avoid eating, resulting in a complex co-occurring disease.
Margaret met her romantic partner who was also an alcoholic, and they were feeding off each other's addiction. When the couple awoke in a puddle of urine, she came to realize the issue was too massive to turn a blind eye.
She came to the realization that she wasn't eager to die due to the setbacks that had brought her to the lowest possible level. She has since recovered from her substance use disorders, only to be regarded as a comedic star. Cho explores this aspect of her life in her movie I'm the One That I Want (2000).
Visit Weight & Skin for more weight loss stories of your favorite celebs.