Everything you need to know about Madonna's plastic surgery on her hands through hand filler injections. Take a look at her before and after transformation. 
Looking evergreen and youthful even in her 60s, popstar Madonna never failed to stun the crowd with her mindblowing music and incredible looks.
Never admitted to having done any procedures on her face, it is suspected that the all-time hit singer got collagen implants, botox, and facial peels.
However, this time the buzz is not about Madonna's face but her hands. Yes, as bizarre as it sounds, speculations on Madonna getting plastic surgery on her hands spread like a wildfire.
And we are here to dive deep into the rumors and see if it's true or just a fuss.
Madonna's Plastic Surgery Hands: "De-veining" Her Wrinkled Hands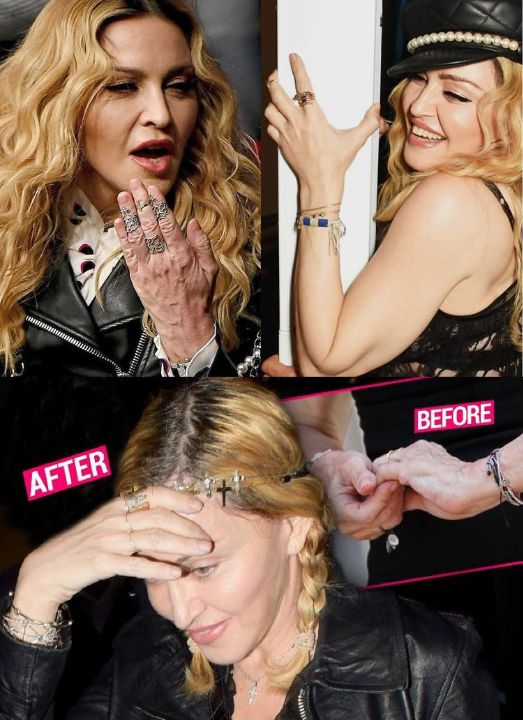 Madonna before and after plastic surgery on her hands.
Image Source: Weight & Skin
Shining with her super stretched flawless skin at 63, Madonna's hands couldn't hide her real age. The rumors of the Material Girl singer's hand plastic surgery began when she was spotted in 2016 with super stretched silky hands, weeks later being pictured with wrinkly and veiny hands.
The popstar was often shamed for her hands being veiny and wrinkly while her face was young like it hasn't aged a day. After a drastic change in her, speculations on what happened to her hand began.
You Might Like: Owen Wilson's Plastic Surgery: Did He Get a Nose Job?
Many plastic surgery experts shared their opinions on Madonna's hands. Dr. Anthony Youn said,
Madonna's hands look much softer and more youthful! It is possible that she underwent injections of fillers into her hands."He adds, "This is a very common treatment that provides drastic results.
Another doctor, Dr. Zara Harutyunyan with Cosmetic Rejuvenation agrees with Dr. Youn and said, "It looks like Madonna did dermal fillers, such as Sculptra, Voluma, Juvederm, or Radiesse."
She adds on, "Madonna could have also could have done a heat laser therapy prior to the filler to help tighten any loose skin".
While some plastic surgery specialists think it's just simple fillers other have different speculation. Dr. Michael Salzhauer aka 'Dr. Miami'  told Radar that he believes that she took even more drastic measures to get these results.
"Madonna could have deveined her hands by having the veins removed surgically," he said, adding, "Good for her!"
All these crazy plastic surgery speculations, but what exactly did Madonna do to make her hands radiant, plumper, and younger? It's revealed that the singing diva's secret is hand filler injections, which contain a blend of 53 vitamins, amino acids, and antioxidants.
She has been getting injections since 2016. And her hands are now matching her God complexion face. Clapping back at people who criticized her, Madonna remains unbothered about the comments she got regarding the issues.
Also See: Tara Jayne Before Plastic Surgery: Boob Job, Butt Implants, Fillers & More!
Madonna has always been in the public's eye not just for her spectacular music, but for her flawless looks as well. Words of the diva getting a bum lift also flew around.
Following a New Year's Eve performance at New York's Stonewall Inn in 2019, it was widely assumed she had bum implants.
It's a procedure used to improve the contour, size, and/or shape of your butt and improves the shape and tone of the underlying tissue that supports skin and fat in your bottom.
Madonna's Former Mansion is Being Sold at 3 Times the Rate by a Dog!
Madonna's former Miami mansion is being sold for 3 times the original value by the World's wealthiest dog. Gunther VI, a German Shepherd, is the beneficiary of a trust that owns a nine-bedroom, eight-and-a-half-bath Miami villa that was once home to Madonna.
Gunther received the waterfront mansion as an inheritance, and he has advertised it for $31.75 million, according to PEOPLE.
The secret behind Gunther's wealth is the late German Countess Karlotta Leibenstein who died in 1992 and left her whole $80 million estates to her beloved canine, Gunther III – Gunter VI's grandfather — because she had no children or close relatives.
Also Read: Amado Carrillo Fuentes' Plastic Surgery: The Untold Truth!
The people in charge of Gunther's estate have amassed a fortune of roughly $500 million, which they have invested in homes and villas all across the world.
Madonna made a quick response to this situation. Taking it to her Instagram story, the pop diva wrote,  "When you find out a dog is selling your old house for 3 times the amount you sold it for!"
It's funny and quite cute how her face looked grumpy in the picture. She also included two screengrabs to articles written about her former Miami mansion, which is being sold for $32 million by its current owner.
Gunther IV, the second dog in the bloodline before Gunther VI, bought the house from Madonna 20 years ago, before she and her then-husband Guy Ritchie relocated to England. A picture of Gunther VI sleeping in Madonna's former lavish bed has been going viral and it's one sight to see!
Visit Weight & Skin for more plastic surgery stories of your favorite celebs.