Owen Wilson's plastic surgery allegedly includes rhinoplasty aka a nose job. Did he really go under the knife? Check out Owen Wilson's before and after transformation.
Owen Wilson is well-known for his sense of humor, but he's also renowned for his crooked nose, which many fans notice but never seem to speak much about.
Glancing at him, you'd imagine him to chuckle, say something hilarious, or at the very least be piercingly sarcastic since that's just who he is.
But the topic of his nose rarely seems to come up unless somebody tries to bring it up. Wilson is reluctant to speak about his nose besides he's proud of it and wouldn't alter it for the world.
Many people believe that if he had a nose job, he would look much better, but there is also the concern that he would lose his signature look.
On the other hand, many think he's already had plastic surgery in the form of a nose job. So, what's the truth? Let's find out.
Owen Wilson's Plastic Surgery: Has He Gotten a Nose Job?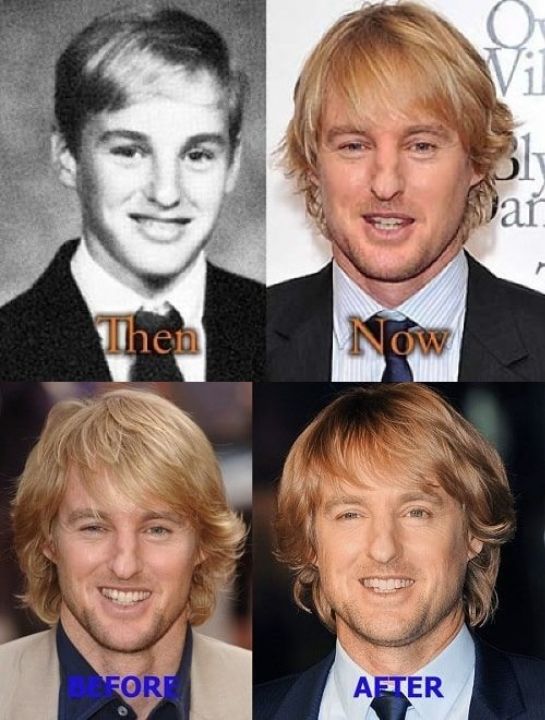 Owen Wilson before and after alleged nose job plastic surgery.
Image Source: Weight & Skin
When somebody has built up a reputation partly based on their appearance, it becomes less appealing to change their looks over the fear of jeopardizing their career, even if it's plastic surgery that is supposed to enhance your appearance, at least on paper.
If Owen Wilson had a nose job, he would look completely different, and you could argue the odds of him being the comic genius would be little to none.
You Might Like: Tara Jayne Before Plastic Surgery: Boob Job, Butt Implants, Fillers & More!
Meanwhile, how his nose got that way is a bit of a mystery, but reports suggest that it had something to do with a football accident and a brawl at school (not plastic surgery), both of which resulted in breaks that were never completely repaired.
If you look at any images of a young Wilson you can find on the internet, you'll note that his nose used to be much straighter and didn't slant the way it does now.
Furthermore, there appears to be credible material that appears to confirms the rumors, as he was a football player in his childhood and was dismissed from his high school at one time.
Wilson has built a career out of his looks and his hilarious acts, no matter how you look at it. It appears that having him be anything other than what he is today would be unpleasant for the fans who have grown to adore him so much.
After all, when fans become accustomed to somebody, they prefer to want them to remain the same personality, or they have a proclivity to turn on them for their own causes.
Granted, the freedom to alter their physique and looks in any way they choose is their right, but many actors have typically chosen to stay exactly how they are in order to retain their fan base.
Also See: Amado Carrillo Fuentes' Plastic Surgery: The Untold Truth!
Wilson could simply get plastic surgery in the form of rhinoplasty to repair his nose, but he doesn't look likely to be doing it anytime soon.
Even if it appears that being hilarious is what he's actually oriented towards, Owen Wilson has clearly proven that his appearance is a part of who he is and isn't about to alter for anybody. It'd be strange to see him any other way.
Owen Wilson Gets Married to Jennifer Lopez in Marry Me Trailer
What's your move when you happen to be one of the world's finest pop sensations and your live-streamed wedding concert goes awry? Obviously, just exchange vows with one of the random audience members in the concert!
That's the idea of the new romantic comedy Marry Me, starring the mother of all odd pairings, pop superstar Kat (Jennifer Lopez), and math tutor Charlie (Owen Wilson), is a fictitious romance that will eventually become genuine.
Also Read: Stockard Channing's Plastic Surgery: Before and After Pictures Suggest It's Not Just Aging!
The events leading up to their wedding are so bizarre that you'll have to watch the trailer to find out what happens, but we'll just say it features Maluma, Sarah Silverman, and a forgotten concert sign.
Marry Me is in theatres on 11th February 2021.
Visit Weight & Skin for more plastic surgery stories of your favorite celebs.