Kristi Noem's plastic surgery allegedly includes lots of Botox injections plus facelift surgery. Take a look at her complete before and after transformation.
South Dakota Governor Kristi Noem recently said the press is trying to kill her kids after a report alleged she had a potential conflict upon speaking with the head of the state agency responsible for accepting or denying her daughter's candidacy to become a real estate appraiser.
As she's making rounds on the media, many viewers are gathering curiosity surrounding Kristi Noem's looks. Many reckon she's had numerous plastic surgery procedures. So, what's the truth? Let's find out.
Kristi Noem's Plastic Surgery Includes Plenty of Botox Injections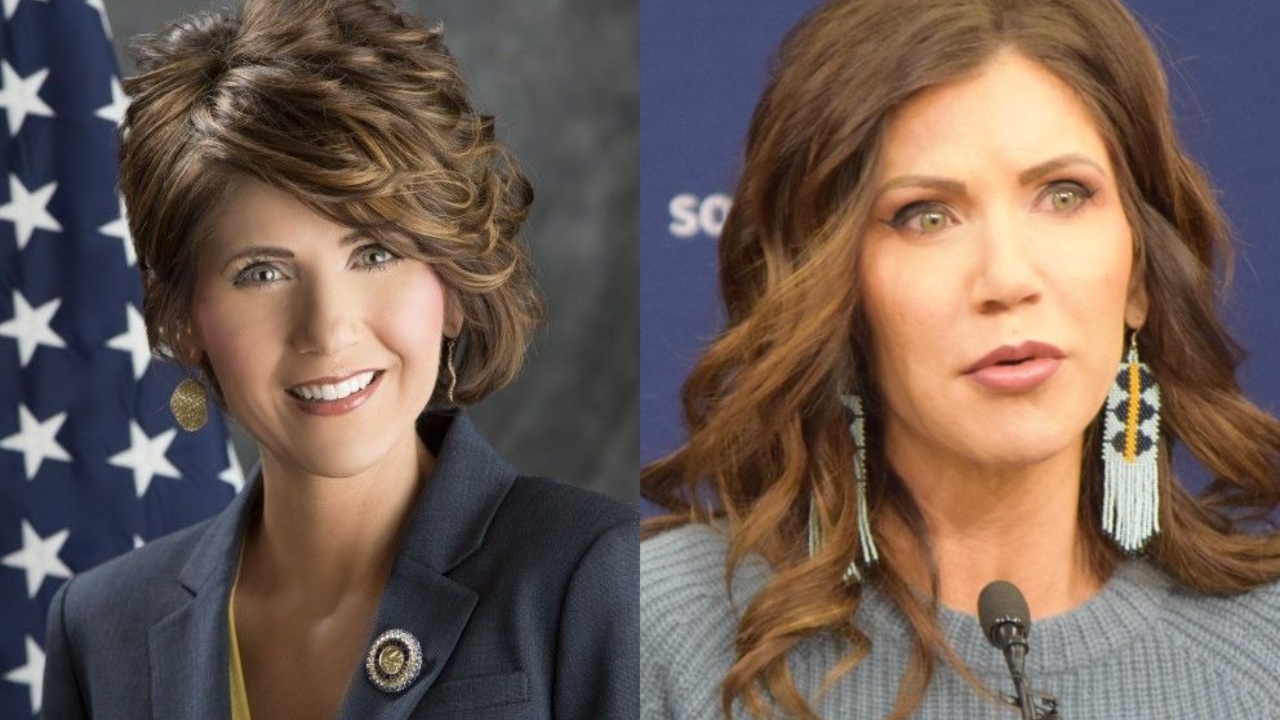 Kristi Noem before and after plastic surgery.
Image Source: Weight & Skin
Kristi Noem is currently at the forefront of plastic surgery speculations on the internet. Numerous social media users reckon she's made cosmetic alterations to her face.
Noem's plastic surgery allegations are not a new development. Every time she makes headlines, Kristi seems to be the subject of surgical enhancements.
You Might Like: HoYeon Jung's Plastic Surgery – The Untold Truth!
Earlier in the year, the Governor took to Facebook to post a wonderful picture. She captioned the picture,
I'm posting this for Kathy! Hope your daughter gets to see it! ?❤️?. You are so sweet.
The comment section was filled with accusers and defenders of her supposed surgeries, notably Botox injections.
One user wrote,
Botox much?
Another said,
Lay off the botox, your face looks like dried out & stretched clay!
The third claimed,
What happened to your face??? Lots and lots of work, Botox, surgery, you name it she's done it.
On the other end of the spectrum, some Facebook users tried to defend her appearance. One person wrote,
I think she is beautiful inside and out! And not fake!
Another user echoed the sentiments.
I agree completely she's beautiful inside and out.
Well, we believe Kristi Noem's appearance is down to a combination of makeup and cosmetic surgery.
Also See: Brittany Aldean's Plastic Surgery – How Many Cosmetic Changes Has She Made?
It goes without saying, Kristi Noem has had Botox injections. In addition, we believe she's had facelift surgery, too.
Who is Republican Governor Kristi Noem?
Born on 30th November 1971, Kristi Noem is the 33rd governor of South Dakota, having taken office in 2019.
She was a Republican who served as the United States Representative for South Dakota's at-large congressional district for eight years from 2011 to 2019 and as a participant of the South Dakota House of Representatives for the 6th district for half a decade from 2007 to 2011.
Noem was appointed governor of South Dakota in 2018 and is the state's first female governor.
Also Read: Ariana Grande's Plastic Surgery Rumors Gather Pace While She Looks Different on The Voice 2021
Noem, elected as a Trump friend, deliberately refused to accept medical professionals' advice during the COVID-19 outbreak and did not adopt any of the customary public health and safety safeguards utilized in other jurisdictions.
Noem opposed face mask regulations, disputed the usefulness of mask-wearing, supported mass meetings without social distance or mask-wearing, and criticized the advice of public health specialists.
Visit Weight & Skin for more plastic surgery stories of your favorite celebs.