Grab all the details of Brittany Aldean's alleged plastic surgery procedures, notably Botox injections, multiple fillers, and a nose job. Check out her complete before and after transformation.
Jason Aldean is a country music superstar renowned for songs such as Big Green Tractor (2009), Take a Little Ride (2012), and My Kinda Party (2010). He is adored by millions of fans worldwide and ranks alongside other great country musicians such as Luke Bryan and Florida Georgia Line.
Despite his down-home demeanor, Aldean's personal life has been fraught with controversy. The singer is now blissfully married to his second wife, Brittany Aldean, but their romance began in an extremely shady manner, according to many.
Brittany Aldean was born Brittany Kerr in 1988 in North Carolina. Despite studying Human Environmental Science in her academic studies, she was more eager to create a future for herself in modeling, and in 2010, she applied for Victoria's Secret model hunt. Although she failed to become one of Victoria's Secret models, she left a mark and finished in the top 80.
She then served as a cheerleader and cosmetics artist simultaneously. Later, Brittany Kerr competed on Season 11 of American Idol in 2012, fully dedicated to making it as a singer.
Once again, the young artist failed to make the cut, and despite the judges' praise for her beauty and perseverance, she did not proceed in the competition.
On a personal front, though, Brittany Aldean is currently the subject of heavy plastic surgery speculations on the internet. Did she really go under the knife? Let's discuss.
Brittany Aldean's Plastic Surgery is the Topic of Debate on Reddit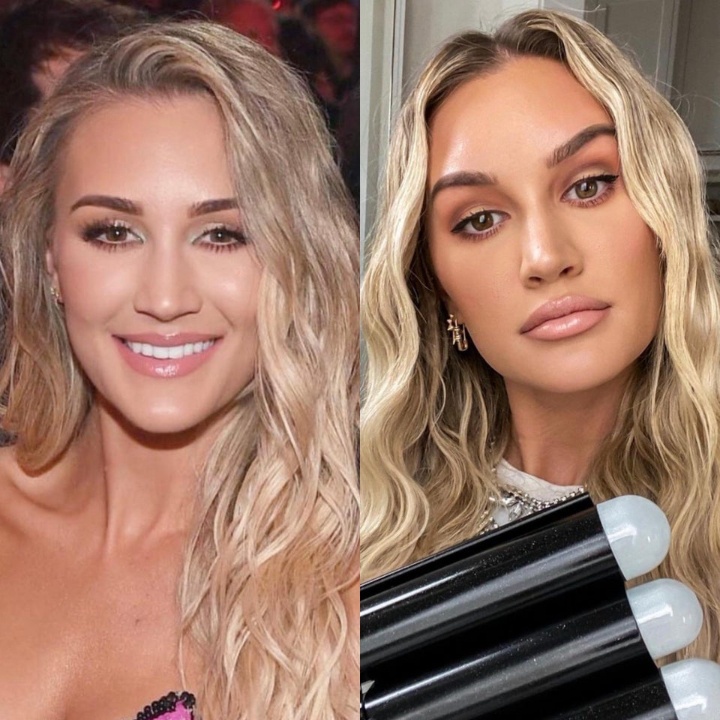 Brittany Aldean before and after plastic surgery.
Image Source: Reddit
Fans often speculate Brittany Aldean's plastic surgery endeavors on social media, most notably Reddit.
Earlier in the year, a Redditor contrasted her before and after pictures and stated how she used to be "gorgeous."
You Might Like: Ariana Grande's Plastic Surgery Rumors Gather Pace While She Looks Different on The Voice 2021
The comparison image highlighting plastic surgery clearly displayed the numerous cosmetic alterations she's had. As expected, the comment section was filled with various hypotheses on her surgical operations.
One user wrote,
Too much Botox… and was her jaw shaved down? Jeez.
Another wondered about her nose job to which a user responded,
It may just be the different angle, but probably… I thought it was really just a lot of Botox… but idk. She went from looking youthful to a plastic looking 45 year old. Ew and cheek injections..or implants… ?
We reckon she narrowed the bridge around her nose. Similarly, one of her plastic surgery improvements looks to be an eyebrow lift.
Likewise, another Redditor said:
She was so naturally beautiful. Too much Botox!!!! Definitely looks so much older than she really is because of it.
Many viewers feel she's the product of all the injectables and most noticeably she's shaved down her chin bone. It's fair to say she looked stunning when she performed an audition for American Idol.
Also See: Jeff Probst's Plastic Surgery – Why Does the Survivor Host Look Different?
There are some who believe that make-up significantly alters her appearance rather than plastic surgery. However, we're having none of that, albeit we do agree on the makeup bit.
Meanwhile, it goes without saying that Botox injections and numerous surgeries she has had will undoubtedly begin to age her, just as it does everybody else.
Brittany Aldean and Jason Aldean Started their Romance in a Controversial Manner
When Brittany Aldean (then Kerr) bumped into Jason Aldean for the first time in 2012, he was a blissfully married guy. Aldean and Jessica Ussery, his former wife, were in a marital relationship since 2001 and shared two daughters together.
Needless to say, when Aldean was spotted kissing Brittany Kerr in a bar in 2012, it drew huge attention, as per Heavy. Although both Aldean and Kerr openly apologized for their actions, it was evident that something more was at play.
Also Read: Cassandra Peterson's Plastic Surgery – The Untold Truth of the Elvira Actress!
Jason Aldean and his wife divorced in early 2013. In their joint statement, they requested privacy and stated that they will always strive together to co-parent their two kids, both daughters named Keeley and Kendall.
Aldean went out with Brittany Kerr soon after filing for divorce. The couple celebrated their engagement in September 2014 and exchanged vows in March 2015.
The pair appeared to be happy together, but several viewers were upset by how they first met and the dubious grounds under which they began their relationship.
A little more than two years after their wedding, Aldean and Kerr announced they were expecting a child. Memphis Aldean, their son, was born in December 2017. The duo then welcomed a daughter, Navy Rome, in February 2019.
Brittany Aldean appears to be enjoying life as a mother, posting snaps of her two gorgeous kids on social media on a regular basis.
Brittany no longer needs to work as a model or a cheerleader anymore. She now keeps herself busy by uploading sponsored Instagram adverts for brands like South Beach and FabFitFun.
Do Not Miss: Sex Education Actress Mimi Keene's Boob Job Plastic Surgery – Is There Any Truth to It?
She is also a business owner, having recently created her own clothing line. She enjoys supporting Jason Aldean in all of his musical endeavors, and when he goes on tour, she frequently joins him, bringing their two children along in a big tour van.
Brittany Aldean has certainly reaped the benefits of fame in recent years. Despite the unpleasant manner in which her relationship with Jason Aldean began, everything appears to have worked out nicely, and the pair appears to be genuinely in love.
Visit Weight & Skin for more plastic surgery stories of your favorite celebs.