Ariana Grande's plastic surgery rumors, notably a nose job, are trending on the internet. Her face looks different as a judge in Season 21 of The Voice in 2021.
Everybody's face changes as they get older, but certain celebs seem to have changed more dramatically than the rest of us. Fans can't believe how much Ariana Grande's appearance has altered in a short span of time.
This was even more evident when she appeared as a judge on The Voice Season 21. But this wasn't the first time Grande has faced the heat from online speculators.
So, has Ariana Grande undergone some form of plastic surgery? Without further ado, let's find out.
Ariana Grande's Plastic Surgery Speculations Resurface Amid The Voice 2021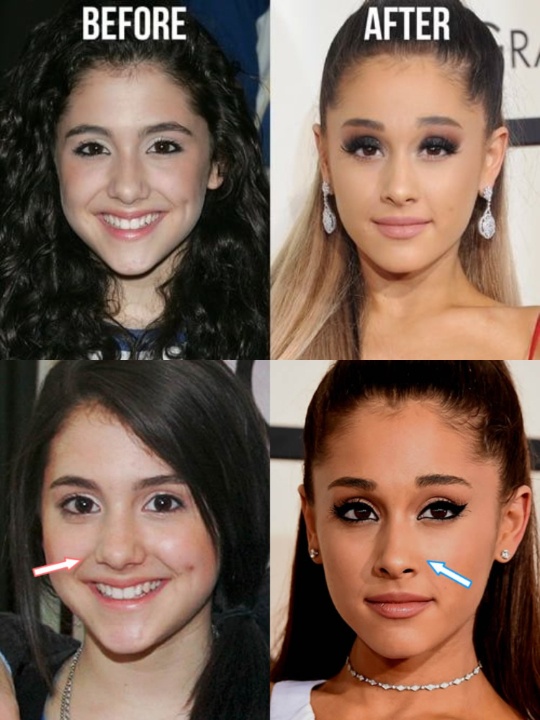 Ariana Grande before and after plastic surgery.
Image Source: Weight & Skin
The pop sensation, Ariana Grande, who has been in the public spotlight since 2010, when she starred in Nickelodeon's Victorious at the age of 16, has changed immensely in the last decade.
During her latest appearance as a judge on The Voice Season 21, some fans questioned whether her makeover is totally natural, which isn't an entirely new experience for her.
You Might Like: Jeff Probst's Plastic Surgery – Why Does the Survivor Host Look Different?
Fans were previously commenting on an Instagram meme, questioning whether Ariana's facial alterations are the result of plastic surgery.
One fan wrote,
There are still people who believe Ari didn't get a nose job … it's so obvious.
Another said,
Cannot believe thats what Ariana used to look like… HUGE change!
The post compares images of Ariana as a teenager to the celebrity now. Looking at the two pictures, it is evident that her nose appeared broader on her face as a child than it appears now.
However, there is no extensive proof in the post suggesting the pop artist had a nose job to decrease the width of her nose – especially given that many individual's noses are larger as adolescents than as adults.
Regardless of the fact that Ariana is only 28 years old, many fans reckon she has had work done on her face. According to The Skincare Edit, she underwent both nose surgery and a brow lift.
Also See: Cassandra Peterson's Plastic Surgery – The Untold Truth of the Elvira Actress!
However, Ariana has frequently denied accusations of plastic surgery. In 2019, she responded to remarks on Twitter alleging her of having a nose job.
The singer wrote,
hayyy this my birth nose what tf did i log onto today lemme have a cute nose damn [sic].
In any case, it appears like Ariana has more pressing matters on her mind than handing a response to plastic surgery allegations. The singer married her partner Dalton Gomez earlier in the year in an intimate ceremony in Montecito.
Ariana Grande Shares Screenshots of Text Exchanges with The Voice Judge Blake Shelton
Ariana Grande included a screenshot of a Blake Shelton text in which she teased about replacing him as a judge on The Voice in the latest Instagram post.
Shelton, 45, forwarded Grande, 28, an OK Magazine article titled "Producers at 'The Voice' may replace Blake Shelton after Ariana Grande brings fresh energy."
In a text exchange with Grande, Shelton wrote:
Thanks a lot, Ari… Thanks a f–king lot…
Grande responded to Shelton's message with a heart reaction.
The 7 rings hitmaker replaced Nick Jonas as one of the coaches on The Voice for season 21. After overcoming Jonas as a voice mentor in the past, Shelton responded to the news by claiming he was relishing this challenge.
Also Read: Sex Education Actress Mimi Keene's Boob Job Plastic Surgery – Is There Any Truth to It?
According to People magazine, Shelton said at the time:
The easiest defeat of my career was Nick Jonas. So I'm looking for a challenge. I think Ariana could be a challenge. I'm looking forward to beating her though.
As a coach in the reality competition, the country singer has enjoyed seven victories. Ariana, meanwhile, said she's honored to be a part of The Voice.
Visit Weight & Skin for more plastic surgery stories of your favorite celebs.