Grab all the details of Jiggly Caliente's weight loss curiosity among fans on the internet. What's her diet? Check out her before and after transformation.
Born on 29th November 1980, Bianca Castro, better known by her stage name Jiggly Caliente, is an American drag artist, vocalist, and actor best known for finishing eighth in the fourth season of RuPaul's Drag Race and playing Veronica on the FX drama Pose.
Recently, she is the subject of weight loss curiosity among fans on the internet. Has she really shed pounds? Let's discuss.
Jiggly Caliente's Weight Loss – What's Her Diet Plan & Fitness Routine?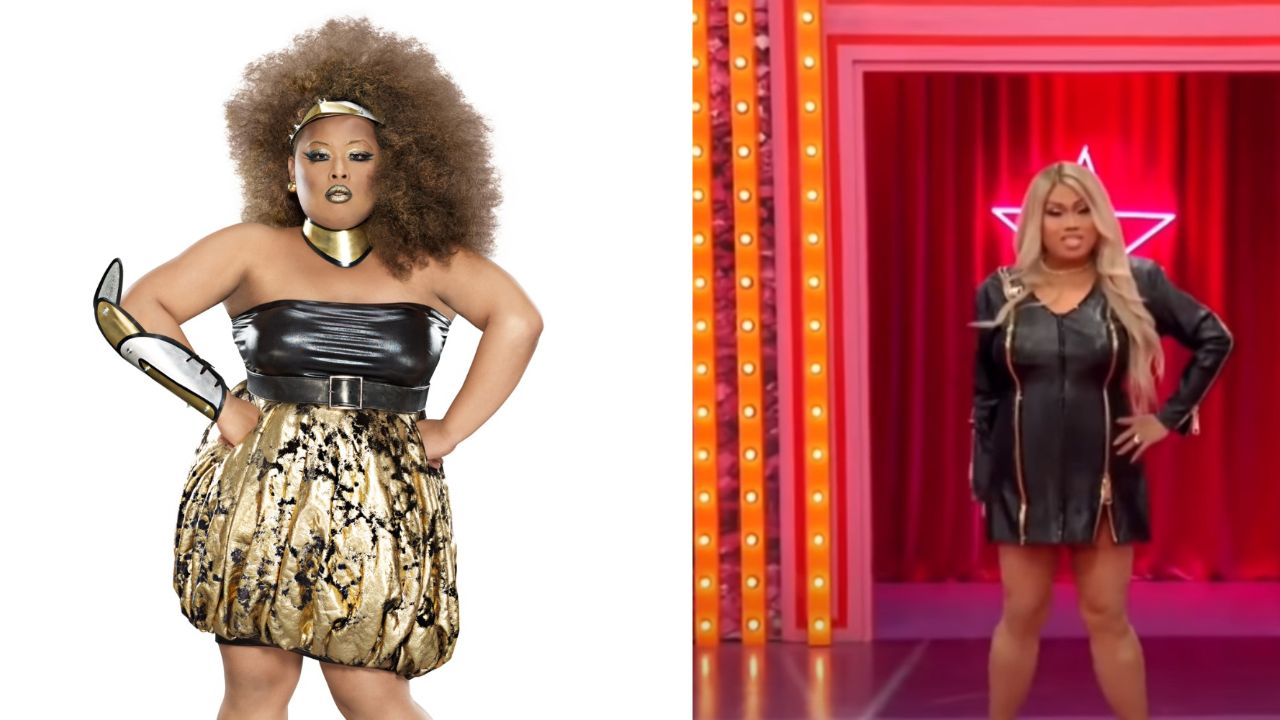 Jiggly Caliente before and after weight loss.
Image Source: Weight & Skin
Fans often discuss Jiggly Caliente's weight loss endeavors on the internet, especially on Reddit. Most fans love her for whatever she chooses to do with her body, and rightly so.
Back in 2017, the singer herself addressed the reasons for going on a diet taking to Twitter. She wrote,
I originally started this diet for vanity reasons for my music video and album cover. But I'll stick with it for a lil while longer. I'm liking how I'm looking and breathing.
Fans were quick to support her decision with one stating, "I hope it is a healthy diet and her life improves."
You Might Like: Full Story on Doja Cat's Weight loss in 2021 – What's Her Diet Plan?
Taking a quick glance at her recent Instagram uploads, it becomes quite obvious she has lost a substantial amount of weight from where she was a few years ago.
While Jiggly Caliente is yet to open up about her diet plan and fitness routine, she has previously spoken about body positivity, hinting weight loss is a choice, not a necessity.
In her music video for her track All This Body, RuPaul's Drag Race season 4 participant Jiggly gave her take on the body acceptance movement. The track features her Drag Race sisters Alaska and Ginger Minj, who deliver lots of fun voices and appearances throughout the film.
Caliente visits a plastic surgeon after expressing uneasiness about her physique and asking whether there is anything that can be done to help her lose weight. Alaska and Minj appear as Jiggly's fairy godparents and carry her off from the surgeon's office, refusing to let her go through with the treatment.
Caliente spent an entire track passionately expressing her body and refusing to let society's harsh opinions or perspectives define her. She writes a joyful electronic rap song, drawing inspiration from hip-hop, that she thinks will resonate with those who are dealing with their own physical appearance.
Caliente said,
We are so consumed with forcing ourselves to fit in the confines of society's beauty standards that we forget to love our individual identities and the beauty we possess.
She added,
We may not fall in love with ourselves right away, but through this song, I hope people will find a way to love the body they're in and eventually fall in love with their entire being.
It's fair to say Jiggly Caliente in 2021 agrees body positivity is fine, but what matters equally is health and well-being.
Also See: Jason Kaplan's Amazing 100 Pounds Weight Loss Journey, Diet Plan & Fitness Routine!
Jiggly Caliente is Competing in 'RuPaul's Drag Race All Stars 6'
Jiggly Caliente, a Pinay drag queen, is competing for the title again in the forthcoming season of RuPaul's Drag Race All Stars. Caliente wore a modern twist on a Filipiniana outfit in a promo for the show's sixth season, which was unveiled this week.
Akeria Chanel Davenport, Eureka, Ginger Minj, Jan, Kylie Sonique Love, Pandora Boxx, Rajah O'Hara, Scarlet Envy, Serena Chacha, Silky Nutmeg Ganache, Trinity K. Bonet, and Yara Sofia will compete against 12 other queens from different seasons.
Also Read: Full Story on Kathryn Hahn's Weight Loss – Has the 'WandaVision' Star Shed Pounds?
Caliente, whose actual name is Bianca Castro, came eighth in season four of RuPaul's Drag Race. She was born in Laguna and relocated to the United States as a kid when she was 10. She is most recognized for her role as Veronica Ferocity in the American drama series Pose.
RuPaul's Drag Race All Stars 6 will air on the American streaming service Paramount+ on 24th June.
Visit Weight & Skin for more weight loss stories of your favorite celebs.