Grab all the details of Ian Karmel's 120 pounds weight loss, diet plan, and fitness routine. Check out before and after pictures of the co-head writer at The Late Late Show with James Corden.
Born on 9th October 1984, Ian Karmel is an American comedian, who serves as one-half of the lead writers on CBS's The Late Late Show with James Corden.
He's written for both the 2017 and 2018 Grammys and for the 2016 Tonys. In fact, his performance on the 2016 Tony Awards earned him an Emmy nomination for Outstanding Writing on the Variety Special.
Karmel is an Emmy recipient, too, landing the award in 2019 for Carpool Karaoke: When Corden Met McCartney Live From Liverpool.
Recently, this hilarious performer is at the forefront of weight loss curiosity amongst fans. How did he manage to lose such an unbelievable amount of weight? Let's find out.
Ian Karmel's 120-Pound Weight Loss – What's His Diet Plan & Fitness Routine?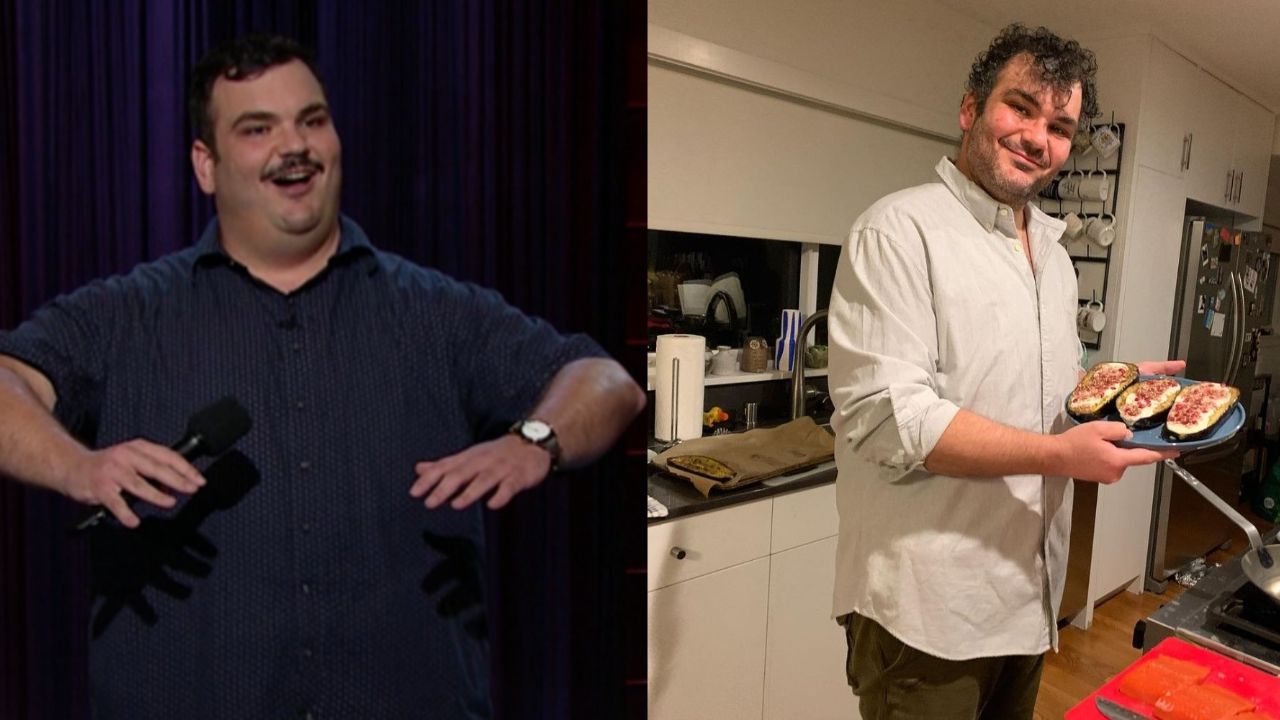 Ian Karmel before and after 120 pounds weight loss in less than a year.
Image Source: Weight & Skin
It's no secret that Ian Karmel had been striving to achieve weight loss for quite some time. He's pretty open about his endeavors on Twitter and often talks about his goals to lose weight to his followers on the popular social media platform.
You Might Like: Molly Wilson's Weight Loss is Trending But Why?
When it comes to food, the American comedian is quite vocal, too. Back in June 2020, Kamel expressed his disappointment at a meal delivery service taking to Twitter. He wrote,
I signed up for a meal delivery service and today my dinner was a shrimp salad with strawberries and blackberries. That's f&&ked up, right? Shrimp and berries? I'm an open-minded dude, but no. No.
He added,
I can't bring myself to try it. Has anyone had a shrimp salad with berries? I want to lose weight and live longer, but not like this. There are no shrimp salads with berries in the grave.
A week later, amid the heated political conflict between India and China, Ian once again joked:
I've been able to maintain my diet through all of this but if India and China keep shooting at each other I'm gonna use a rolled-up pizza as a funnel for Doritos.
In August of the same year, the 36-year-old flexed about his weight loss and the fact that he received a Damian Lillard jersey sent by Portland Trail Blazers. He credited chicken breasts and spinach for his slimmer physique, helping him fit into the shirt.
Most recently, Ian Karmel took to Twitter in February 2021, where he revealed a rather strange weight measuring metric. He wrote,
Been judging my weight loss based on football players and I'm now down to a small college offensive guard. Hoping to hit University of Miami linebacker by April.
He continued,
Started at "Could literally only be playing offensive line for the Ravens" btw.
Meanwhile, one fan wondered about the secrets to his amazing transformation, suggesting it might be keto diet. Karmel replied that it's basically eating way less along with regular exercise.
Also See: Full Story on Former CEO of 'IT Cosmetics' Jamie Kern Lima's Weight Loss Journey
During his latest appearance on The Late Late Show with James Corden, Ian Karmel revealed he has undergone 120 pounds weight loss in less than a year.
Ian Karmel Revealed How He Spent His Quarantine Amid the COVID-19 Pandemic
The 36-year-old comedian and writer for The Late Late Show With James Corden, Ian Karmel, resides in New York City with his roommate and fellow comedian Zak Toscani.
When asked what he had been eating during quarantine, Ian said:
I made a big soup. Outside of that, I've been alternating between delivery and just big, joyless salads, so I get vegetables.
When it comes to entertaining himself at home, the comedian watched a lot of romcoms for the first time ever.
As for music, he usually listened to lots of old reggae, but he himself is unsure as to why. Moreover, he tried getting into Pearl Jam, and it was kinda working!
Also Read: Damon Wimbley's Weight Loss – How Did Kool Rock Ski from 'The Fat Boys' Shed Pounds?
When the question turned to hobbies, whether he picked up a new hobby or resumed an old one, during the quarantine, Ian said:
I've been working a lot still so far. I'm sure that will change soon—then I'll find out which hobbies come back.
The most fun part arrived when the interviewer inquired about the weirdest thing he did during the quarantine. The television personality revealed:
I got really, really, really stoned and freestyle-rapped over a bunch of Pearl Jam songs. I was really feeling myself, too. I was thinking, "Dude, you're really good at this," while I was doing it.
Then the question shifted to how he keeps himself sane confined to a single place due to the need for self-isolation amid the COVID-19 pandemic. Karmel claimed:
I'm really good at being alone. I always have been. I'm very worried about everyone, but what's being asked of me to help—staying inside—has been very easy for me so far.
The New York resident also spoke about how wishes to fly home to Portland, and go out to dinner with his family once coronavirus is over.
Do Not Miss: Alejandro Fernandez's Tattoos & Meanings – Everything You Need to Know!
Visit Weight & Skin for more weight loss stories of your favorite celebs.