Here's the complete explanation of the Bella Poarch tattoo controversy, including the #CancelKorea drama, an apology for the Red Rising Sun tattoo, and the Philippines outrage.
Bella Poarch's name doesn't necessarily ring any bells in the Twitter universe and K-pop fandom until one notorious slip-up in a video revealing her Japanese sunrise tattoo.
The emblem seems to be the equivalent of Nazi Germany, Swastika, to the Koreans. It is perceived to be quite provocative in their society.
The reaction went so far as to taunt Filipinos that they were weak, fat, short, and uneducated, as well as encouraging Filipino netizens to "cancel" Koreans and their racist antics.
In case you're eager to learn the full story surrounding the Bella Poarch tattoo controversy, you couldn't have arrived at a better place. We've got you covered with everything you may want to know.
Bella Poarch at the Centre of Red Rising Sun Tattoo Controversy – What Triggered #CancelKorea Drama?
Bella Poarch's controversial tattoo sparked a heated accusation of racism. The Filipina TikTok star faced criticism from Korean social media users, which is prompting outrage from global netizens.
Bella Poarch is a prominent social media influencer with more than 15 million followers on TikTok and an impressive 2 million followers on Instagram. In a recent video, a tattoo depicting the Japanese Rising Sun flag can be witnessed on her arm.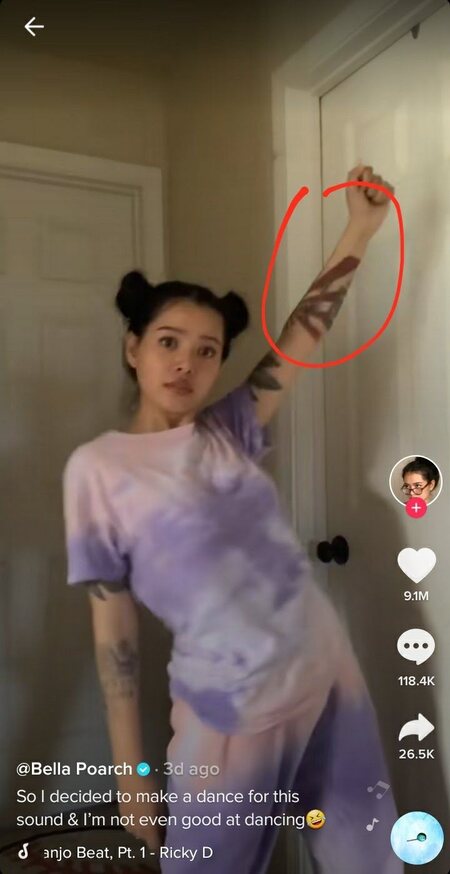 Bella Poarch Caused a Massive Controversy Through Her Arm Tattoo.
Source: Koreaboo
This flag is affiliated with Japanese imperialism, as well as Japan's actions during the second world war. It remains incredibly offensive in South Korea as a result of Imperial Japan's repression of Korea when the region was under colonial powers.
As such, Korean netizens criticized Bella Poarch's tattoo and called it troublesome.
Also Read: Jason Momoa Tattoos, His 6 Prominent Tattoos You Should Know About!
A verified user who goes by the username 'Noeymik' wrote,
Didn't you know the meaning of the tattoo? I don't think so.
Likewise, another user said:
The history of Korea is a bigger scar on Koreans than you think. Korea never forgets history.
In response, the TikTok star dropped an apology for her innocent mistake concerning the tattoo, claiming she loves Korea. She also vowed to have the tattoo hidden or replaced to correct her error.
Bella wrote,
I will have the tattoo removed or do a cover-up. I did not know the history behind the tattoo and I will educate others about it.
While some Korean netizens respectfully shared their feelings, others were not as kind as they attacked Bella Poarch with racial slurs that offended not only her but all the citizens of the Philippines.
One such person wrote,
Poor country non-educated people short people.
In response to this bigotry, netizens trended #CancelKorea on Twitter to call attention to prejudice, as well as the fragile relationship between South Korea and the Philippines.
https://twitter.com/Lan_Pham__/status/1305324594287448065
Some Twitter users, in addition, shared their own experiences with mistreatment in South Korea.
Some of the #CancelKorea netizens are K-Pop lovers who are distressed and disturbed by recent events. As much as they enjoy K-Pop, they first place love for their nation and fellow Filipinos.
https://twitter.com/_gabbgabb_/status/1303315338965123073
https://twitter.com/cmdizontria/status/1303267013062586368
https://twitter.com/shiningstartxt/status/1303344924306202625
Well, the outrage is only gathering more pace in recent days.
Bella Poarch Dropped an Apology and Vowed to Remove Offensive Tattoo
Bella Poarch apologized for offending Korean netizens who had been upset by her provocative Rising Sun tattoo. The social media influencer shared an apology to TikTok with a picture of the tattoo.
She wrote,
I'm very sorry if my tattoo offends you. I love Korea. Please forgive me. Here is a photo of my arm tattoo. I love Korea. I would never do anything to hurt anyone.
In the comments section, Bella said she would erase or conceal the tattoo. She confessed when she got it in March; she didn't know the meaning behind it. Poarch added,
I did not know the history behind this tattoo and I will educate others about it.

I only found out, when Koreans told me about it on TikTok… So I had it covered by a heart and I was scheduled for tattoo removal for red rays. The virus got worse and my appointment got moved to November.
Following the uproar, the Hawaii-based Filipina is promoting public awareness. She said she saw a lot of people sporting a red rising sun sign in Hawaii's clothes, vehicles, and jewelry.
Bella Poarch wrote on Twitter,
Please educate yourselves and learn more about it because it came from a terrible history. It is very offensive to a lot of people. Please learn from my mistake.
Despite admitting she made an error in judgment, Bella said it was a different situation when they targeted the Philippines and Filipinos.
The TikTok star tweeted,
Y'all can attack me. I'm ok with that. But when y'all attack the Philippines and make fun of them, that's when I lose my shit.
The #CancelKorea hashtag was one of the top trends on Twitter last week after Filipino netizens backed Bella when some Korean social media users made derogatory remarks towards her and her fellow Filipinos on her Tiktok post.
You Might Like: Chris Evans' 7 Tattoos and Their Meaning
As per CNN's 2019 article, the South Korean Sports Parliamentary Committee demanded the Rising Sun flag to be removed from Japan's Tokyo Olympics because it is perceived in South Korea as a sign of Japanese "imperialism and militarism."
Bella Poarch is Currently Going Through Mental Health Issues
Bella recently took to the picture-sharing platform, Instagram, to show how much she aspired to try Twitch, a game-streaming site. However, she's worried that her post-traumatic stress disorder, major depression, and "bad anxiety" might somehow cause a meltdown in the middle of her live broadcast.
She's been struggling since 2017 as per her Twitter.
Also See: Pete Davidson's Tattoos and their Meanings
"Don't worry about me, I've been living with it, and I have a good support system to help me," her caption says.
Needless to add, it's best for all parties if the ongoing controversy and drama end in a respectful truce.
Visit Weight & Skin for trending tattoo stories of your favorite celebs.