Amber Scholl has undergone significant weight loss from her college days, looking much slimmer now than she did in the past. She took to YouTube, where she revealed the truth about her body, mentioning her eating disorder, diet plan, and fitness routine.
In the age of social media, internet personalities are often prone to several speculations concerning their personal as well as professional lives. Some of those rumors hold no weight at all while others prove to be accurate despite the denial.
One of the most trending curiosity among fans is the weight loss of their favorite celebs. Amber Scholl, a renowned YouTube star, is no exception in this regard. What's the reason for her physical transformation? Let's find out.
Amber Scholl's Weight Loss and Eating Disorder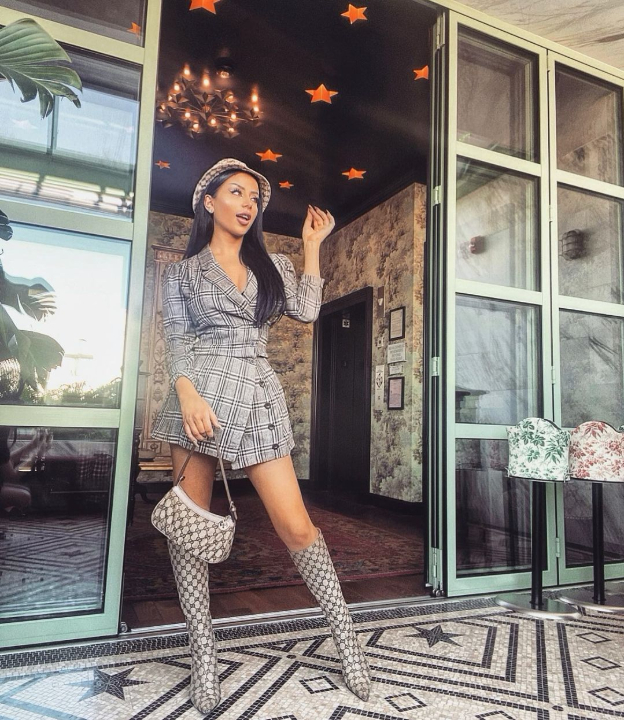 Amber Scholl addressed her weight loss, diet plan, and fitness routine.
Image Source: Instagram
Amber Scholl recently took to her YouTube channel, where she uploaded a video revealing her entire story surrounding the topic of weight loss.
It's a bit funny how the YouTuber made a search query about her own physique and thought who better to address these speculations than herself.
She revealed she had a severe eating disorder most of her life ever since she was a child. At one point, she even decided to go on a diet plan, but this made things worse.
You Might Like: Elle Simone Scott's Weight Loss Surgery Following Ovarian Cancer Diagnosis
Amber noticed instant results but the diet only took her so far and the obsession for instant gratification turned into a toxic fixation. She would freak out if she consumed something slightly more than the recommended amount.
She even weighed herself all the time and tried to track the changes, which was not good for her mental health as well as the physical one.
This obsession meant she stopped eating enough for her body to function. Her unhealthy lifestyle was mocked in her high school days by her schoolmates since she was perceived as a 'weirdo' throughout her teenage years.
Scholl couldn't hold back tears as she shared her horrible experience when she was hell-bent on forcing weight loss on her body. But thankfully, she grew wiser and got better as time went on.
Amber recommends you should seek professional help if you're someone who is going through something similar right now.
Amber Scholl credits Tumblr for inspiring her to choose a healthy lifestyle as she started becoming proud of herself and feeling more confident in her skin.
Also See: Salma Hayek's Weight Loss Journey – The Full Story!
She revealed she's now a vegetarian, which she claims helped her move on from past self-loathing.
Addressing the fans' curiosity about her dramatic weight loss, the internet personality credits her drastic change in lifestyle.
Amber claims she is at most 10 pounds lighter from her college days and this was possible by taking better care of her body through an improved fitness routine and sleep schedule. She insists there are no diet pills and crazy hacks involved.
Scholl reckons self-care is massively important for physical, mental, and emotional well-being.
Who is Amber Scholl?
Amber Scholl is a DIY guru and fashion influencer famous for her "Broke Girl Hacks" show on her famed YouTube channel. It also features celebrity apparel and home decor with more than 3.4 million subscribers.
Before fame, she previously drove for Postmates to earn a living prior to her YouTube channel kicking off in October 2016.
Amber is also well renowned for her amberscholl Instagram page, which has over 900k followers. Impressively, she was represented by Marienor Madrilejo at Abrams Artists Agency.
Also Read: Comedian Michelle Collins' Weight Loss – What's Her Diet Plan & Fitness Routine?
As for the details of her family, she's got two sisters named Alyssa and Angela, both of whom are featured in her sister's tag clip.
Schull's famed work includes interviewing sportscaster Erin Andrews. She has also taken interviews with the likes of Kris Jenner and Chris Harrison.
Visit Weight & Skin for more weight loss stories of your favorite celebs.