Learn all the facts behind Elle Simone Scott's weight loss surgery following an ovarian cancer diagnosis. America's Test Kitchen From Cook's Illustrated star performed bariatric surgery.
Elle Simone Scott is a well-known American chef, food manufacturer, test cook, and food stylist. She is the creator of the SheChef mentoring group. Simone was raised in Detroit, Michigan, in a middle-class 7th-Day Adventist family.
As for her education, Elle went to Eastern Michigan University. Her first cooking employment was at a kosher bakery in Oak Park, Michigan. Before joining the culinary sector, Simone served as a social worker in Detroit.
Simone has worked as a prep cook. She enrolled into the Culinary Institute of New York and owns a master's degree in show business.
Elle Simone Scott Underwent Weight Loss Surgery After Getting Diagnosed with Ovarian Cancer
The ovarian cancer survivor, Elle Simone Scott, got diagnosed at the age of 40 back in 2016.
In September 2018, she took to Facebook to explain the signs and symptoms of ovarian cancer.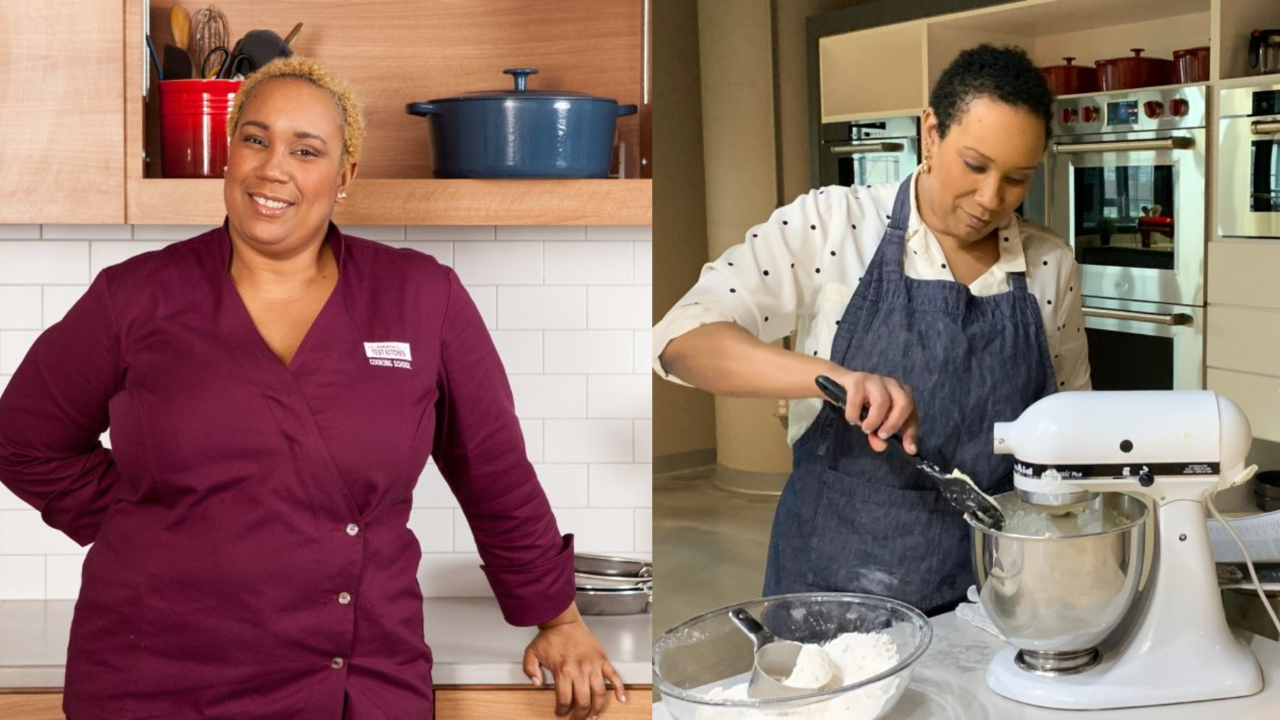 Elle Simone Scott performed weight loss bariatric surgery after an ovarian cancer diagnosis.
Image Source: Weight & Skin
Subsequently, her fans inquired about her health and well-being upon witnessing her different appearance on America's Test Kitchen. It had been noticeable for a while – her change in physique and the vivid weight loss. The chef, though, reassured fans that she's doing well, writing:
I'm doing GREAT, y'all. I had weight loss surgery in the Summer of 2019. The cancer came back in May 2020 but I'm doing great now. Promise!
Previously in 2016, shortly following arrival in Boston to begin a dream career as a food stylist and a television personality on America's Test Kitchen, Elle Simone Scott received some life-changing news.
You Might Like: Salma Hayek's Weight Loss Journey – The Full Story!
The then 40-year-old chef had experienced a little discomfort. She had seen a doctor "at least twice" about the matter, but the pain had not gone away.
Scott said,
And I thought it would just be a good idea to follow up on that.
Speaking of her stage 1C, grade 3 ovarian cancer, one of the most deadly ones among women, the chef said:
It was very challenging; it was one of the hardest things I've ever had to do.
She added,
And I promised myself and the higher power that if I survived this horrible disease, I would commit my life's work to bringing awareness to this disease and to fight for detection, a cure, and I'd do anything … and so, here I am.
Meanwhile, the best time to begin a weight loss program or to concentrate on making healthier lifestyle improvements differs for each person.
For many, the cancer diagnosis can enable them to reflect on their health beyond cancer, encourage them to eat healthy food, and improve their physical fitness. For others, discussing weight and physical exercise before or shortly after recovery is simply too much to do.
Also See: Comedian Michelle Collins' Weight Loss – What's Her Diet Plan & Fitness Routine?
When many patients are diagnosed with cancer, they become proactive individuals in maintaining their health—learning about cancer, medication choices, and potential side effects, and how to live with them.
Elle Simone Scott used the same strategy, undergoing bariatric surgery, and changing her diet and exercise when she felt ready.
A Brief Glance at Elle Simone Scott's Culinary Career
When she was 28, Elle Simone Scott lost her job as a social worker, her car, and her home during The Great Recession of 2008.
She served as a chef on a cruise ship for a couple of years. In 2009, she relocated to New York, served at a women's shelter, and completed a culinary school in 2010. She then finished her internship at the Food Network. Later, she worked as a food stylist for Cabot Creamery and The Chew.
Also Read: Jared Leto Weight Gain for The Little Things on HBO Max
Simone became the first African-American lady to feature as a regular host on the PBS TV show America's Test Kitchen. She serves as a test cook and recipe stylist for the program. She also produces videos for Test Kitchen's online cooking school.
She was a part of NBC's The Hub Today in 2018. A year later, she presented 28 Days of Edna, a month-long America's Test Kitchen series revolving around Edna Lewis.
Simone is a representative of the Board of Woman Chefs and Restaurateurs. She said she wanted to become the "culinary Oprah."
Elle also does plenty of philanthropy work. In 2013, she founded SheChef, a mentorship and collaboration organization for women of color in the culinary industry. As of November 2018, it consisted of more than 1,000 members.
Do Not Miss: Full Story on Karen Pence's Weight Loss Speculations
Simone was inspired to do humanitarianism work after discovering that while 90 percent of her culinary school classmates were women or people of color, this group was not represented enough among chefs.
Visit Weight & Skin for more weight loss stories of your favorite celebs.