Grab all the details of Salma Hayek's weight loss journey with before and after pictures. The actress feels it's liberating to share bikini pictures with her beloved fans on Instagram.
It seems like Salma Hayek, 54, looks perfectly beautiful the more days go by and we can't help notice just how flawless the actress is!
With a healthy lifestyle and a daily exercise routine, Salma is savvy about how she lives her life, and she has been an icon to many women of her generation.
It turns out she's encouraging anyone who is eager for her advice because it's something she's proud of and she genuinely believes anybody can pull this off if they put their mind to it.
Salma Hayek's Weight Loss – The Actress is Sharing Bikini Pictures on Instagram
Salma Hayek is posting a bunch of hot swimwear photos on social media following her weight loss and claims she won't be slowing down.
Speaking with Entertainment Tonight, the 54-year-old actress shed light on the collection of bikini portraits she's been uploading over the last month, telling the publication it was "liberating" to share them with her beloved fans.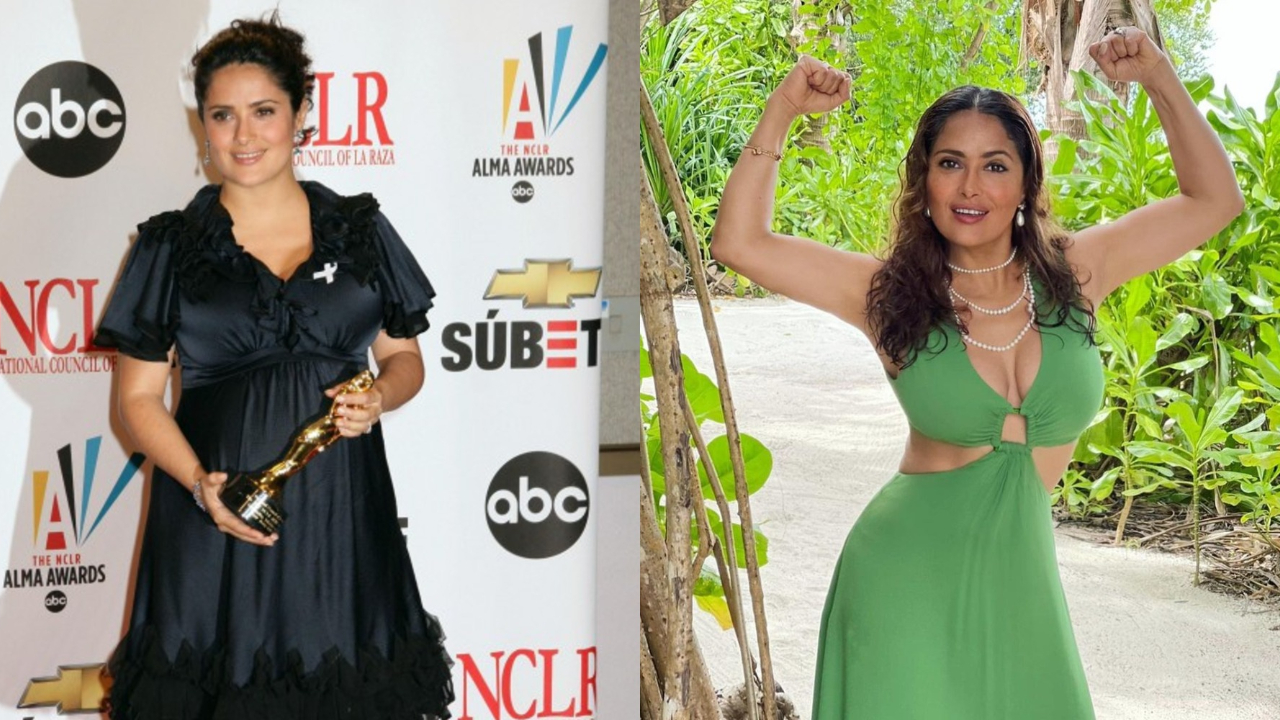 Salma Hayek before and after weight loss.
Image Source: Weight & Skin
She said,
I had to lose a lot of weight and exercise to get into the bikini towards the end of last year.
The actress added,
I'm glad I took a lot of pictures, I have no shame on it because it was the first week of the vacation.
She then explained that all of her bikini-clad Instagram pictures were from the same tropical holiday.
You Might Like: Comedian Michelle Collins' Weight Loss – What's Her Diet Plan & Fitness Routine?
The Once Upon a Time in Mexico star then joked she began "eating again" on her way home and that she was "not in the same condition today."
Despite adding a few pounds back, Hayek plans to share a lot of "saved" pictures she's got from the trip.
The Lonely Hearts star shared,
I'm spreading the love out like every two weeks. I'm going to put up another one. I'm almost running out of them but I don't know if you have that feeling, like, 2021!
She added,
People are sick of it but I'm going to let them take a break. They're going to think I'm wearing a bikini every day. No, they're all from the same location.
After undergoing noticeable weight loss, Salma launched her bikini uploading spree at the end of December, revealing some gorgeous shots in a two-piece magenta and matching wrap while relaxing on the beach.
Also See: Jared Leto Weight Gain for The Little Things on HBO Max
She captioned the post,
Last days of 2020. Never been more grateful for being healthy and in contact with nature.
Since then, the Mexican-American star has not held back, displaying her body in numerous other stylish bikinis, as well as a few one-pieces.
Hayek recently shared a snapshot of herself sitting in a hammock over bright blue water while wearing a vivid red swimsuit.
Salma Hayek's Diet Plan and Workout Routine
Salma Hayek's nutritious diet and fitness routine, is making her appear better than ever even at the age of 54, and she inspires everyone to take steps to get a beautiful body and stunning skin much like hers.
A source told Hollywood Life,
Salma's diets secrets are really no secret at all. She will tell anyone who asks that she does what anyone else who looks great does, she eats well and exercises.
The source added,
Salma's diet consists of lean proteins, lots of fresh fruits and vegetables, and other organic foods. She exercises regularly, takes good care of herself, gets plenty of rest, drinks lots of water and stays out of the sun. Her routine is simple but she is very regimented about eating well, practicing yoga and taking good care of her skin too. She tries to get facials regularly, never goes to sleep with makeup on and also avoids sugar.
If Salma's diet sounds a bit too restrictive for you girls, don't worry, the brilliant actress often lets herself have a treat as well! Even though she's undergone weight loss recently, it doesn't take her long to gain back pounds.
Also Read: Full Story on Karen Pence's Weight Loss Speculations
The source continued,
She will enjoy a cheat meal followed by some chocolate when the mood strikes her. She feels her biggest secret to looking sexy at 52 may be that she feels blessed and lucky to have good genes.
Salma frequently reveals her look in a number of social media snaps, including the latest one in which she appeared flawless in a black swimsuit.
If she's wearing comfortable clothes or an evening gown, this stunning gal knows how to make it happen, and we're totally here for it!
Visit Weight & Skin for more weight loss stories of your favorite celebs.