Grab all the details of former NFL star Alan Faneca's unbelievable 100 pounds weight loss journey following retirement.
A Pro Bowler nine times and All-Pro on six occasions, Alan Faneca played his first ten seasons in Pittsburgh before ending his 13-year career with the Jets and Cardinals.
The first-round draft pick for the team in 1998, the NFL star went on to play 206 of 208 possible matches, blocked for nine 1,000 yard backs and anchored a Steelers offensive line that led Pittsburgh to 15 regular-season victories in 2004 and a Super Bowl championship in 2005.
Upon his retirement, Alan Faneca ventured on an incredible weight loss journey, managing to shed 100 pounds in the process. How did he achieve this remarkable feat? Let's find out.
Alan Faneca Underwent 100 Pounds Weight Loss Following Retirement from NFL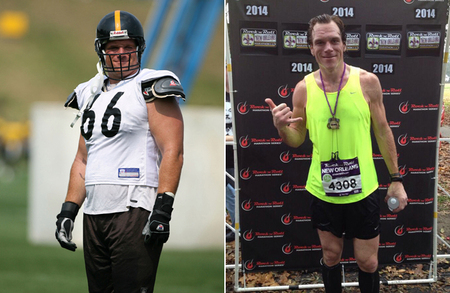 Alan Faneca before and after 100-pound weight loss.
Source: Pinterest
Alan Faneca's weight hovered around 320 pounds mark when he was an NFL offensive lineman. Merely two years since his retirement, Faneca went down to 220.
Faneca, 43, told FOX Sports Arizona back in 2013 he had cut down on his calorie consumption as soon as he left the NFL, and that he had undergone weight loss incredibly fast that people were concerned about him.
Also Read:  'Life Below Zero' Star Sue Aikens' Weight Loss in 2020 – Did She Undergo Surgery?
Faneca said:
People thought I was sick or something because it was coming off me so fast. If you didn't see me for two weeks, I'd look totally different the next time. It was hell on my closet. I couldn't buy clothes fast enough. They would just hang on me like drapes.
Faneca stated he wishes for other NFL offensive liners to pay attention to the value of maintaining their weight to their long-term wellbeing.
Most guys should think about it. Especially in this new era of the NFL. Big today isn't necessarily all muscle. You can you be 340, 350 and still move. But that's not necessarily healthy, and it's not going to prolong your life, especially when you're out of football dealing with post-football injuries.
Weighing over 300 pounds is a must if you want to be an NFL offensive lineman, but it's not beneficial to a healthier lifestyle after hanging up your boots. Kudos to Faneca for working on his long term health.
What is Alan Faneca's Diet and Fitness Routine?
Although some players let their body head to retirement, former Steelers lineman Alan Faneca did the exact opposite.
Faneca, who worked as Steelers' head coach for OTAs and training camp back in 2016, lost approximately 100 pounds of his heaviest 320 lbs playing weight since he retired from football at the end of the 2010 season.
You Might Like: 'Life After Lockup' Cast Sarah Simmons' Unbelievable Weight Loss Transformation
Alan started to shed weight following his retirement, completing a marathon in less than four hours in 2014. More on it below.
Evidently, he's kept his weight off and is a role model for pro athletes looking to maintain or boost their fitness after retirement.
Meanwhile, the former NFL star is yet to shed light on his precise diet plan and fitness routine. Needless to say, whatever he did clearly worked since he couldn't have achieved better results.
The Former Pittsburgh Steelers Star Ran First Marathon in 2014
https://twitter.com/Liane0719/status/430057653038235648
Ex NFL offensive lineman Alan Faneca weighed over 300 pounds during his playing career with the Steelers, Jets, and Cardinals. The six-time All-Pro, who won the Super Bowl with the Steelers, underwent 100 pounds weight loss since retiring in 2011.
Three years later, in 2014, he made a public appearance looking all different and completed his first long-distance race, finishing the New Orleans Rock & Roll Marathon at 03:56:17.
Also See: Tennis Star Victoria Azarenka's Weight Loss – The Full Story!
Alan Faneca told Runners World he had shed weight by monitoring what he was eating (he reduced his calorie consumption to 1,800 a day) and doing aerobic exercise six days a week.
He also dropped this fantastic quote, "A lot of people ask me, do I miss football? I don't miss football, but what I do miss is that first beer after a game. I had the same feeling after the race."
Visit Weight & Skin for more interesting weight loss stories of your favorite celebs.