Grab all the details of chef Rachael Ray's 40 pounds weight loss journey. Facts about her diet plan and workout schedule. Take a glance at her before and after changes.
Born on 25th August 1968 in Glens Falls, New York, Rachael Ray is a vibrant TV personality, businesswoman, and celebrity chef who rose to prominence thanks to her Food Network and ABC series. She won Daytime Emmys for her series Rachael Ray and 30 Minute Meals.
Recently, Ray is making rounds over her impressive weight loss. How did she slim down? What's her diet plan and workout schedule? Let's discuss.
Rachael Ray's 40 Pounds Weight Loss – Why Did She Pursue It?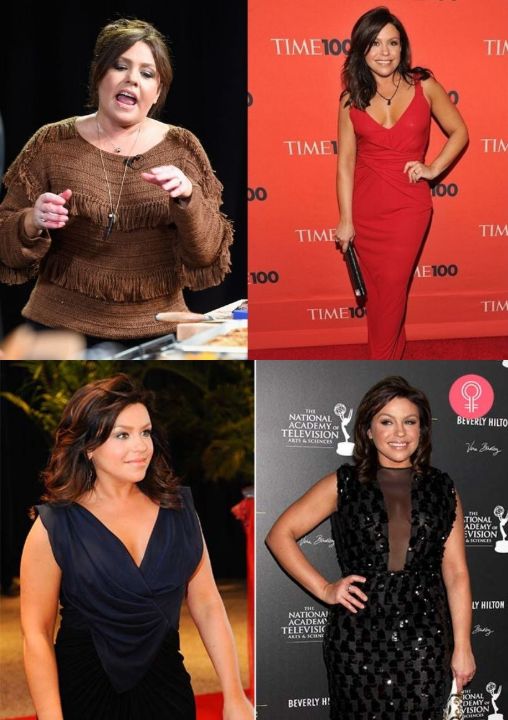 Rachael Ray before and after weight loss over the years.
Image Source: Weight & Skin
Rachael Ray, a renowned chef, writer, and entrepreneur, has undergone weight loss of over 40 pounds. So, how did Rachael Ray slim down? Here's a tidbit. It's plant-based, simple to follow, and full of good fats. The Mediterranean Diet, you nailed it!
Rachael Ray is widely popular as one of the most key people in contemporary cooking. Despite never attending culinary school, she spent years of her life in and around her mom's three restaurants and has a tremendous talent for communicating.
You Might Like: Full Story on Dan Schneider's Weight Loss – What's His Secret?
Her idea of 30 Minute Meals catapulted her from a culinary program on a tiny local TV station to appearances on the largest talk shows, book agreements, and, ultimately, her own program, Rachael Ray Show on the Food Network.
Rachael's approach to fast and simple cooking is something that the majority of recipe writers and curators strive for in their recipes.
Her reputation has gone leaps and bounds over the years due to her tremendous work ethic. The rigorous nature of her job had resulted in weight gain and other health effects by the time she was 40.
Ray underwent throat surgery in 2008 owing to a cyst produced by speaking for hours every day on her program and interviews.
Also See: Actress Rumer Willis' Weight Loss – Learn the Reason She is So Thin!
The reality star's work-life came to a standstill after the doctor let her know she would be unable to speak for three weeks following the treatment. Rachael had time over those weeks to emphasize her own health, noticeably her weight.
She began eating a Mediterranean diet and exercising. The changes she made during her recovery from throat surgery were energizing and motivating.
What is Rachael Ray's Ultimate Weight Loss Secret?
Rachael Ray followed her Mediterranean Diet and embraced a far more active lifestyle until she shed 40 lbs. She ate mostly veggies, berries, fish, seasonings, healthy grains, and olives.
She not only sipped plenty of water on a daily basis, but she consumed coffee and wine. Crucially, she was reluctant to intake any hyper foods, like convenience stuff (for instance, those found at petrol stations), cola, or candy.
Also Read: Full Story on 'Good on Paper' Margaret Cho's Weight Loss Trauma & Diet Pill Addiction
She did, however, let herself luxuriate in pasta and steak. For Rachael and several others, the Mediterranean Diet's less restrictive quality is critical for losing weight and maintaining it.
Almost all of the weight loss regimens focus on letting go of specific foods from your diet. The Mediterranean Diet, on the other hand, prioritizes packing your plate with food you love to eat.
This is why so many begin eating in this fashion and never return. If you want to lose weight and retain your physique like Rachael, this specific diet is the way to go.
Visit Weight & Skin for more weight loss stories of your favorite celebs.