Paolo Banchero's weight loss is worrying fans after it's revealed he rapidly loses 7 pounds every game due to excessive sweating. What's his diet plan and fitness routine?
A consensus five-star recruit and one of the top players in the 2021 class, Paolo Banchero is a star college basketball player for the Duke Blue Devils of the Atlantic Coast Conference. Already grabbing the attention of many with his spectacular play, Banchero's weight loss secret is the hot topic now.
Banchero signed with Duke as the No. 2 overall prospect in the 2021 high school class, and in just a few games with the Blue Devils, he's already exceeded expectations.
Through his first eight games, the dynamic forward is averaging 17.8 points and 7.3 rebounds per game on 50 percent shooting and 33.3 percent from three, and he has led Duke to the No. 1 ranking in the country.
Paolo Banchero's Weight Loss Secret is a Health Concern: Here's How He Loses 7 Pounds Per Game!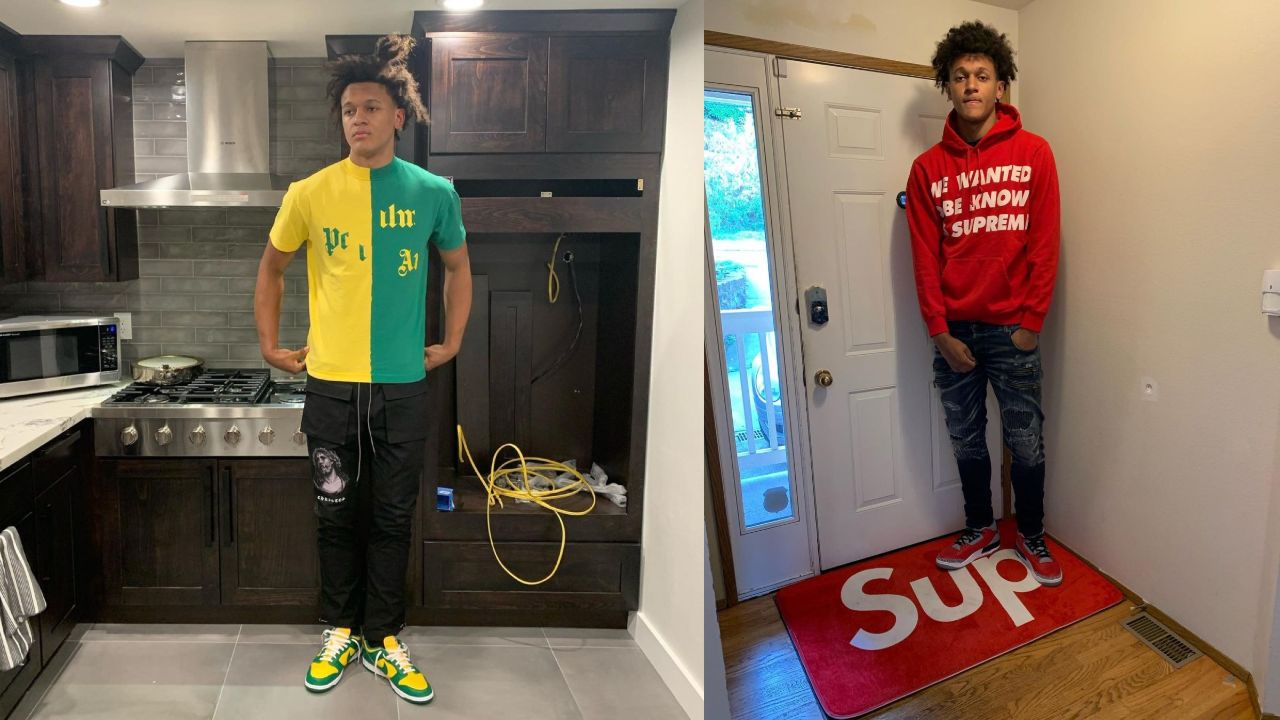 Paolo Banchero's weight loss of 7 lbs every game is worrying fans.
Image Source: Weight & Skin
As surprising and as concerning as it sounds, Paolo Banchero loses 7 pounds per game. The secret to this massive weight loss – Excessive sweating!
Bizzare yet concerning, the heavy sweater outrageously loses weight each time he plays. This has led him to have multiple cramps and is now becoming a health concern.
You Might Like: Tyler Hynes' Weight Loss: Why Did An Unexpected Christmas Star Lose So Much Weight?
On Tuesday night, Duke dropped their first game of the season, 71-66, to Ohio State in Columbus. With 14 points and five rebounds, Duke's outstanding freshman Paolo Banchero was held in check.
To make matters worse, Holly Rowe called Banchero a "heavy sweater" on Twitter. He's been forced to do a sweat test and drink a special "oxygenated fluid" to keep from cramping up during games.
Sweating is the body's natural method of temperature regulation. This is accomplished by releasing water and salt, which evaporate to keep the body cool. Sweating does not burn calories in and of itself, but sweating out enough liquid will help lose water weight.
But it's merely a brief setback. The body will restore any form of weight loss as soon as one rehydrates by drinking water or eating. However, in Paolo Banchero's case, he might be losing more than water weight since it's causing his body to cramp.
The oxygenated fluid taken by the Duke's star player is BOA's oxygenated fluid. As per the description of the fluid, BOA is a breakthrough technology whose high-powered blast uses oxygen to propel atomized nutrients into the body.
Also See: Wesley Snipes' Weight Loss: Why is the True Story Star So Skinny?
It replenishes sodium, which can help hydrate up to ten times faster when one is competing or training at maximum output.
During both of Duke's big games against Kentucky and Gonzaga earlier this month, Banchero was forced off the court for brief periods due to cramps.
It's unclear whether Banchero's cramping will be a long-term problem during his one-year stay in Durham or his long basketball career in general, but given his ability, fans are hoping it better not affect his game or his career. Hopefully, his rapid weight loss becomes a thing of the past.
3 feet At the Age of 15 Months, Paolo Banchero was Meant for the Basketball World
Talking about the early life of Paolo Banchero, his main inspiration to play basketball was his mother who was also a basketball player.
Reaching the height of 3 feet when he was just 15 months old, Bancharo grew up playing basketball at the Rotary Boys and Girls Club of Seattle.
Growing up to be 6 feet 5 when in 7th grade, Paolo Banchero was involved in basketball along with football and was also ranked among the top 50 eighth-graders nationally in both basketball and football.
Also Read: Travis McMichael's Weight Loss: Is He Shaping Himself for Jail Time?
Blessed with the perfect physique, Banchero's high school career bloomed at a fast pace. Banchero played football and basketball his freshman year at O'Dea High School in Seattle, where he was the backup quarterback on the state championship squad.  He averaged 14.1 points and 10.2 rebounds per game as a freshman on the basketball team.
The now basketball phenomena led O'Dea to the Class 3A state championship in his sophomore season, averaging 18.2 points, 10.3 rebounds, and 4.3 assists per game. He was awarded the most valuable player along with being named Washington Gatorade Player of the Year and MaxPreps National Junior of the Year as a junior.
This came after averaging 22.6 points, 11.0 rebounds, 3.7 assists, and 1.6 blocks per game for the Class 3A runners-up. Not just that, Banchero was also named to the rosters of the McDonald's All-American Game and the Jordan Brand Classic.
With a much successful high school career, Banchero was a unanimous five-star recruit and one of the best players in the class of 2021. Despite receiving offers from prominent NCAA Division I schools such as Duke and Kentucky, most recruiting analysts believed that he would choose Washington.
Do Not Miss: Deanna Daughtry's Weight Loss: Keto Diet Helped Her Slim Down!
Despite the odds, Banchero committed to play college basketball for Duke on August 20, 2020 and is currently playing as their star player. A player with quite the potential, Paolo Banchero is expected to be one of the top players of this year.
Visit Weight & Skin for more weight loss stories of your favorite celebs.