Grab all the details of Nico Mannion's insane weight loss after he contracted an intestinal virus infection. How is his health? How long will he be sick? Let's find out.
Nico Mannion contracted an intestinal virus infection while in Tokyo for the Summer Olympics and is now expected to be out for several weeks as a result of the stomach illness.
Mannion seems to have undergone a scary amount of weight loss, making fans anxious about his health and well-being.
So, what exactly happened to Nico Mannion? Is the intestinal infection and stomach virus going away anytime soon? When will he be back to full fitness? Let's find out.
Nico Mannion's Crazy Weight Loss Picture After Intestinal Virus Infection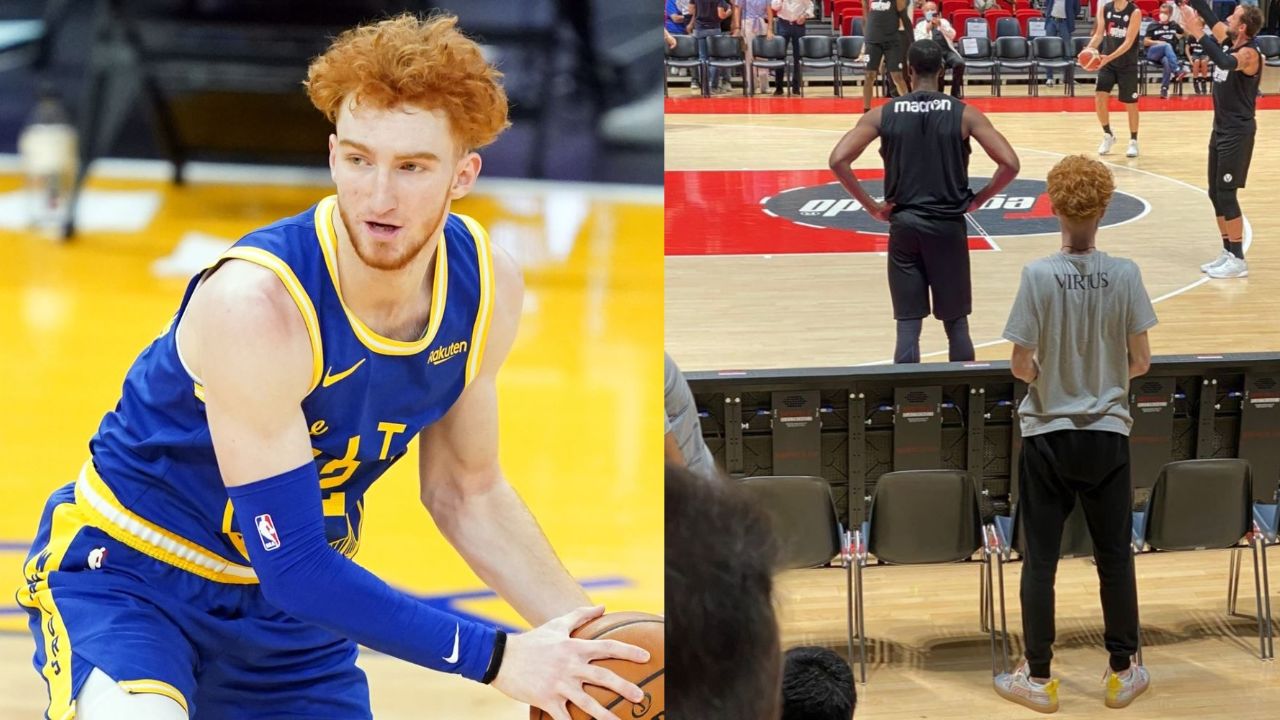 Nico Mannion before and after weight loss caused by an intestinal virus infection.
Image Source: Weight & Skin
The excursion to the Tokyo Olympics was evidently not pleasant for former Golden State Warriors guard Nico Mannion, who apparently contracted an infection during the global event and now appears extremely fragile.
Mannion, a second-round choice of the Warriors in 2020, has signed with Virtus Bologna of Italy's Serie A for the upcoming season after playing for Italy in the Summer Olympics. Mannion's season, however, has been derailed by an intestinal illness, which has resulted in significant weight loss.
You Might Like: Did Mikel Ruffinelli Undergo Weight Loss? Let's Break It Down!
The health of the 20-year-old guard sparked considerable viral attention this week after a photo clicked at a team practice revealed his already slender physique looking significantly slimmer. Warriors fans were concerned after seeing the image.
Mannion could not participate in Virtus' training camp and was unable to play in the group's first preseason game last week, according to Ezra Amacher of SB Nation's Arizona Desert Storm.
Sergio Scariolo, head coach of Virtus, notified that Mannion would be out for a while, telling EuroHoops.net they will require a deputy for the beginning of this season.
Scariolo said,
Mannion won't be there at the start of the championship and so we need a player to avoid putting 'squeezing' the others.
He added,
We are looking on the market for an element to be included, a point guard who can also remain in the future. Because of that, we focus on young people who can give something important, rather than a veteran addition.
Meanwhile, Mannion carries a specific clause in his contract with Virtus that allows him to return to the NBA after the completion of the first year.
Also See: Full Story on Bryson DeChambeau's Weight Loss Following COVID-19 Diagnosis
If he does make a comeback, he will do so with the Warriors, who retain his constricted free agent status. Mannion's representative, Bill Duffy, told NBA insider Jordan Schultz that the basketball star intends to return to the NBA after winning the championship in Italy.
In the meantime, returning to his weight loss, it is unclear when Mannion contracted his virus, but it did not seem to slow him down during the Tokyo Olympics.
He averaged 12.5 points and 4.5 assists per game, leading Italy to the quarterfinals before falling to France, who went on to win the silver medal.
Redditors Discuss Nico Mannion's Weight Loss Following Intestinal Virus Infection in Tokyo
In the subreddit (r/nba) dedicated to NBA news and discussion, a user, following Nico Mannion's dramatic change in physique, wrote:
[TheWarriorsTalk] Apparently Nico Mannion got an intestinal virus while in Tokyo for the Olympic Games and will now be missing several weeks due to the stomach virus. Looks like he's lost a lot of weight. Hoping he gets better soon.
A user responded,
That's really unfortunate for a pro athlete, especially a pretty huge setback for a guy just starting his career. Hope he can get back in shape soon
Another recalled how Luol Deng got meningitis and lost a bunch of weight, and almost his life, too.
Also Read: 'The Courier' Benedict Cumberbatch's Weight Loss – How Many Pounds Did the Actor Shed for the Movie?
One user was shocked, to say the least.
Holy crap. I thought it was a troll image at first. That's crazy.
Some, as expected, were wishing the best for him since weight loss from numerous illnesses have previously derailed the careers of Omer Asik, Zaire Smith, Luol Deng, and so on.
And it will be extremely difficult for Nico, who is already underweight. In fact, his physique was a significant draft concern. So it's doubtful whether he's the type of man who'll put it back on readily.
We wish a speedy recovery for Nico Mannion!
Visit Weight & Skin for more weight loss stories of your favorite celebs.