Check out Malu Trevejo before and after plastic surgery. She admitted to performing a boob job aka breast implants via popular plastic surgeon Dr. Miami.
Malu Trevejo is one of the Latin music industry's trendiest performers. Despite the fact that she's only been in this sector for a few years, she has already shown she's got what it takes to create music that speaks to a diverse audience.
While she hasn't launched a full-length album, her debut EP, Una Vez Mas, has garnered considerable attention. Malu is a dynamic artist who likes to incorporate every element of her heritage into her music, with a mix of English and Spanish tracks.
Moreover, Malu is a famed social media influencer with millions of fans, in addition to her popular music career.
Lately, this versatile artist is at the forefront of plastic surgery speculations on the internet. Unlike most other celebrities, she's admitted to going under the knife and explained her reasons for doing so.
Malu Trevejo's Plastic Surgery Includes Breast Implants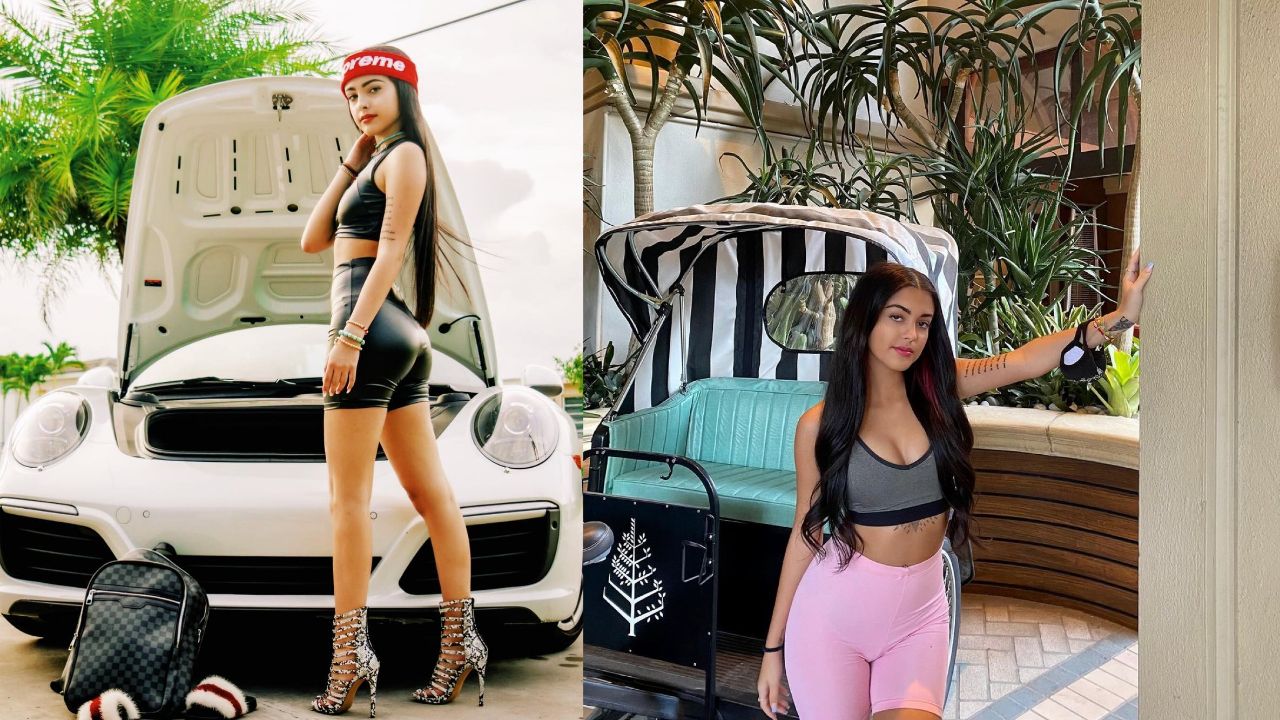 Malu Trevejo before and after boob job plastic surgery.
Image Source: Weight & Skin
Malu Trevejo is believed to have undergone plastic surgery after she was not fond of her body. She previously shared a TikTok video with a renowned plastic surgeon, Dr. Miami.
A few days after posting the clip, she shared an Instagram Story writing, "I did it," implying she successfully underwent cosmetic surgery.
Trevejo then showed her bruises following the surgery. "I just got mad bruises in my boobs LOL," she wrote. "I'll just try wearing sun where it can't see it."
You Might Like: Has William Shatner Had Plastic Surgery? Learn the Real Truth!
Later, Malu Trevejo took to Instagram where she addressed her cosmetic updates. She said,
I have some news to tell you guys. I don't know if I should post a picture today and tell y'all the news in the caption. Yeah, let me know if I should. You know, I'm still healing. I'm not fully healed, but I'm better, you know. I could move. I could take pictures, so let me know if I should.
Explaining the process of breast implants, the singer added,
So y'all know, boobs, when you first get them they're really perky unless it's like, you know, four weeks. You know that you have them already and they start going down and start looking more natural just like now.
Later, she showed the results of her cosmetic endeavors. You could instantly notice her breasts look much bigger now.
Fans were split over her decision to go under the knife, though. One user said,
She was already pretty, she didn't need plastic surgery.
Another said,
She's pretty lemme be like her good.
The third claimed,
I better not see ppl talking negatively on this.. It's her body, her choice.
You can watch Malu Trevejo talking about her cosmetic procedures here. She also shows her breasts following surgery and explains the reason she decided to go for it.
Also See: Brooke Williamson's Plastic Surgery is Trending But Is It True?
Malu Trevejo was Previously Accused of Racism
It is a well-known fact that teenagers can be malicious. It's never easy to relocate, but it's even more difficult when you're migrating to a foreign country.
When Malu Trevejo arrived in the United States, she witnessed this personally. Her classmates teased her because she didn't look or sound like the other kids.
In the meantime, Malu's ambition was always to be a singer, but she didn't always carry the courage to go for it. Years of neglect made her even more afraid to attempt to express her talent with the rest of the world.
When she did decide to put herself into the spotlight, though, the outcomes were largely supportive.
Also Read: Real Truth About Billie Eilish's Plastic Surgery Procedures
Malu's ascension to stardom hasn't been without its share of controversy, however. She was accused of racism after referring to the COVID-19 as a "Chinese virus" during an Instagram Live session last year.
Subsequently, she dropped an apology:
I'm sorry — not trying to be racist or anything but every time I see a Chinese person I go 'uh, don't breath.'
Trevejo may have apologized for her comments and accepted them, but she didn't appear to realize the gravity of her remarks.
Visit Weight & Skin for more plastic surgery stories of your favorite celebs.