Grab all the details of Billie Eilish's alleged plastic surgery procedures, most notably lip fillers and Botox injections. Check out her before and after changes.
Billie Eilish is blonde and based on her Instagram posts, it's definitely everything she wanted, at least for now. The Bad Guy singer debuted a new look this week, ditching the green hair that had been her trademark for so long.
Meanwhile, her hair isn't the only topic of curiosity lately as several internet users are seeking information about Billie Eilish's alleged plastic surgery. Did she make some artificial improvements on her face? We've got you covered with all the details.
Did Billie Eilish Undergo Plastic Surgery?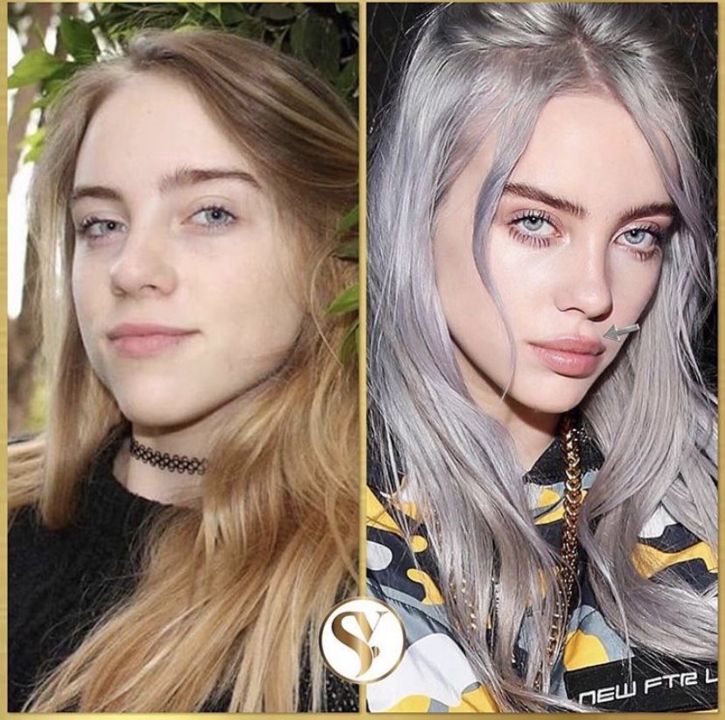 Billie Eilish before and after alleged plastic surgery.
Image Source: Pinterest
Recently, Billie Eilish is at the forefront of plastic surgery speculations on the internet. Many viewers are curious to learn whether this talented singer went under the knife to make adjustments to her appearance.
To be fair, any change we might notice could easily be down to makeup. However, there are certain alterations in her appearance that look more than just beauty products and skincare routine.
Contrasting her before and after images, the first feature that strikes out is her lips. They look much more fuller now than they used to. Of course, this could be the result of plumper gloss or she has genuinely had something done with a professional.
You Might Like: Kirk Franklin's Plastic Surgery is Horrifying Fans on the Internet
Many fans often discuss Eilish's cosmetic enhancements. One such internet user said,
She always has that dead look in her eyes now, whereas in the left she looks more lively. But I think she may have had her lips done and that looks like about it to me.
Lip fillers seem to be the most obvious suspect while there is also a hint of minor adjustments to her nose. Having said this, for now, we can neither confirm nor deny if Billie Eilish had a nose job aka rhinoplasty.
As for other potential plastic surgery enhancements, Botox looks the most likely, and this is quite normal among most celebrities. Some fans, though, additionally claim she's had some chin work done. Again, these are mere speculations and we can't say for certain if this is true.
Billie Eilish Debuted Her Blonde Look on Instagram
Billie Eilish recently went blonde and shocked her fans. The Grammy winner had been rocking raven black hair with neon green stems for quite some time, but you can now see her in a stunning shaggy platinum blonde style she unveiled on Instagram on 17th March.
Fans speculated on social media if she was sporting a wig at the 2021 Grammy Awards on 14th March. During the spectacular event, where she and FINNEAS received the award for Best Song Written for Visual Media with No Time To Die for the upcoming James Bond movie, she hid her forehead with a bandana.
Eilish then wore a bucket hat with a fitting shirt and trousers to the awards show, where she later won Record of the year for everything i wanted – the second consecutive year she's won this award after landing it for Bad Guy last year.
Also See: 'American Idol' Carrie Underwood's Plastic Surgery – Scar, Accident, Lip Injections, Nose Job!
One TikTok video that appears to have filmed Megan Thee Stallion and Doja Cat (subject of plastic surgery) strolling the red carpet also recorded audio of Eilish saying, "I can't take off my wig," while another asks whether she muttered "wig" or "anything." Another compilation video collected clips depicting her natural black origins.
Eilish surprised fans on Instagram Stories, saying, "Can you guess what color?" before revealing her new shade. The next day, she asked, "did you guess correctly?"
There's no news about whether Ashe suspected Eilish was turning blonde, but the Moral of the Story singer is going to have a tough time concentrating on anything other than Billie's new hue.
Billie Eilish Won Record of the Year at 2021 Grammy Awards
https://twitter.com/bilpromo/status/1371352588545880064
Billie Eilish and her brother Finneas O'Connell have received the Grammys for Record of the Year for the second straight year.
They won the 2021 award for everything i wanted, beating off songs by Doja Cat (Say So), Dua Lipa (Don't Start Now), Post Malone (Circles), DaBaby and Roddy Ricch (ROCKSTAR), Black Pumas (Colors), Beyoncé (Black Parade), and Megan Thee Stallion's Savage remix, which also featured Beyoncé.
Also Read: Lauren Sanchez's Plastic Surgery – Botox, Facelift, Breast Implants & Lip Fillers!
Eilish claimed in her victory speech that Megan Thee Stallion deserved to win the prestigious award. She said,
This is really embarrassing for me. Megan, girl… I was gonna write a speech about how you deserve this but then I was like, 'There's no way they're going to choose me.' I was like, 'It's hers.'
Billie continued,
You deserve this. You had a year that I think is unstoppable. You are a queen; I want to cry thinking about how much I love you…. You deserve everything in the world, I think about you constantly…. You deserve it.
Before proceeding with her acceptance speech, she requested everybody to show their appreciation for Megan Thee Stallion through a round of applause.
Meanwhile, everything i wanted is Eilish's latest single since her debut WHEN WE ALL FALL ASLEEP, WHERE DO WE GO?
Do Not Miss: 'Coming 2 America' Star Eddie Murphy's Plastic Surgery – True or False?
The award-winning track was also in the running for Record of the Year, Song of the Year, and Best Pop Solo Performance. Meanwhile, Eilish's titular soundtrack for the upcoming James Bond film No Time to Die took home the award for Best Song Written for Visual Media.
Visit Weight & Skin for more plastic surgery stories of your favorite celebs.