Grab all the details of Days of our Lives star Kristian Alfonso's plastic surgery allegations.
Hardcore soap opera viewers will run through the list of the best love stories on daytime TV, so there is a pair on Days of our Lives that are still on the list – Bo and Hope!
Kristian Alfonso has immortalized the role of Hope in the long-running show and is one of the most famous faces of soap TV. In the years she played Hope, she kept fans glued to her decades-long tale and welcomed newbies to the Days of our Lives only because of the long-lasting love story.
Recently, the actress opened up about why she will never get plastic surgery, but hasn't she gone under the knife?
Kristian Alfonso is Reluctant to Undergo Plastic Surgery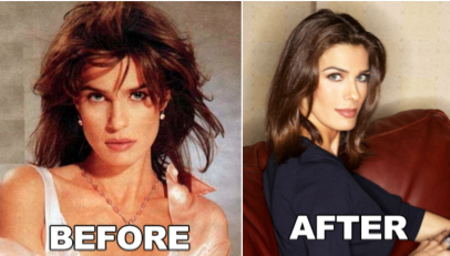 Kristian Alfonso before and after alleged plastic surgery.
Source: Pinterest
Plastic surgery is something that certain soap stars often choose to settle for. Yet you never realize why these people really do it, given whether everyone else in the entertainment industry might like to do so at some stage or another. And Kristian Alfonso falls under the category of people who choose not to use any cosmetic procedures at all.
"I want my grandchildren to recognize me … and my children," Alfonso told Daily Telegraph in 2014. "In the old pictures they'll say she's aged and you know, she's lived life."
You Might Like: Real Truth About Reality Star Courtney Waldrop's Plastic Surgery Speculations
Alfonso is married to her husband Danny Daggenhurst for nearly 20 years now, and he has had an impact on her decision to refrain from plastic surgery. It is not clear whether she underwent any cosmetic operations or non-evasive treatments, however knowing they are still together only goes to prove that she might not have opted for it at all.
"I just say to my hubby, 'You know what honey, I'm just going to age gracefully.' I'm too afraid to do anything," she continued in the same interview. It appears Daggenhurst may not advising her to stray away from plastic surgery, but she wants to keep out of it for her partner.
Kristian Alfonso is Married for 18 Years
Kristian Alfonso tied the knot with her first husband, Simon Macauley, in 1987, and the couple shared a son named Gino. They were divorced four years later in 1991. A decade later, she wed Danny Daggenhurst in their home in 2001, and they are together ever since.
Also See: Did the Former 'Glee' Actress Naya Rivera Have Plastic Surgery?
Alfonso and Daggenhurst share a son named Jack, and she is the stepmother to Daggenhurst's son Spartan. She prefers to maintain her marital life secret, however, Kristian revealed she had turned him into a follower of figure skating, a sport she enjoys.
The Soap Actress Owns a Side Business
For years, Kristian Alfonso usually wore unique jewelry items on the show, when out and about. She viewed it as a normal part of her work, but after being confronted and complimented a number of times, her sister persuaded her to start up her own jewelry business.
Also Read: Real Truth About American Actress Nicola Peltz's Plastic Surgery Speculations
Later, Alfonso was encouraged to initiate Hope Faith Miracles and introduced her first line in 2006. Since then, she has promoted her famous "Believe" line on home shopping platforms, and Hope Faith Miracle is still going strong. Items are accessible on-line.
Kristian Alfonso Spoke About Her 'Days of our Lives' Exit
https://twitter.com/NarelleM77/status/1283939296567635968
Back in November 2019, the entire Days of our Lives cast were revealed to have been released from their contracts as a cost-cutting move only days before NBC renewed the show for the 56th season. And Alfonso's declaration of her departure came only recently when she went on Instagram to share her appreciation for the series.
It is not clear if the two actions are linked in any way, but it is certainly time for Hope, her character in the show, to move on anyway. In those 37 years during the course of the show, she has made up quite an impression. Alfonso, of course, says goodbye to the story in a rather fantastic way.
Recommended: Kenny Rogers Plastic Surgery – Drug Addition, Four Failed Marriage, Death!
"Days of our Lives has been a vital part of both my personal and professional journey," the actress began in a farewell statement on Instagram. "I am forever grateful to NBC and the late Betty Corday, who took a chance on me many years ago and changed my life."
"I will not be returning to Days when it resumes production in September. I've already filmed my last episode several months ago," she concluded her pictured statement. "Finally, to the incredibly loyal fans of Days, many of you have been with me on this journey from the beginning. I cannot thank you enough for your generosity, love, and support. I could not have done it without YOU!!!"