All the facts behind Bachelor in Paradise alum Kelsey Weier's alleged nose job plastic surgery. Check out her before and after pictures following suspected rhinoplasty.
Kelsey Weier is one of the most popular singles on the Bachelor franchise right now. The blonde champagne fanatic joins the gang of Bachelor in Paradise as they search for love in a tropical setting.
Despite the fact that she didn't find love on The Bachelor, Kelsey's effervescent demeanor and self-deprecating sense of humor could serve her well in the current season.
Recently, though, Kelsey Weier is the subject of plastic surgery speculations on the internet, most evidently a nose job. Did she go under the knife for rhinoplasty? Let's explore the details.
Kelsey Weier's Plastic Surgery – Did the Bachelor in Paradise Alum Undergo Nose Job?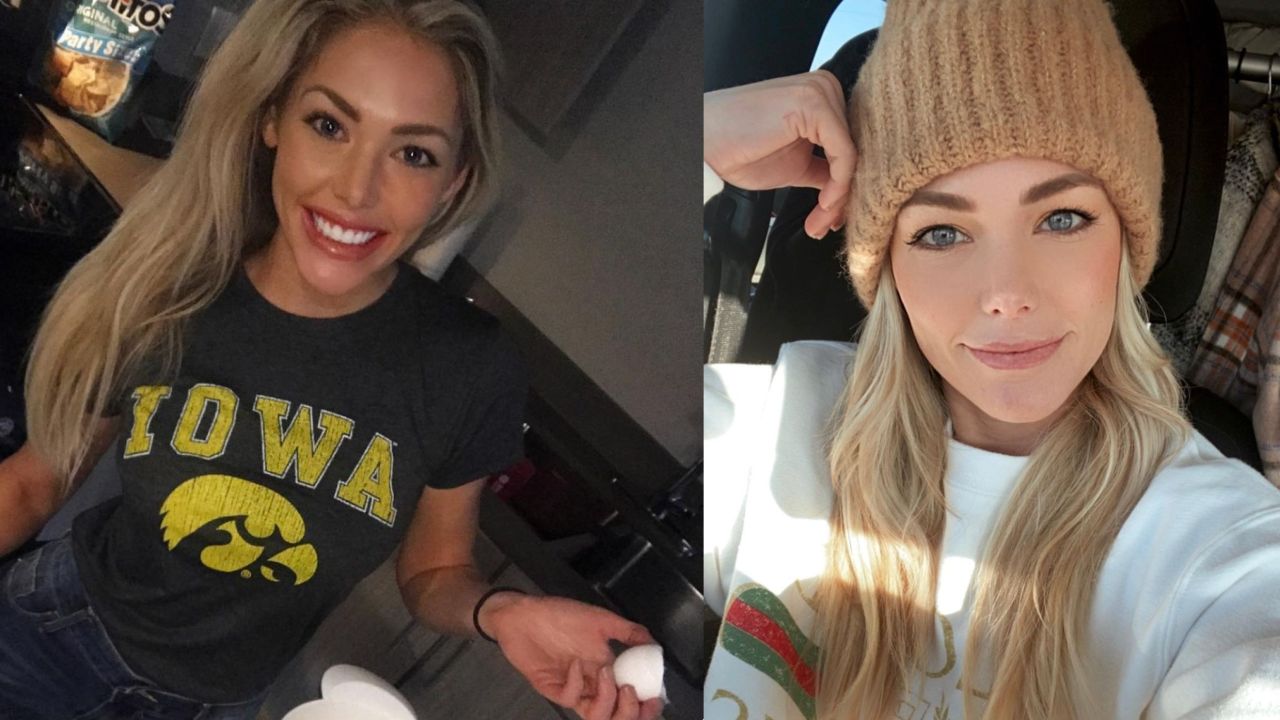 Kelsey Weier before and after alleged nose job plastic surgery.
Image Source: Weight & Skin
Bachelor In Paradise is back and fans are excited to see which singles will be heading to the beach, which candidates will find a second shot at love, and who will get engaged this time!
Kelsey Weier, an ex-Bachelor candidate, is one of the most discussed singles. It's been two years since the blonde champagne lover failed to woo Peter Weber.
You Might Like: TikToker Echo Yue's Plastic Surgery – Breast Implants, Butt Lift, Botox, Fillers & More!
However, speculations concerning Weier are already circulating, with fans suspecting that she underwent a nose job plastic surgery.
Following the release of the trailer and the subsequent debut episode of Bachelor in Paradise were released, fans were able to see Weier's new look for themselves.
Some critics immediately concluded that the former Bachelor contestant had undergone rhinoplasty.
Meanwhile, one fan wrote:
Omg Kelsey! Did you get a new nose?
"Did Kelsey get a nose job?" said another Twitter user. It appears that her nose has shrunk considerably, the person claimed, before stressing that her nose used to be flawless.
A third fan stated,
Yeah Kelsey def had a nose job or fillers or something.
In response to the rumors, Weier posted an Instagram selfie, captioning the post:
Spoiler alert: My nose is real.
Needless to say, Kelsey is pretty assured about the lack of cosmetic enhancements on her nose. So, she's anything but reluctant to shut down rumors.
Having said this, has Kelsey Weier ever had plastic surgery? Well, this one she definitely hasn't denied.
Also See: Fans Think Michael Keaton Had Plastic Surgery – Is There Any Truth to It?
Despite refuting her alleged nose job, the TV personality previously revealed that she has had Botox injections and fillers done.
Speaking in an interview with Floor 8 in March 2020, Weier confirmed her Botox and filler use, although she denies having her nose reworked.
She said,
I am proud of the fact that I have botox, fillers, whatever! I don't give a s***, but I did not get a nose job.
The new season of Bachelor in Paradise began on ABC on 16th August. After the premiere episode, the show airs on Mondays and Tuesdays. The dating program is also available on Hulu and HBO Max.
Who is Kelsey Weier from Bachelor in Paradise?
Kelsey Weier was a contestant on Peter Weber's season of The Bachelor. Though she initially had a strong connection with Peter, it wasn't enough for him to give her the last rose in the end.
After accusing another competitor of co-opting her unique bottle of champagne, Kelsey was at the crux of the notorious Champagne-Gate.
Also Read: 'Grace and Frankie' Lily Tomlin's Plastic Surgery – What Changes Has She Made?
Later, when attempting to toast with Peter, she got some bubbly shot up her nose. However, Kelsey and Peter appeared to be on the right track until Victoria Fuller was chosen for hometowns rather than Kelsey.
On Bachelor in Paradise, Kelsey is getting a second shot to discover love within Bachelor Nation. According to her social media, Kelsey hasn't enjoyed a romantic affair since dating Peter Weber on The Bachelor, so she's totally prepared for one.
After working as a hairstylist, the former Miss Iowa 2013 appears to be earning money as an Instagram influencer (via Life & Style). Kelsey tends to be quite a family-oriented person, as she frequently posts pictures of her and her two sisters on her Instagram page.
In addition, Kelsey has formed a close relationship with Bachelor Nation's fans. Some ladies on Peter's season thought Kelsey was overly theatrical, causing her to feel bullied, although she built deep relationships with many of her castmates.
Victoria Fuller, Kelley Flanagan, and Greg Grippo's possible ex-girlfriend Mykenna Dorn are regulars on her social media feeds as well. On the beach, she's sure to meet a few familiar faces, but it's also likely that she'll run into some old adversaries.
Do Not Miss: Real Truth About Emily Compagno's Plastic Surgery Speculations – Did She Change Her Face?
Kelsey's likelihood of succeeding on Bachelor in Paradise is anybody's guess, but she'll have plenty of supporters. A lot hinges on who's already on the beach when she comes on the tropical Bachelor Nation event.
Even if Kelsey fails to find love in the new season, she has a terrific set of friends and family who view her for more than just her hilarious champagne mishap on Peter's season of The Bachelor.
Visit Weight & Skin for more plastic surgery stories of your favorite celebs.