During the 1990s, French-Canadian singer Celine Dion dominated billboard charts with No. 1 hits such as "The Power of Love" and "Because You Loved Me."
In recent years, Celine Dion has made the news for her noticeably slimmer physique. Although fans reacted for and against the weight loss transformation of the singer, Celine insists that she feels "strong and feminine."
Celine Dion Weight Loss – How Much Weight Has She Lost?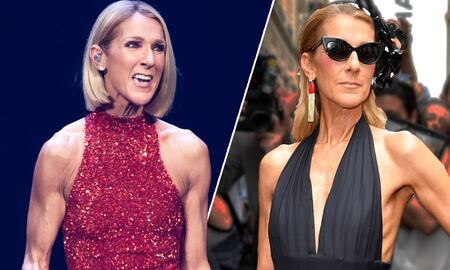 Celine Dion before and after weight loss.
Source: Daily Mail
Céline Dion, 51, is best known for her incredible skills in singing. However, the celebrity singer, in recent years, made more headlines from the discussion around her physical image.
Since the death of her husband René Angélil in 2016, My Heart Will Go On hitmaker seemed considerably thinner. However, the precise amount of weight she lost during the last few years has never been verified.
Recommended: Mia Khalifa Weight Loss – Ever Wondered How the Former Adult Movie Star Lose Weight?
Speaking of her devotion to fashion and health following her husband Rene's passing, Celine explained: "I'm doing this for me. I want to feel strong, beautiful, feminine, and sexy."
https://twitter.com/Rowdyfrederika/status/1250739516291403777
And as for scrutiny towards her slimmer body following substantial weight loss, Celine added: "If I like it, I don't want to talk about it. Don't bother. Don't take a picture. If you want it, I'll be there."
The actress also mentioned she was dancing and practicing with her stylist and good friend Pepe Munoz.
Celine Dion Previously Talked About Her Weight
Céline Dion previously refuted suggestions she follows an unhealthy eating habit. She admitted during an interview, "I'm not anorexic. It pisses people off that I am thin, and I don't make any effort."
Speaking of her apparent weight loss, the singer continued, "I have been thin all my life. Nobody in my family is overweight." Meanwhile, she also credited her life as a performer for her slim frame.
https://twitter.com/mynameisjerm/status/1094109068699013120
Dion told People, "Dancing has been in my DNA all of my life. It's a dream. And so hard! I do [ballet practice] four times a week. People say, 'She's a lot thinner,' but I'm working hard. I like to move, and [weight loss] comes with it."
Celine Dion's Family Life and Children
At the beginning of 2000, Dion announced she was taking time out of her career to prioritize her family. She and her husband, Rene Angelil, had been trying to have kids for years and eventually decided to conceive through Vitro fertilization. In May 2000, Dion performed two minor surgery at a fertility center in New York to boost her odds of getting pregnant.
Her endeavors were effective, and on January 25, 2001, she gave birth to a boy, Rene-Charles. During interviews, she mentioned she had kept another fertilized egg in a fertility center and had hoped to send her son a sibling one day. On October 23, 2010, at the age of 42, Dion gave birth to twin boys, Eddy and Nelson. Angelil, who had been diagnosed with throat cancer in 1999, was in remission.
Celine Dion's Blissful Relationship with Husband Rene Angelil Followed by Tragic Cancer
Celine Dion is recognized globally as one of the best singers in the world, but not many people knew that behind the scenes, a guy was standing by her across thick and thin. His name was René Angelil, and not only was he the husband of Celine Dion, but he was also the man who found her talent and helped launch her career.
Celine composed one of her very first songs when she was 12 with the aid of her mother and uncle, who sent the tape to René, then in his late thirties. He asked the young singer to audition, and he "started to cry" as soon as he noticed her voice, Celine said in an interview. Perhaps René instinctively saw the star force waiting to be untapped in Celine, as he accepted the position of management shortly afterward and went to considerable efforts to bring her music out.
When Celine was 19 years old, and René was 45, their professional relationship flourished unexpectedly into a love story. They dated in secret for five years after that, wary of what people would think of their nonconventional relationship – after all, the two had a difference of 26 years! In the meantime, they continued to work on Celine's career steadily. She not only documented the theme for Disney's Beauty and The Beast in 1991 but also earned a Grammy for it!
You Might Like: Adam Lambert Weight Loss Transformation – Learn His Secrets!
In 1994, Celine and Rene married, though not until they had to cope with the rejection of her mother. It became a case of "you and me against the world," but ultimately, the mother of Celine accepted the desires of her daughter. The wedding of Celine and Rene was even broadcasted live on television in Canada!
René died on 14 January 2016 following years of battling cancer; mere days before his 74th birthday. Speaking candidly of his struggle, Celine acknowledged that in the last two years of his life, René could no longer drink or eat alone. René had a heart attack on a fateful day in January and, as Celine put it, was "liberated from his pain."
Visit Weight & Skin for more weight loss stories of your favorite celebs.